Johnny Depp's Prank On Amber Heard You Forgot Aired On TV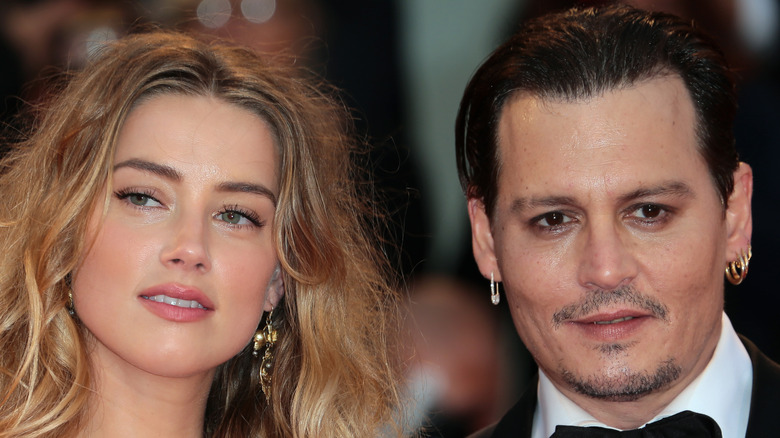 Matteo Chinellato/Shutterstock
Odds are, if you have an internet connection or own a television you know the names Johnny Depp and Amber Heard. More importantly, you know that the couple's explosive marriage resulted in divorce and multiple public trials. The he-said-she-said started shortly after Heard and Depp divorced in 2016. Not long after, Heard filed a restraining order against Depp, per People. 
Following the end of their two-year marriage, Heard wrote an op-ed for The Washington Post about being a victim of domestic abuse. Though she didn't call Depp out by name, the damage to his reputation was substantial. He was cut from the sequel to "Fantastic Beasts: The Crimes of Grindelwald," and he lost out on other roles as well, such as a potential return as Captain Jack Sparrow.
However, Depp sued The Sun for libel in 2020 and Heard herself for defamation in 2022. The trial dropped quite a few bombshells about the nature of their relationship. One particularly heinous incident involved Heard defecating in Depp's bed — something he testified that the "Aquaman" author claimed was a stunt. That being said, Heard is well-aware of what a prank looks like.
If you or someone you know is dealing with domestic abuse, you can call the National Domestic Violence Hotline at 1−800−799−7233. You can also find more information, resources, and support at their website.
Johnny Depp once pranked Amber Heard on TV
While Johnny Depp and Amber Heard's relationship is certainly unforgettable, one somewhat innocuous television appearance flew under the radar. In an appearance on "Overhaulin'" (via YouTube) Depp pulls a prank on Heard during their marriage.
The con involved Depp tricking Heard into thinking her car was stolen with the help of her father. Meanwhile, the car is really getting a makeover from custom car designer Chip Foose. The somewhat cruel trick involved Foose and "Overhaulin'" host Chris Jacobs impersonating police officers who are sent to investigate. Instead, they freak out over the two celebrities. Heard became irritated fast, yelling, "get my car back," but she was all smiles after Depp's deceit was revealed.
"Working with Johnny, it was cool because he's such a down-to-earth guy and he loves the creative process," Jacobs told Entertainment Tonight of the experience. While the prank certainly hits differently knowing Heard and Depp's relationship, it truly was all in good fun.
A legal battle followed the divorce of Johnny Depp and Amber Heard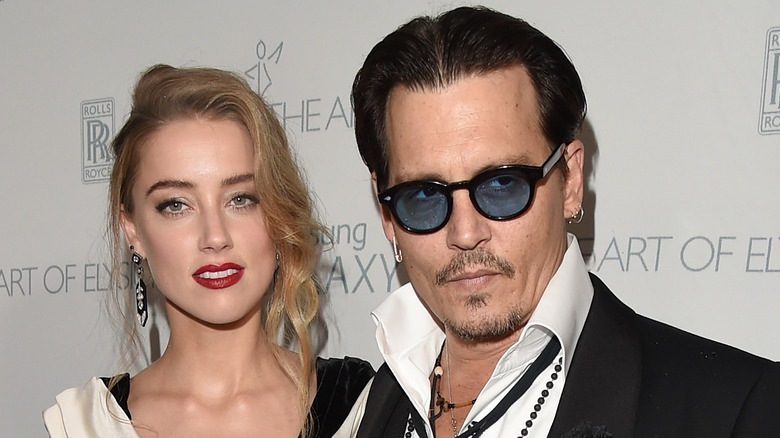 Jason Merritt/term/Getty Images
While the prank was meant to be a surprise for Amber Heard, it obviously did nothing to fix the flaws in their relationship. They divorced shortly after, and as mentioned, the legal drama ensued.
The court of public opinion may still be undecided, but the latest trial in the many cases of Heard and Depp ruled in his favor. Heard was ordered to pay $10 million in compensatory damages and $5 million in punitive damages, per People. After the verdict, Depp issued a statement about how "false, very serious and criminal allegations" had caused "an endless barrage of hateful content" that "had a seismic impact" on the star's life and career, despite no charges being filed. He then added, "six years later, the jury gave me my life back."
Heard spoke out after her devastating legal loss and explained that the ruling "sets back the clock to a time when a woman who spoke up and spoke out could be publicly shamed and humiliated." Regardless of their courtroom quarrel, one thing is clear — Depp is better at pranking than Heard is.