How Many No. 1 Singles Has Mariah Carey Had On The Billboard Hot 100?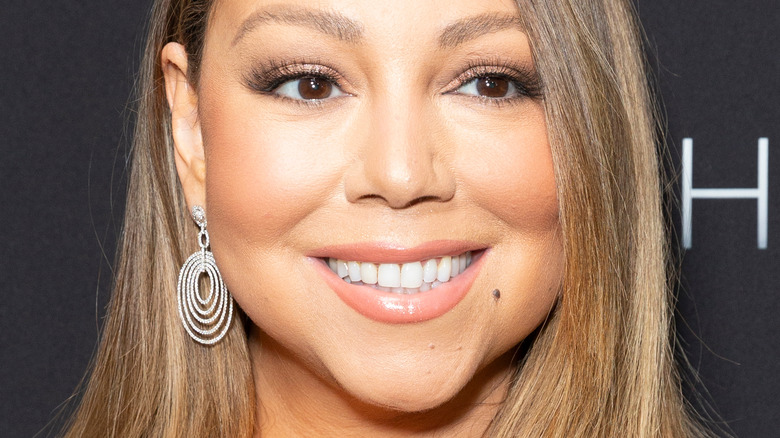 lev radin/Shutterstock
After Mariah Carey's efforts to trademark the title "Queen of Christmas" went public, reactions were divided. While fans would say she earned the title long ago thanks to her festive holiday spirit and wildly famous 1994 song "All I Want For Christmas Is You," Carey's Christmas trademark sparked an unlikely controversy. Not everyone is supportive of the diva's potential official reign: Darlene Love, singer of "Christmas (Baby Please Come Home)," wrote on Facebook, "David Letterman officially declared me the Queen of Christmas 29 years ago, a year before she released 'All I Want For Christmas Is You" and at 81 years of age I'm NOT changing anything. I've been in the business for 52 years, have earned it and can still hit those high notes!"
With or without the official title, Carey remains a queen in her own right — or at least the queen of the Billboard Hot 100. As evidenced through the music chart, the superstar has carved out a category for herself. For starters, the "Emotions" singer has had her fair share of singles rise to the No. 1 spot. But just how many songs in Carey's discography made history by reaching the top of the chart?
Mariah Carey broke a record on the Billboard Hot 100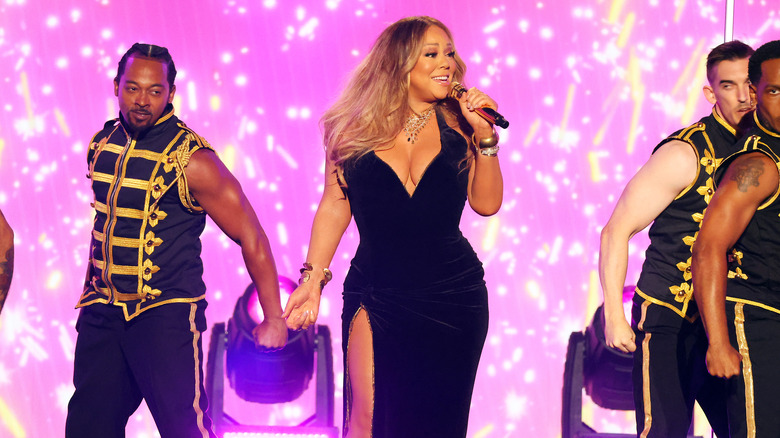 Leon Bennett/Getty Images
Mariah Carey has racked up an impressive total of 19 No. 1 hits on the Billboard Hot 100, per Billboard. The chart's song list includes popular throwbacks such as "Emotions," "Fantasy," "Honey," and "We Belong Together." But fans may be surprised to learn details about one chart-topping song. According to a 2020 Grammy article, Carey made history as the first artist to top the Billboard Hot 100 chart in four separate decades. Carey's hit song "All I Want For Christmas Is You" was responsible for breaking this record, as the iconic '90s Christmas track didn't actually take the No. 1 spot until December 2019.
In December 2021, "All I Want For Christmas Is You" hit the highest ranking on the charts once again. Carey took to Twitter to share her excitement, writing, "'Can't even know what to say' but in a voice note! The most amazing news to wake up to!!! I love you!!!!" In a voice note, she thanked her fanbase, the Lambily, and expressed her joy. She said, "This type of news, it's never like 'Oh my gosh, I'm so bored of this news.' To have another Billboard Hot 100 [No. 1] with a song that means so much to me, I can't even, I can't — I literally don't know what to say."
Mariah Carey didn't just sing her chart-topping hits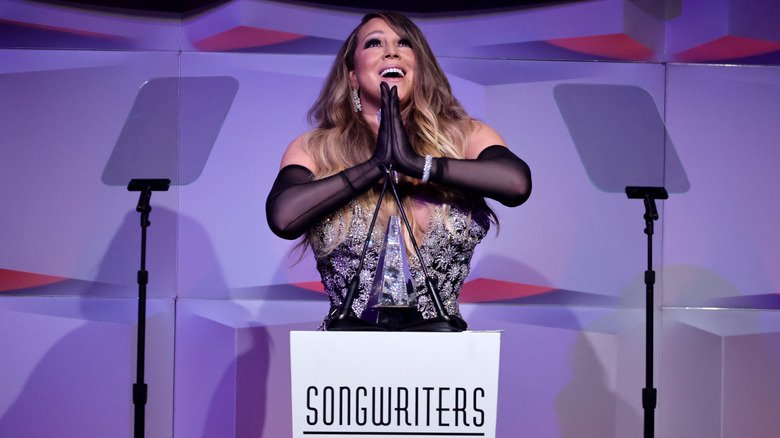 Theo Wargo/Getty Images
Over the years, Mariah Carey has been adamant that she's not just a singer — she's also a songwriter who helped birth her chart-topping hits. Though Carey doesn't expect everyone to know she's a songwriter, she told Genius, "It makes me extremely happy when people say a song has affected their lives, something that I've written that's come from a very personal place has affected or impacted upon somebody else in an important way." In 2022, the superstar celebrated her achievements as a songwriter by formally accepting her induction into the Songwriters Hall of Fame, per Billboard.
In a fan-uploaded '90s video, Carey gave some insight into her collaborative songwriting process. She shared that she typically comes up with a melody before lyrics. She also echoed her current sentiment, revealing that she couldn't imagine not authoring her own songs. She added, "I feel like I have this inside me that I love writing songs. I love contributing to what I'm singing." In Carey's world, some things never change.