Is Love Is Blind Fake?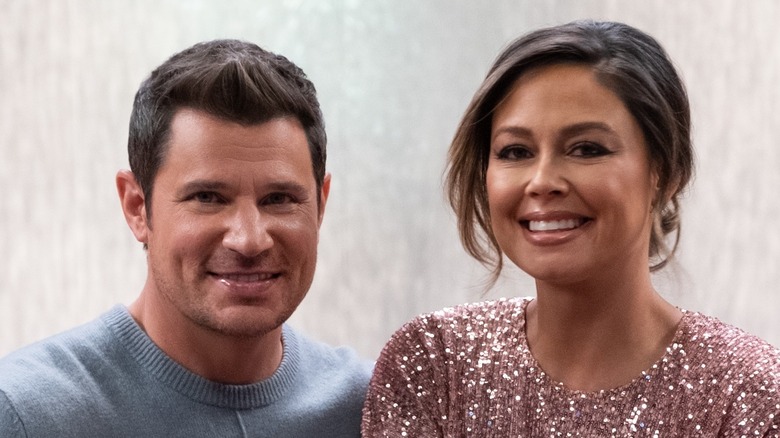 Adam Rose/Netflix
Love is something people spend their whole lives looking for. And on "Love Is Blind," contestants don't even have to look for their potential partners; they just have to talk to them through a wall. The Netflix series asks: Can two people fall in love without even seeing each other? While several couples came away from both seasons with engagements, many didn't last.
With such a lofty concept and a low overall success rate, it begs the question: Did the "Love Is Blind" producers fake everything? As Season 1 contestant Rory Newbrough told Women's Health, there was produced structure to pod dating, though many contestants did try to cheat the system by asking what the person looked like on the other side of the wall. But feelings were genuine. So much so that the creators were surprised at how many people got engaged. "They were like, 'We were expecting one or two [engagements], not eight! We set up to film five!'" Newbrough said.
Like all reality shows, there is a little bit of smoke and mirrors happening to make the great aspects seem amazing and the bad things seem horrendous. It's for entertainment, of course. However, that doesn't mean that the show is fake.
Love Is Blind isn't scripted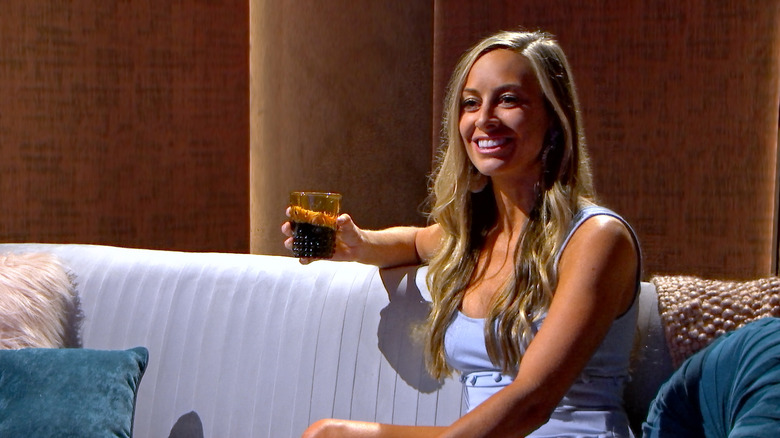 Netflix
For a more direct answer to the question, "Is it all fake?" all we have to do is look at one Instagram comment (via Life & Style). Melissa Cuevas, sister of "Love Is Blind" Season 1 contestant Mark Cuevas, commented that the show is pretty real. When someone asked, "How much of the show is scripted?" The contestant's sister replied, "None of it!"
Of course, anyone can say that. And Cosmopolitan Middle East reported that there are inconsistencies in the series when it comes to some shots. They reported one example where wine glasses changed between cutaways from a contestant. But it is all about the edits in the end, which is why someone could walk away not knowing they're going to be the villain that season. Just because editing created some weird inconsistencies doesn't mean that it's staged.
But as Cosmopolitan noted, at the end of Season 1 of "Love Is Blind," audiences can see producers try to manipulate or start conversations during the big dramatic finale. But to make reality TV enjoyable, there has to be at least some producer involvement. Just look at the 2015 Lifetime series, "Unreal." People will come out of their shells more for their 15 minutes of fame, and producers just have to push the right buttons to get really great dramatic scenes.
The number of engaged couples even surprised the show's creator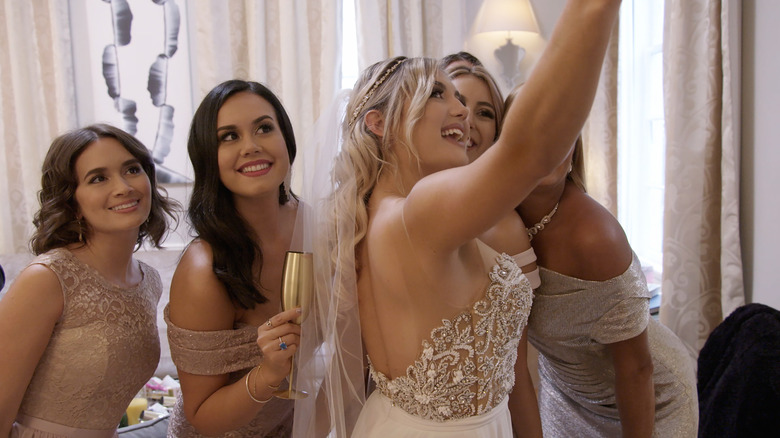 Netflix
Just as Rory Newbrough told Women's Health, everyone was surprised at how many people found matches. The series' creator, Chris Coelen, told Entertainment Weekly right as the series premiered that the outcomes surprised him too. While he hoped people would find connections, he said that he didn't realize how many couples were going to walk away engaged. "I think I, along with everybody who participated, was blown away by the way that people ended up bonding," he said. "I think that the more committed they were to the process and really digging in, the better results they got out of it. So, of course, I am thrilled it worked."
According to Coelen, the participants were shocked at how hard they fell too. But despite a few making genuine connections, you can't stop audiences — and even contestants — from thinking something's off. "Most people thought I was a plant," Newbrough told Women's Health. This was mostly because he would give such good advice, and women would go on platonic dates with him just to talk out their issues. But this only proves that caring isn't blind either.