Inside Paris Jackson's Relationship With Chris Brown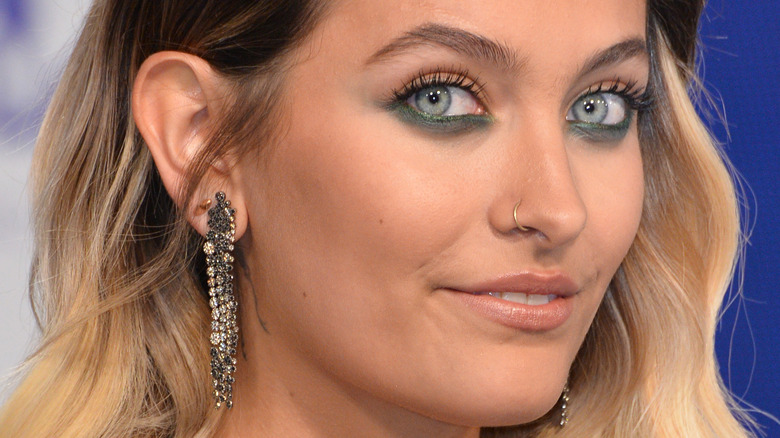 Featureflash Photo Agency/Shutterstock
Paris Jackson, daughter of the late Michael Jackson, has no shortage of famous friends. In 2021, Kathy Hilton, who was a longtime friend of Michael, talked to Paris for a C magazine piece. Speaking about Kathy's daughter, Paris Hilton, Paris Jackson revealed, "I absolutely adore her. I admire her strength. She's insanely smart, insanely funny. It's really nice having someone there who has been around the block."
There's no denying that having Hollywood ties can pave the way for career opportunities. Paris Jackson recently modeled in a campaign for Kim Kardashian's new line of SKIMS swimwear. In a statement to People, she said, "I've known Kim for a while and have always admired her style, so to be in the latest swim campaign for SKIMS is a full circle moment. I love the brand and doing this shoot was so much fun."
But there's someone else important in Paris' inner circle. And given the fact that they're both in the music industry, this relationship makes a lot of sense. Over the years, the daughter of the "King of Pop" has gotten tight with Chris Brown.
Paris Jackson and Chris Brown have a close friendship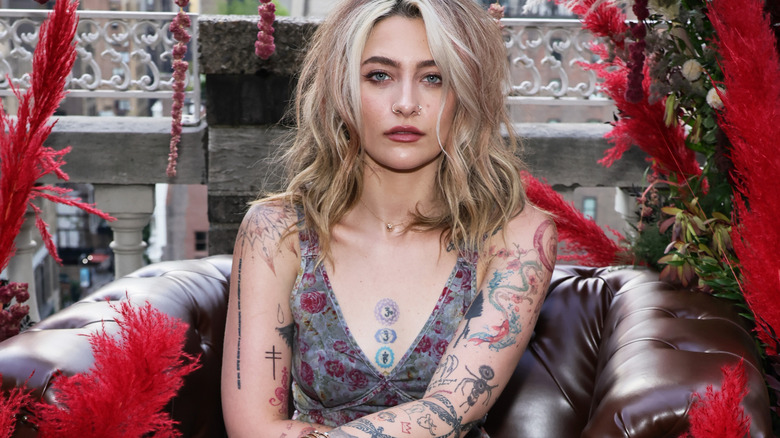 Theo Wargo/Getty Images
In 2018, Paris Jackson celebrated her 20th birthday in West Hollywood. She invited some high-profile guests, including singer Chris Brown. According to Elle, the two had been friends for quite some time. In an Instagram post, Jackson shared a series of photos at her birthday event, and a couple of them included Brown. "Thanks for gettin jiggy with us," she captioned the pictures. In one photo shared by E! News, Brown smiled as Jackson licked cake frosting off of her fingers.
And though there's been unsubstantiated speculation that Jackson and Brown have dated, an insider told Hollywood Life, "There's absolutely nothing romantic going on between Paris and Chris. They're tight, he looks out for her, and he adores her. Their favorite thing to do is to hang out in the studio."
As of recently, Jackson and Brown appear to be on good terms. In May 2022, Hola! magazine posted some paparazzi photos of the two out on the town. Jackson was arriving at Brown's 33rd birthday, as seen in a YouTube video. They greeted each other and hugged, looking as cheerful as ever. And this wasn't the only time Jackson had Brown's back.
Paris Jackson fired back in online drama involving Chris Brown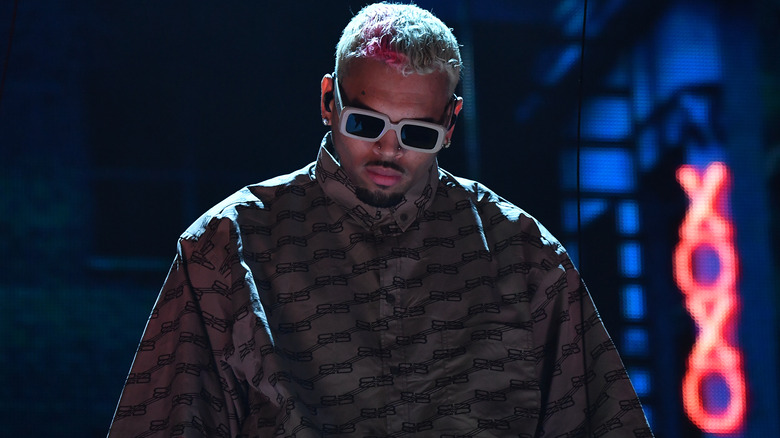 Paras Griffin/Getty Images
In 2019, 50 Cent weighed up Chris Brown and Michael Jackson on social media. In a now-deleted post (via BET), he shared a screenshot of a tweet about the commercial success of Brown's album "Breezy," writing, "CB better than MJ to me now." He followed up with a video of Brown doing back flips at a performance, adding, "All I'm saying is I never seen MJ come out like this."
Paris Jackson defended her late father, commenting, "Superbowl 1993. True legends don't need to exert outrageous amounts of energy just to grasp your attention." Seemingly calling out performance tricks like Brown's flips, Paris continued, "Stillness, my friend ... More power in stillness than you can probably understand." She then made her intentions clear regarding Brown, noting, "And I say this zero shade to Chris [Brown]. I love him dearly. This is just for you, 50."
While 50 Cent's response added further shade to Paris' father, Brown has made it clear how he feels about Michael Jackson. Brown spoke out about the frequent comparisons in a June interview with Big Boy TV, saying, "I wouldn't even be breathing or even being able to sing a song if that man didn't exist."