Did Angelina Jolie Shade Jennifer Aniston At The 2018 Golden Globes?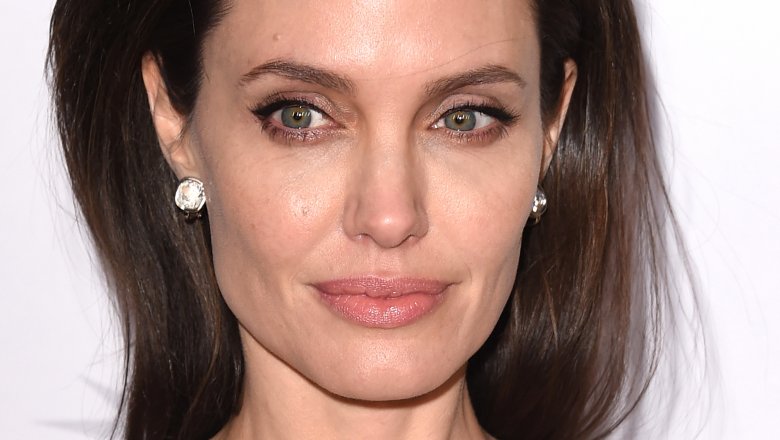 Getty Images
Some fans think the Maleficent star dissed her ex-husband's former flame.
On Sunday, Jan. 7, 2018, stars from both TV and film attended the 2018 Golden Globe Awards — including both Angelina Jolie and Jennifer Aniston. The fact that these two guests showed up to the big event is particularly noteworthy as, for those not in the know, Jolie and Aniston were both married to movie star Brad Pitt. It's rumored that Pitt ended his romance with Aniston in order to start dating Jolie, whom he later married.
Unfortunately for viewers hoping for some awards show drama, Jolie and Aniston didn't run into each other at the ceremony. But Jolie, who filed for divorce from Pitt in September 2016, was in the audience when Aniston took the stage with Carol Burnett to present the award for best actress in a TV musical or comedy (via HuffPost). And a photo of the moment has fans convinced that Jolie was dissing Aniston.
Shared by the Instagram account obviousbutamazing, the picture, taken from behind Aniston, shows Jolie appearing to look down while the Friends actress is presenting. And, better yet, it captures Fifty Shades of Grey actress Dakota Johnson seemingly glancing at Jolie for a reaction as Aniston addresses the crowd.
The post's caption read, "#dakotajohnson looking at #angelinajolie while #jenniferaniston is presenting. #classic #highschool And what's the #devil looking at? How rude, I can't with Angelina! Worst personality period."
But some people, who clearly appreciate a good celebrity feud, have focused on other aspects of Aniston's moment at the Golden Globes — namely the standing ovation the audience gave her co-presenter Burnett. And, of course, how that meant that, in a way, Jolie had to stand and clap for Aniston too.
"I love that they gave Carol Burnett a standing ovation so that Angelina Jolie had to give one too which means she basically had to give one to Jennifer Aniston. I'm just petty like that. #GoldenGlobes," one Twitter user wrote.
Another tweet read, "Lol at Angelina Jolie participating in a standing ovation that's half for Jennifer Aniston #GoldenGlobes."
While we wait for either Jolie or Aniston — or even Johnson — to address the Golden Globes photo, read all about the moments you didn't see on TV at the big awards show.