How Did Khloe Kardashian And Tristan Thompson Meet?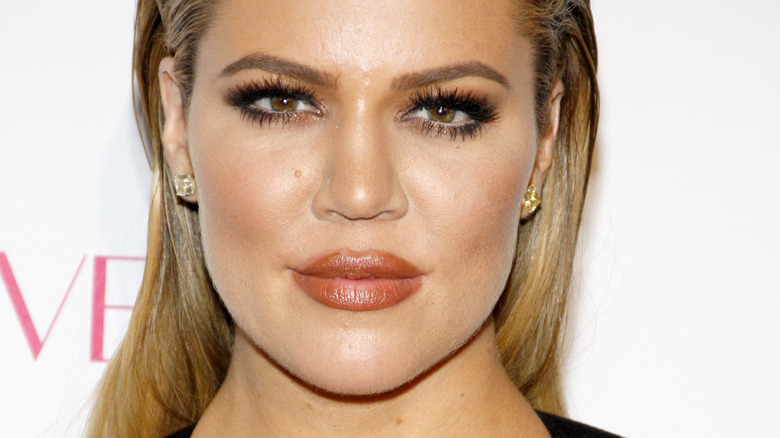 Tinseltown/Shutterstock
In recent years, very few celebrity relationships have been riddled with drama as much as Khloé Kardashians's relationship with Tristan Thompson. News of Thompson's infidelity first broke in April 2018 when the Daily Mail caught the NBA star kissing another woman. That same day, TMZ released a video from October 2017 showing Thompson being flirty with two women in a hookah bar. Though he and Kardashian would end up getting back together, it was not long before the reality star was caught in another web of betrayal — only this time, it was too close to home. In February 2019, Thompson was in the news again after he was spotted kissing Jordyn Woods, Kylie's best friend at the time. Although Kardashian and Thompson they broke up amid the scandal, the pair eventually got back together. But that was not the end of their troubles.
Most recently, the NBA star was caught in a paternity scandal when personal trainer welcomed a baby and accused Thompson of fathering the newborn — something he has himself since admitted to. "Today, paternity test results reveal that I fathered a child with Maralee Nichols. I take full responsibility for my actions," he wrote on Instagram (via Page Six) in January. With all the back and forth between these two, it sure is hard to remember how Kardashian and Thompson met in the first place.
Khloé Kardashian and Tristan Thompson met in a common way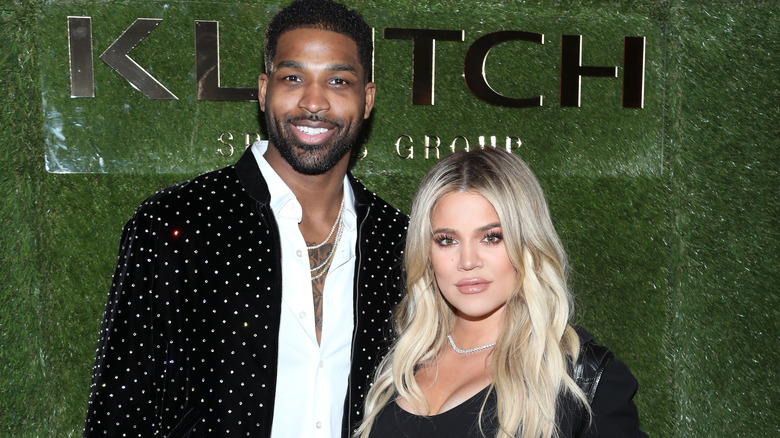 Jerritt Clark/Getty Images
Sometimes, even the world's most famous people need a little help finding love. In 2017, Kardashian revealed she met Tristan Thompson after being introduced by a mutual friend. "Brandon Jennings, who's a basketball player, he's a friend of mine and Malika [Haqq]'s, and he was like, 'You're such a good girl, I want to introduce you to someone," Kardashian explained on "Keeping Up With the Kardashians" (via E! News).
The reality star would later meet Thompson on a blind date at the Bel-Air hotel where she was staying at the time. Almost immediately, they hit things off. In September 2016 — only a few months after they met — the NBA star took things to the next step when he asked Kardashian to be his girlfriend during a getaway trip. "He said, 'I want you to be my girlfriend.' Tristan rarely did, in the club, in Cabo," the reality star revealed during an episode of "Keeping Up With the Kardashians." A month later, the pair made things publicly official when they took things to the gram. Kardashian shared an adorable photo of her hand over Thompson's hand, captioned it with a heart emoji — and with that, we were ushered into the Khloé-Tristan era.
Khloé Kardashian hoped Tristan Thompson would be 'the one'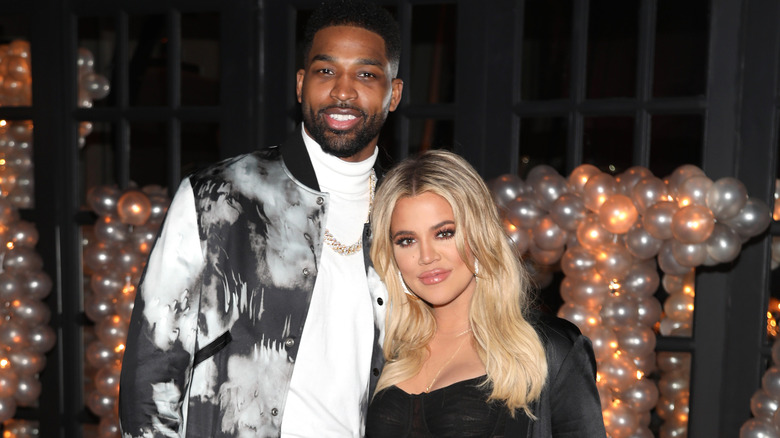 Jerritt Clark/Getty Images
Much like she did with Lamar Odom, Khloé Kardashian fell in love with Tristan Thompson real quick — and boy, did she fall hard! During a 2017 interview with "Extra," the Good American founder admitted things were going well with Thompson, revealing that she was "in love" with him. When asked if she thinks he is "the one," the reality star replied, "I think he's the best. So I hope so. Only time will tell."
That same year, Kardashian opened up to the Daily Mail about her relationship with the NBA star. "When he speaks, it's 'us' and 'we,' and that's important because it shows that you're sharing life," she told the outlet. The reality star also opened up about her future with the NBA player, noting that she was the happiest she had ever been and "it doesn't take a ring for me to feel that way." She also highlighted some of her favorite things about her beau, praising him for sharing the same religious beliefs as her and also being protective of her and the rest of her family. Despite the drama, Kardashian clearly still thinks at least somewhat highly of her ex, as he fathered her second child, who was born in August.