Why Eva Longoria Doesn't Remember Going To Kim Kardashian's Wedding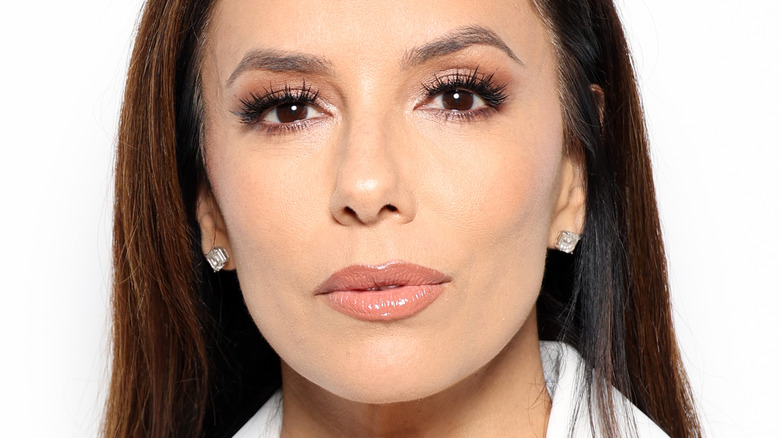 Pascal Le Segretain/Getty Images
Kim Kardashian and Kris Humphries' 72-day marriage is easily one of the shortest celebrity unions of all time. Kardashian and Humphries enjoyed a whirlwind relationship, much of which played out on "Keeping Up With The Kardashians," yet they didn't get the happy ending they hoped for after marrying on August 20, 2011. Instead, they reportedly ran into disagreements about where they would live, post-wedding, per TMZ. In October 2011, Kardashian filed for divorce over "irreconcilable differences," per Page Six.
Despite Kardashian and Humphries' short-lived marriage, their star-studded wedding, which was captured by E!'s cameras, reportedly cost $10 million. Per The Mirror, it was an event to remember — especially for the bride and groom. In an exclusive cover story for People, the former spouses dished on their big day ahead of the premiere of their two-part special, "Kim's Fairy Tale Wedding." 
"It was like we were in heaven," Kardashian shared in the issue. Humphries expressed a similar sentiment, adding, "I'm going to remember how perfect it was." Unfortunately, "Desperate Housewives" actor Eva Longoria, who was one of the many A-listers in attendance, doesn't seem to remember much of Kardashian and Humphries' wedding at all, and the reason why is totally hilarious. 
Eva Longoria was really drunk at Kim Kardashian's wedding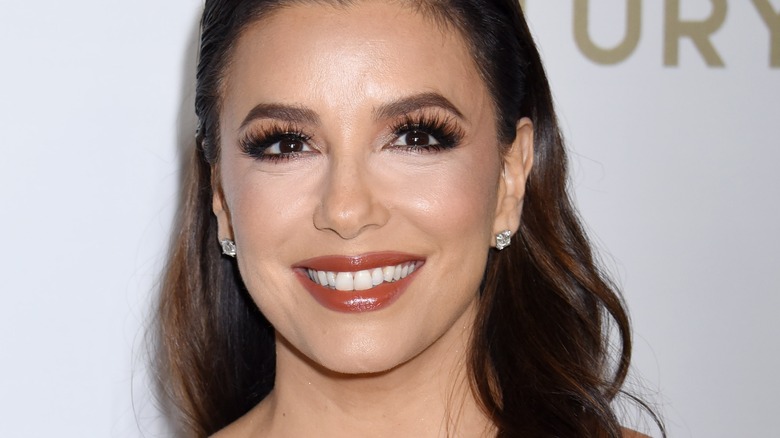 Ga Fullner/Shutterstock
During an appearance on "Watch What Happens Live," Eva Longoria responded to a fan who asked if she noticed anything between Kim Kardashian and Kris Humphries at their wedding, which would make her believe it would only last 72 days. 
"No, I don't even remember the wedding," Longoria replied after a laugh. "Again, I was drunk most of the time." Andy Cohen, host of "WWHL," then followed up, asking if Longoria was annoyed that the wedding was filmed. "Ummm, no? I don't remember that, either. Was it filmed? It was filmed! Oh, I don't remember that." Moments later, Longoria did recall one aspect of the wedding that she did remember. "I remember I sat next to Ryan Seacrest, so I was on camera a lot," Eva shared. "Do you know what I mean? Because he was the producer of the show. That's what I was annoyed at. I was like, 'Why am I sitting next to you? I wanna relax!'"
Despite not being able to remember much of Kim's wedding in 2011, she made new memories with Kim's sister, Khloé Kardashian two years later when they attended the wedding of socialite Amber Ridinger and her musician husband, Duane McLaughlin. "Having so much fun at Amber's wedding with @KhloeKardashian and @lala in Puerto Rico!" wrote Longoria on her WhoSay account (via Hello Magazine). 
Eva Longoria certainly remembers her own wedding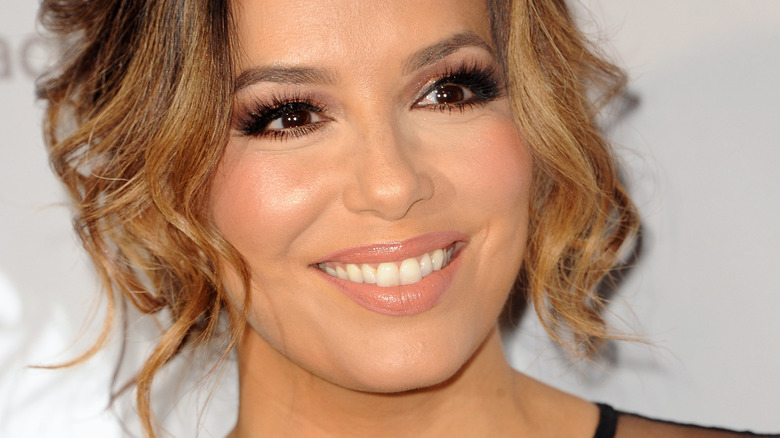 Tinseltown/Shutterstock
Eva Longoria, who married businessman José Antonio Bastón on May 21, 2016, definitely remembers her own wedding day, although alcohol still played a factor. "There were so many memorable moments," Longoria shared with Us Weekly. "The tequila kind of blurred it all! But [Pepe] surprised me throughout the night: a surprise singer, a surprise video, every half hour there was another surprise. I was like, 'I can't handle any more! My heart is going to explode!'" Longoria added that her cheeks even started to hurt "from laughing and smiling so much."
Longoria, who had previously been married twice before, enjoyed a nice, private ceremony in Mexico to Bastón. According to People, Longoria wed Bastón at his home in Valle de Bravo, Mexico, while wearing a wedding gown designed by her close friend, Victoria Beckham. After the wedding, Longoria took to Instagram to excitedly announce her big news. "In our garden, surrounded by a small gathering of people we love, Pepe and I tied the knot!" shared Longoria alongside a photo of the couple's wedding rings and name settings. 
According to ABC, Longoria's wedding was a star-studded affair, that included singer Ricky Martin and TV host Mario Lopez. It's unclear, though, if a Kardashian made an appearance.