How Much Does Kyle Richards Make On Real Housewives Of Beverly Hills?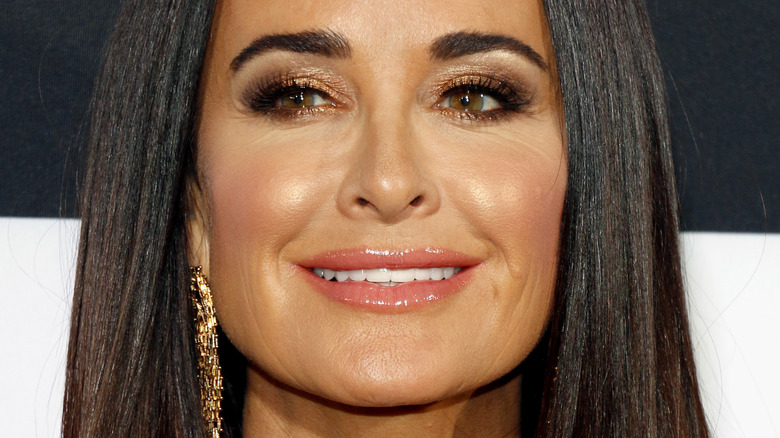 Tinseltown/Shutterstock
Television personality Kyle Richards has become a well-known reality star through her longtime role on "The Real Housewives of Beverly Hills." Richards began appearing on the Bravo series back in 2010, which was the show's very first season. In 2022, Richards spoke to Vogue about her journey of being on "RHOBH" for over a decade. "I've had some difficult times on the show, but I wouldn't have done it any other way," Richards said. "It's opened so many doors, and my family has been so supported." The celeb also shared a sentimental reason why she feels grateful to have many moments of her life filmed for the series. "But all of my daughters' milestones have also been documented, so when I have grandchildren in the future, they will also be able to view our family through the show," Richards said.
When she reflected on the greatest lesson she's learned from her time on "RHOBH" during another recent interview, Richards explained that leading with authenticity is a key takeaway for her. Richards summed the message up as, "Always be yourself, and be true to yourself. Then, if you do screw up, you can still live with yourself, because you were being genuine," per TheThings. For her contributions to the popular series, it's been reported that Richards is paid a sizable salary.
Kyle Richards reportedly makes a six-figure sum for every season of RHOBH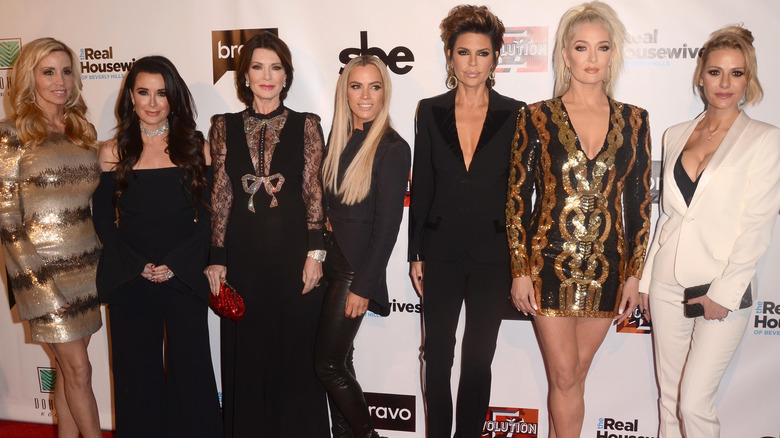 Kathy Hutchins/Shutterstock
Kyle Richards is a longtime star of "The Real Housewives of Beverly Hills" who collects a solid salary for her work. There have been a few instances in which outlets have explored how much Richards earns from "RHOBH." In 2019, Camille Grammer claimed via Twitter that Richards had earned $134,000 for the first season of the show, while her castmates were paid about $36,000, which was reported by Reality Blurb. Years prior to this, a 2014 Radar Online article had stated that Richards was then being paid $500,000 for each season of "RHOBH," according to a source from the show's production team. "Lisa Vanderpump, Kyle Richards, and Yolanda Foster are each earning the most at $500,000," the source stated. 
Separately, Celebrity Net Worth reports that Richards' earnings are not quite as hefty, as they claim her salary is $270,000 per season. Although these figures vary, judging from these estimates one could assume that Richards earns somewhere in the six-figure range as a "Real Housewives" cast member. Through both her role on "RHOBH" and other professional endeavors, Richards has secured an impressive net worth.
Kyle Richards' success has earned her a significant net worth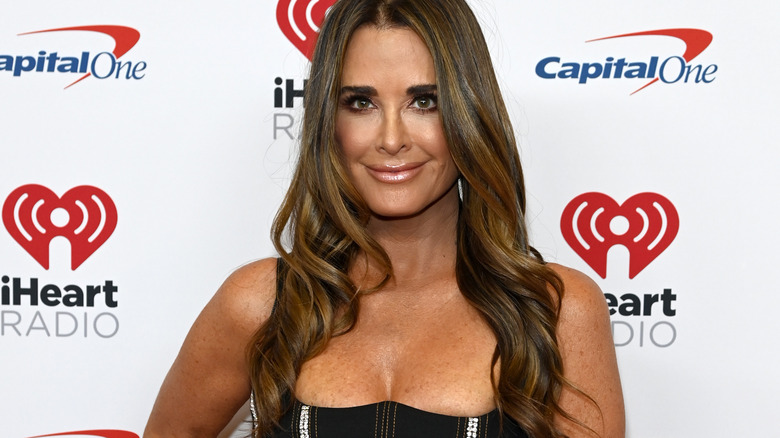 David Becker/Getty Images
Kyle Richards' career moves have proven to be lucrative for "The Real Housewives of Beverly Hills" star. Celebrity Net Worth estimates that Richards' net worth is a cool $100 million. Though she has secured a steady income from appearing on "RHOBH," there are several other roles that have led to Richards' substantial wealth. As Women's Health wrote in 2022, Richards has worn many hats professionally such as real estate investor, actor, clothing store owner, and television producer. Her first credit as a producer came about in 2018 when she produced "American Woman," a series that was based on Richards' own childhood experiences. "It is inspired by my life growing up in the '70s," Richards told Bravo about the series.
In addition, Richards' acting career has remained steady over the years. In 2021, the actor and reality star appeared in three projects: "The Housewives of the North Pole," "The Prince," and "Halloween Kills." Richards has continued her role as Lindsey Wallace in the "Halloween" franchise, as she most recently reprised the part for the 2022 flick, "Halloween Ends." 
Lastly, Richards has scored the title of author, as she has penned releases like her 2011 book, "Life Is Not a Reality Show: Keeping It Real with the Housewife Who Does It All." Most recently, she filmed the "RHOBH" Season 12 reunion, but it's currently up in the air whether or not Richards will be cashing a big salary check for Season 13.