Rihanna Has Turned Down The Super Bowl Once Before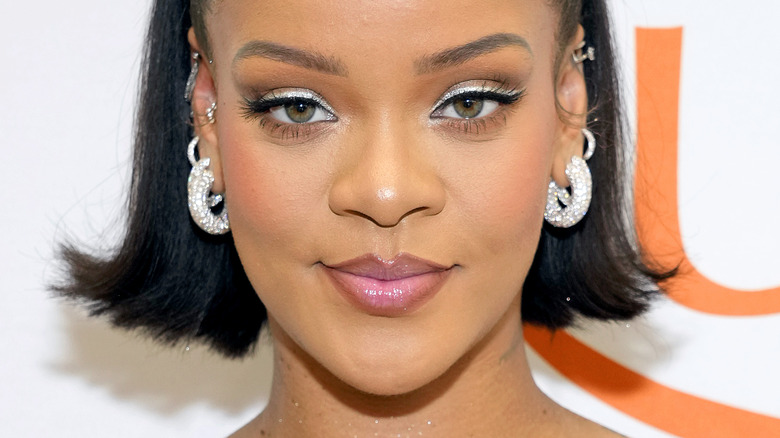 Kevin Mazur/Getty Images
In October, Rihanna was officially been announced as the headliner for the 2023 Apple Music Super Bowl Halftime Show. "We are thrilled to welcome Rihanna to the Apple Music Super Bowl Halftime Show stage," Seth Dudowsky, NFL Head of Music, said in a statement (via The Hollywood Reporter). "Rihanna is a once-in-a-generation artist who has been a cultural force throughout her career. We look forward to collaborating with Rihanna, Roc Nation and Apple Music to bring fans another historic Halftime Show performance." For her part, Rihanna simply posted a photo of her hand holding a football, with the caption, "."
Following the announcement, rumors began swirling about who could potentially join the Barbadian superstar at the show. According to TMZ, Rihanna's team is considering any one of more than 50 artists, as the singer's catalog includes collaborations with Drake, Calvin Harris, Jay-Z, and more.
And while fans of Rihanna are undoubtedly excited to see the singer slay at the Super Bowl Halftime Show, this isn't the first time she has been asked to perform.
Rihanna turned down the gig in support of Colin Kaepernick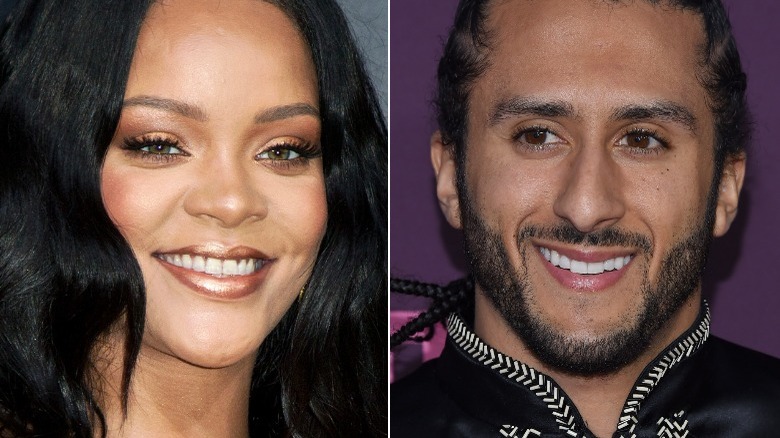 Andrea Raffin & DFree/Shutterstock
Following the news that Rihanna would be headlining the 2023 Apple Music Super Bowl Halftime Show, fans of the "Umbrella" singer took to social media to express their excitement. "Can't believe rihanna is doing the super bowl like we won," one person tweeted. Another wrote, "Since Rihanna announced her SuperBowl show i wake up everyday with Joy and happiness." However, some were quick to point out that Rihanna previously turned down an opportunity to perform at the halftime show, amid Colin Kaepernick's feud with the league.
On the November 2019 issue of Vogue, the Grammy winning performer revealed that she turned down the gig simply because she didn't want to be "a sellout." "I just couldn't be a sellout. I couldn't be an enabler," she told the publication. "There's things within that organization that I do not agree with at all, and I was not about to go and be of service to them in any way."
However, it now appears that both Rihanna and Kaepernick have resolved their issues with the NFL. According to CBS Sports, Kaepernick has completed training for the Las Vegas Raiders and is hoping for a career comeback. Meanwhile, Rihanna is set to take the Super Bowl stage in February 2023.
Rihanna has received well wishes from past performers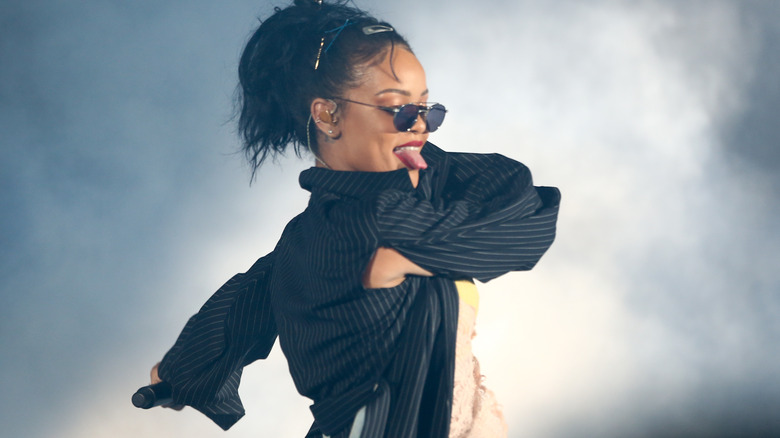 Debby Wong/Shutterstock
Rihanna is, of course, in good company as some of music's biggest names have graced the Halftime show stage. One of last year's performers, Dr. Dre, has since shared his excitement for Rihanna's upcoming performance and even shared some advice. "I can't wait to see what she's going to do," Dre said during an appearance on Apple Music's "The Ebro Show" (via Variety). "Put the right people around you and have fun. That's basically what it is — making sure you have the right creative people around you." Dre performed at last year's event, alongside Snoop Dogg, 50 Cent, Eminem, and Mary J. Blige — the latter who has also gushed over Rihanna.
"I'm sure she's super excited," Blige said, during an interview with Access Hollywood. "She is a professional, she can handle herself, she is going to kill it, she's got hit after hit after hit." Blige's acknowledgment came just weeks after she (along with the other performers at the 2022 Halftime Show) won an Emmy Award for Best Live Variety Special.