What Was Marilyn Monroe's Natural Hair Color?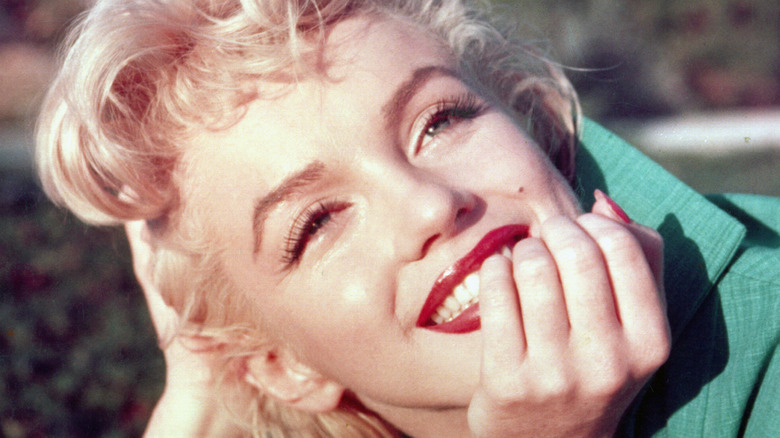 Baron/Getty Images
Despite a tragically cut short career, Marilyn Monroe (born Norma Jeane Mortenson) soon skyrocketed to worldwide fame after her movie career launched in the early 1950s. After being elevated to star status upon receiving top billing for the film noir "Niagara" in 1953, Monroe quickly became known as a "blonde bombshell" among the public for her striking features and sex appeal, a label in part strengthened by her iconic performance that same year in the musical comedy film "Gentlemen Prefer Blondes." Of course, these features would come to define her public image until her tragic death nine years later from a barbiturate overdose, and are still largely associated with her to this day. 
However, was Monroe's natural hair color really blonde? Well, it turns out that — much like her name — Monroe's appearance, and her hair color in particular, was something carefully manufactured largely by her. And even today, 60 years later, her fans may be surprised to know what she really looked like before her transformation. 
Marilyn Monroe first changed her hair color as a model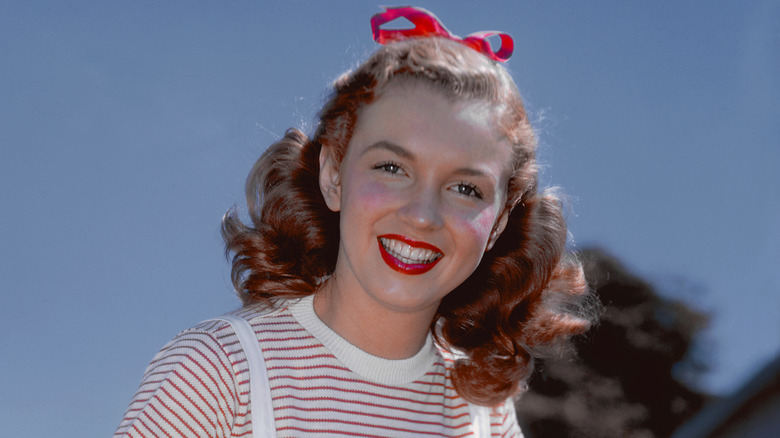 Donaldson Collection/Getty Images
As many fans of the cultural icon may know, before she was a celebrated actor, Marilyn Monroe was a pin-up model. While her first husband, Los Angeles factory worker James Dougherty, was fighting in the Pacific in early 1945, Monroe, then 16 and named Norma Jeane Baker, met photographer David Conover and decided to model for him. She eventually signed a contract with the Blue Book Model Agency in August 1945, when she was 17, defying her deployed husband.
At the time, Monroe's hair was curly and brunette. However, given that she had eyes for Hollywood, she decided to straighten it and dye it blonde in order to become more employable. "For Marilyn, going blonde, it was like the Hollywood star-building machine," photographer Nancy Lee Andrews told CNN. "She saw what it could do for her." 
Of course, this tactic would end up working for her; through the modeling agency's owner, Emmeline Snively, Monroe signed a contract with an acting agency in mid-1946. By September, she divorced Dougherty, in part because the studio stipulated in their contract that she be unmarried. Dougherty confirmed this himself in a 1984 interview with UPI, saying that "studios wanted clauses for no marriage — a pregnant starlet would do them no good."
Marilyn Monroe always wanted to be known as a famous blonde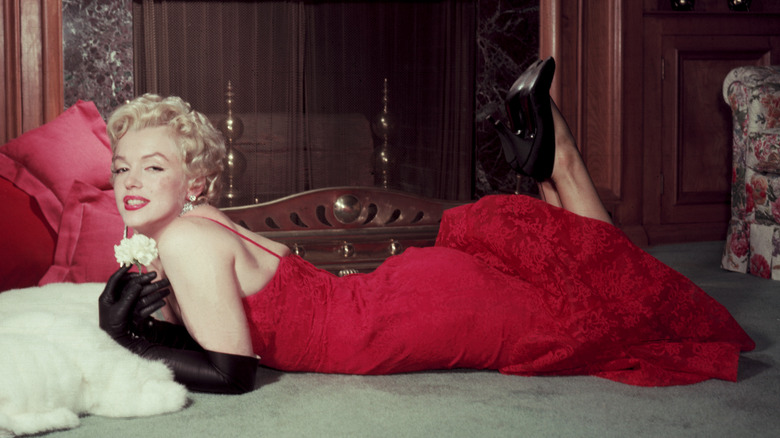 Gene Lester/Getty Images
Marilyn Monroe was undoubtedly one of the biggest cultural icons of the 20th century, but what many fans may not know is that although movie studios often had an undue amount of control over their clients back then, Monroe's iconic public image was largely a product of her own design. Director and producer Gail Levin told PBS in 2006, for instance, that "not only did she master her own image," but she also "create[d] it and ultimately control[led] it." 
This was also demonstrated by comparisons critics and audience members often drew between her and Jean Harlow, a film star often known as the "original blonde bombshell," who died in 1937 at the age of 26. This comparison was largely a result of Monroe's own actions, as she had called Harlow her childhood idol, and even employed Pearl Porterfield — a hairstylist who used to work for Harlow — as her own.
Although Monroe's carefully crafted "dumb blonde" persona was an effective marketing strategy, her real personality was far from it. As academic Sarah Churchwell told the Christian Science Monitor in 2012, "The biggest myth is that she was dumb. The second is that she was fragile ... She was far from dumb, although she was not formally educated, and she was very sensitive about that. But she was very smart indeed — and very tough. She had to be both to beat the Hollywood studio system in the 1950s."