The Reason Steve Carell Left The Morning Show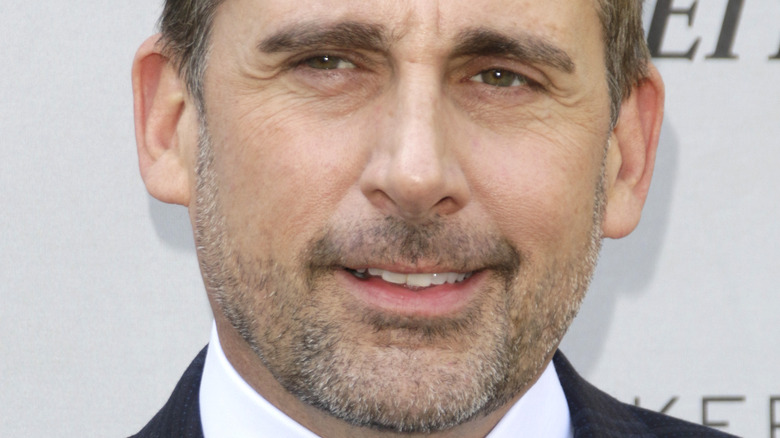 Kathy Hutchins/Shutterstock
"The Morning Show" has been a big hit for Apple TV+, bringing big name stars including Reese Witherspoon, Jennifer Aniston, and Steve Carell together for one A-List small screen cast. The latter, though, didn't make it past the second season. The former "The Office" star appeared as Mitch Kessler, the former co-host of "The Morning Show," but made a swift exit from the series during Season 2, episode 7, titled "La Amara Vita." The episode (spoiler alert!) saw Mitch die in a car crash after seemingly purposefully letting go of the wheel after being blinded by headlights and driving off a cliff.
The departure of Carell's character had some mixed responses on social media (let's just say it wasn't exactly the most lovable role the actor has ever played), but there was plenty of praise for the star's portrayal of the complicated Mitch. "Regardless of what you all think of mitch you have to appreciate steve carell's acting on #TheMorningShow he deserves all the awards!" one person tweeted. Another agreed, writing, "No spoilers, but #TheMorningShow Episode 7, 'La Amara Vita,' is exceptionally well done and is no doubt going to be the award reel submission for Jennifer Aniston & Steve Carell & Valeria Golino. Extraordinary work."
So, with such high praise for his performance rolling in, why did Carell actually leave the show?
How Mitch Kessler died was Steve Carell's idea
While many actors may leave TV shows against their well after producers decide to throw in a death to spice things up a little bit, it sounds like Steve Carell was actually involved in Mitch Kessler's dramatic demise. "The Morning Show" producer Kerry Ehrin admitted to Variety in October 2021 that Carell suggested his character's death be closer to suicide than an accident, to which she admitted, "I thought that was really interesting from someone who was really inside the character." It turns out they had at least on other ending for Mitch planned, though Ehrin confessed of Carell's idea, "Surrendering to his fate, it felt more poetic to me. His last thoughts are of Alex [Levy, Jennifer Aniston] — the way they were." As for what those other ideas were? Well, one early plan was for Mitch to die due to COVID-19.
It turns out that killing off Mitch had absolutely nothing to do with Carell though, and had been the plan for his character ever since the pilot episode. Ehrin confessed to "The Hollywood Reporter" in November 2021 that Carell took it all in his stride and even made jokes about leaving the show. "Steve is so lovely to work with, and he's so committed to the work. And I think he did such a really beautiful job playing a very-not-good person. And he embraced the role," she said of the "Space Force" star.
What The Morning Show cast thought of Steve Carell's exit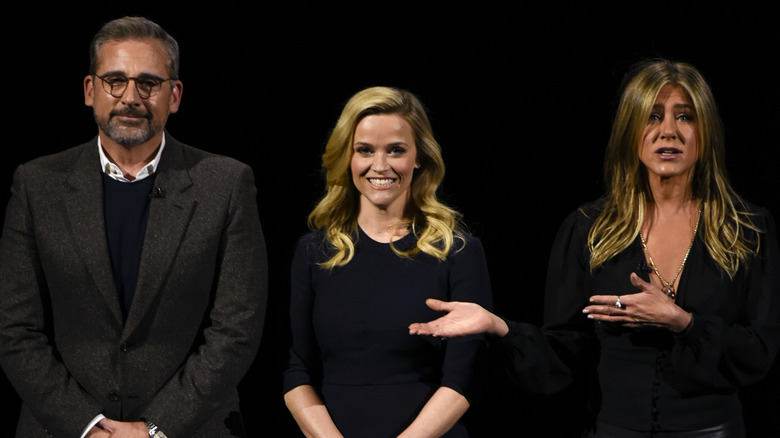 Michael Short/Getty Images
It sounds like the cast of "The Morning Show" also had high praise for Steve Carell, including Jennifer Aniston who opened up about his departure and his character's tragic fate to USA Today. "It was so heartbreaking. It's done so beautifully, and it's very poetic, in a way. But that's [Alex's] only ally. That's her only friend. That's her one person she has in the world," she shared. Reese Witherspoon also touched on the tragic storyline during the interview, gushing over how much she enjoyed working with Carell. "I love Steve. He's such a great guy, and he's so wonderful to work with. But I love what Steve did with Mitch," she admitted, praising how he played such a complicated character with plenty of flaws. "I just think he did a great job playing that, layering a lot of humanity on top of it."
But, while we know Mitch can't return to the current storyline following his grizzly death, could Carell reprise the character in future flashback scenes? The actor was asked about the possibility by Entertainment Tonight in August, responding, "I doubt it, but really, who knows? That was a lot of fun to work on. That was a great group of people and I enjoyed that." Sounds like anything's possible!