Here's What Rihanna Really Looks Like Without Makeup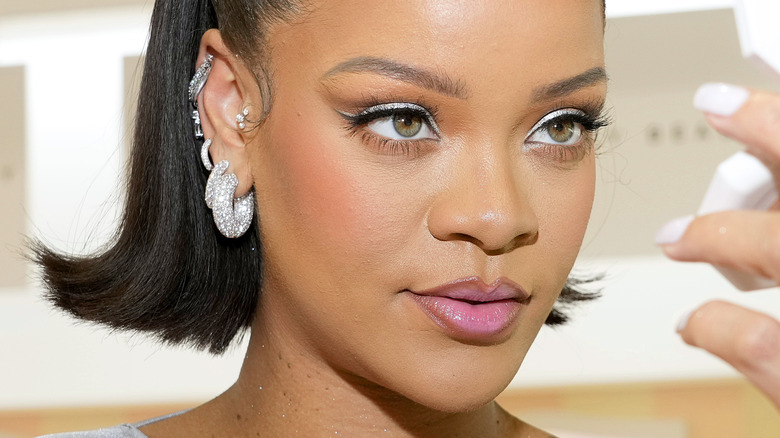 Kevin Mazur/Getty Images
When it was announced that Rihanna would be the Super Bowl LVII halftime show performer, a joke about the singer's beauty brand went viral. A Twitter user shared a photoshopped image of RiRi doing someone else's makeup on the Super Bowl stage and captioned it, "When Rihanna performs a 14-minute makeup tutorial at the halftime show instead."
Since Rihanna launched Fenty Beauty in 2017, she hasn't released a new album, and according to Billboard, her last live performance was at the Grammys in 2018. But focusing on makeup instead of music has been a lucrative endeavor for the entertainer, helping RiRi become a billionaire and score a spot on the annual Forbes list of America's most successful self-made women in 2022.
In an interview with Time, Rihanna revealed that she fell in love with the transformative power of makeup the first time she ever tried it as a teen. "I could never look at my skin without foundation again," she said. "Makeup, it spoiled me." But the "Work" hitmaker is willing to give her fans an occasional glimpse of her makeup-free face for the sake of promoting her cosmetics and skincare lines. To keep consumers craving the results her products provide, she starts with a blank canvas in her Super Bowl-worthy makeup tutorial videos, and this is something her fans really want to see — per Tajmeeli, she was one of 2021's most-searched-for make-up free celebrities, finishing 14th behind Kendall Jenner and Beyoncé.
Rihanna was rarely allowed to wear makeup growing up
Rihanna told InStyle that her love affair with makeup started when she was growing up in Barbados. Her mother did makeup for a living, so when RiRi entered a beauty pageant as a teen, she didn't need to hire outside help to doll her up for the competition. However, RiRi said she was only allowed to wear makeup for special occasions.
But in true teenager fashion, she sneakily experimented with cosmetics whenever she could. "Lipstick always got me in trouble," she told Elle. "I always had the urge to wear it." Her passion for makeup makes her the ideal celeb spokesperson for her cosmetics brand, and one of her makeup tutorials on the Fenty Beauty YouTube channel has amassed more than 7.7 million views as of this writing.
While convincing fans that makeup is magnificent might seem like it's in Rihanna's best interests, she had to shift her sales pitch a bit when she launched a line of skincare products. She also created a Fenty Skin YouTube channel, where fans can watch the bare-faced singer perform each step of her morning skincare routine. And when she found herself stuck at home during the pandemic, RiRi touted the benefits of taking a long break from using makeup and sticking to her daily routine, which involves using a makeup remover-cleanser, toner-serum, and moisturizer with SPF (all of which are Fenty Skin products, obvs). "My skin has improved tremendously throughout quarantine," she told Glamour.
Rihanna's skincare secrets
So, what are some of Rihanna's best tricks for keeping her skin shining bright like a diamond? Well, for one thing, she slathers her face and bod with the liquid equivalent of a sun umbrella-ella-ella. "I think the biggest misconception with SPF, in particular, is that Black people don't need it, and as a woman of color I'm here to say that's a lie," she told Glamour. According to RiRi, she learned just how important using SPF is for everyone when she noticed some areas of hyperpigmentation on her skin.
Rihanna is also a big believer in the benefits of different forms of hydration. She told Harper's Bazaar that she makes sure to guzzle plenty of H2O and uses a hydrating spray on her face when she travels by plane. But on occasion, she avoids certain fluids. "When I feel like my skin has had it, I cut all the alcohol completely and overdo the water," she told Elle.
The singer credits her healthy diet for her healthy glow, as well. On "The Doctors," RiRi's personal chef, Debbie Solomon, revealed that the performer loves curry chicken, hardboiled eggs, and fresh fruit, including papaya and pineapple. Rihanna is also a big fan of mangoes, but when she was photographed dipping one of the juicy fruits in the ocean during a trip to Barbados, some Twitter users suggested that eating food infused with seawater might not be the best idea.