Why Reba McEntire Always Ends Her Show With The Same Song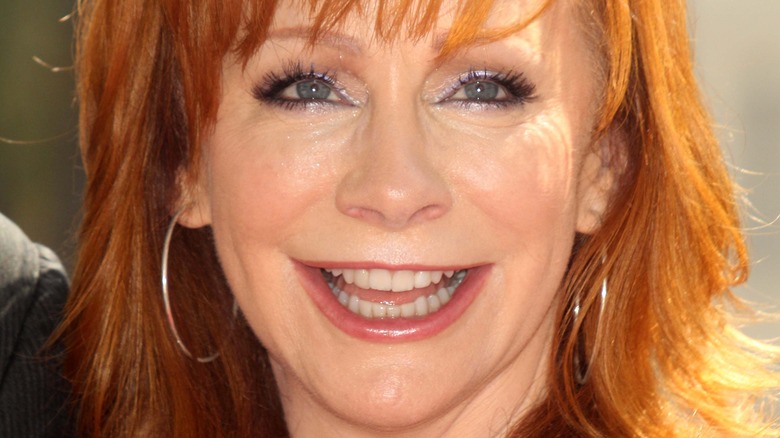 s_bukley/Shutterstock
If you've ever been to a Reba McEntire show, you know the country music legend is all about three things, the hits, the glitz, and the glamour. The country music stalwart has been hitting the stage for decades now and has no doubt perfected her craft, which may be why she's still considered one of the biggest inspirations for today's biggest country stars, like Carrie Underwood. "I think my biggest influences musically, or career-wise, would have to be women like Reba, like Dolly [Parton], like Faith Hill, like Martina McBride," Underwood admitted to UMG Nashville in March. "You see all of these women just juggle everything masterfully and many of them are moms and they're superstars and they're talented. I know how hard they work because I'm in their shoes somewhat and doing the same juggling," she added.
McEntire dropped her first album, aptly titled "Reba McEntire," back in 1977 and has released plenty of albums with plenty of hits since then, which means she has a plethora of songs to choose from when it comes to closing out her shows on tour and beyond. But it turns out there's only one this Country Queen likes to sing before saying her goodbyes to the crowd.
Reba McEntire always closes her shows with 'Fancy'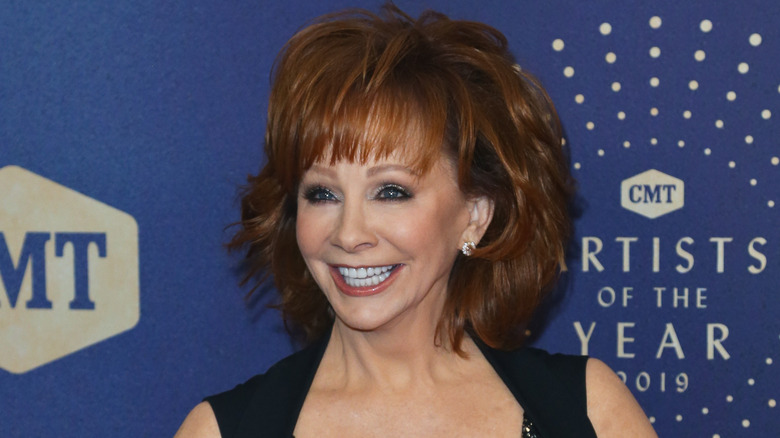 Debby Wong/Shutterstock
It turns out Reba McEntire has a special place in her heart for "Fancy," the song largely credited with being one of her signature hits. In fact, she has such an affinity for the 1991 song that she doesn't like to close a show without it. Absolute Radio asked McEntire to name her favorite hit to perform last during an October 2021 interview, to which she said without missing a beat, "Always 'Fancy.' I never close a show without 'Fancy.'" She has a sweet reason for ending things with the song too, admitting she loved it long before she ever recorded it (the song was originally performed by Bobbie Gentry, who released her version in 1969). "It's a rags-to-riches story song, I just love," McEntire confessed, sharing she's been singing the hit for as long as she can remember. "I sing it on every show because I just love it. I become Fancy Rae Baker when I sing that song," she added.
Proving "Fancy" really is her go-to closer, McEntire even put the song last on her 2021 album, "Revived Remixed Revisited," on which she re-recorded some of her biggest hits. The re-recorded version is the last song on disc one, the remixed version is the last track on disc two, and the original is the closing anthem on disc three.
Reba McEntire never thought 'Fancy' would be such a big hit
It's hard to think of 'Fancy' and not think of Reba McEntire now, but it turns out there was a time when even McEntire wasn't convinced the song was going to be as massive as it became. The star tweeted about the track in February 2011 to celebrate 30 years since she released the popular cover, writing, "When 'Fancy' was released 30 years ago today, I had no idea that it would go on to become my most well-known and most requested song. That's the power of a great story song!"
She shared a similar sentiment to Garden & Gun in 2020, admitting she initially almost didn't get to record the hit after being told by the head of her record label at the time that it probably wasn't a very good idea to put her own spin on it because of its mature nature ("Fancy" actually tells the story of prostitution). In true McEntire style though, she persevered, and cut it with record producer Tony Brown who was also a fan of the track. "I think it was meant to be, and Tony Brown happened to be the next producer, who loved 'Fancy,' so it all worked out perfectly," she recalled of recording the song. "My advice to anybody coming up in the music business, male or female: Keep looking for that right song. Your gut will know it."