Who Is Bill Skarsgård's Longtime Partner, Alida Morberg?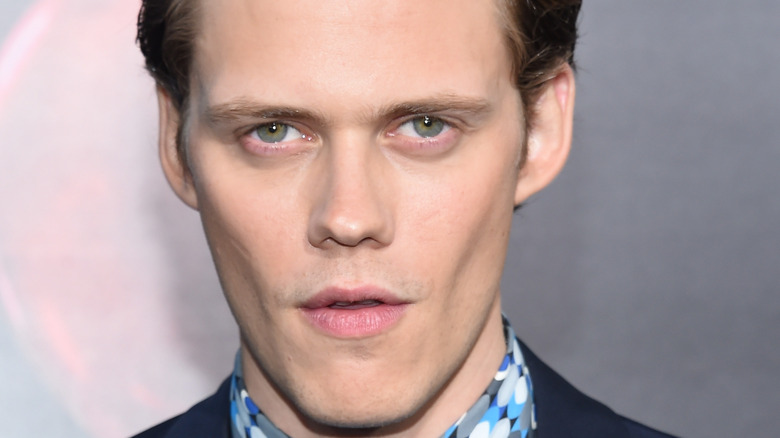 DFree/Shutterstock
Swedish actor Bill Skarsgård is one of the many big names in Hollywood who has made the decision to separate his work from his personal life. However, it's publicly known that the "It" star has been in a long-term relationship with fellow Swedish actor Alida Morberg (via Distractify). It's also public knowledge that the two are parents to a daughter, as Skarsgård once mentioned in an interview with Stephen Colbert, to the surprise of many viewers (via YouTube).
While both halves of this celebrity couple have high-profile careers, neither Morberg nor Skarsgård share much of their personal life on social media (via Distractify). Skarsgård has spoken before about how he refrains from using any of the apps, whereas Morberg maintains an Instagram though seldom posts about the pair.  Although it might not seem like it, there's actually more information on the internet about Morberg and her relationship with the "Barbarian" actor than English-speaking fans might be aware of at a glance. In fact, some digging into Swedish-language news outlets proves there's plenty more to learn about Morberg.
Alida Morberg has a famous father
Alida Morberg, Bill Skarsgård's partner, isn't the first person in her family to pursue an acting career. Her father is Per Morberg, a Swedish actor and television presenter, who created his own web program called "Caribbean days," where his daughter and Skarsgård have made appearances (via Expressen). Alida's mother is Inese Morberg, with whom she has developed a closer relationship since the birth of her own daughter (via ELLE).
Inese definitely has some experience of her own, because Alida is one of her parents' five daughters together and their middle child (via Femina). According to Femina, her sisters' names are Janina, Liza Minou, Molly, and Astrid, and some of them are also in the entertainment industry. Interestingly enough, Skarsgård also comes from a famous acting family, and he has seven siblings himself (via Showbiz Cheat Sheet). The most notable of his siblings is his brother Alexander Skarsgård, who is also an actor (via Bustle). Their father, Stellan Skarsgård, has been acting since the 1970s.
Her daughter with Bill Skarsgård wasn't really a secret
There's no doubt that Alida Morberg and Bill Skarsgård have a relatively private relationship, but they have revealed some aspects of their life to Swedish-language media outlets. For instance, Morbeg has shared that her daughter with Skarsgård is named Oona (per Femina). Skarsgård's first mention of his daughter in an English-language interview wasn't when the news broke though, as he confirmed Morberg's pregnancy to the Swedish outlet Aftonbladet before she had given birth.
As translated from Swedish, Morbger previously said of motherhood, "For me personally, it has created energy, because I don't have as much time for myself anymore. When you have all the time in the world, it can happen that you don't take advantage of the time, you can sleep for a long time and that creates more anxiety. It is of course individual, but for me, it was incredibly positive. I feel very good about routines. Both my sister and father have ADHD, and I'm sure I also have a smattering of some letter combination" (per Femina).
Morberg has also shared occasional snaps of Oona on Instagram, though she has not revealed their daughter's face in any of the pictures.