50 Cent's Son Has Strange Offer For His Estranged Father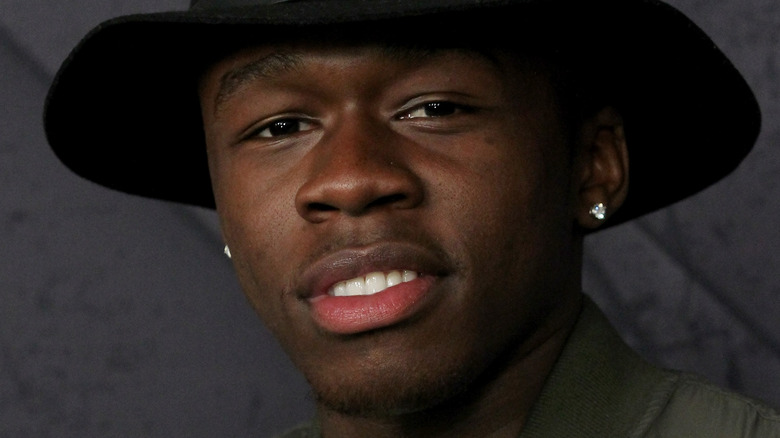 Bennett Raglin/bet/Getty Images
It's no secret that rapper 50 Cent (born Curtis Jackson) and his son Marquise Jackson's relationship has been challenging, to say the least.
"Growing up, my dad was my superhero," Marquise recalled during a 2017 interview with Rap-Up. "It was like having a father who was Superman, more or less. But then, as I got older, you start realizing things or you start seeing certain patterns and it takes an effect on your relationship with people. That's what happened with me and my father," he explained. "It completely went south when I was probably like 10 or 11. He wasn't really around enough. It kind of dwindled down as time went on and certain events happened." But as we all know there are two sides to every story and according to 50 Cent, nothing could be further from the truth. "He has completely embraced his mom's perspective," the "In da Club" crooner told the hosts of "Philly's Morning Show" in 2014. "Everything in his life is something that I provided for him."
Sadly, however, as the years have gone on the estranged father and son's relationship has grown even more contentious... and now Marquise has extended a bizarre offer to his famous father.
Marquise Jackson offers to pay 50 Cent $6700 in exchange for father-son time
Get rich or die tryin'?
On October 10, Marquise Jackson took to his Instagram account and offered up an odd proposition to his estranged father, 50 Cent. "Since y'all think $6,700 is sooo much money someone tell my pops I will pay him $6,700 for just 24hr of his time so we can do everything I ever wanted to do with him as a kid," he penned in the eyebrow-raising Instagram post. "Red Yellow Green whatever color he like," he added along with the loudly crying face emoji.
The aforementioned $6700 figure stems from the dollar amount Marquise recently told music artist Choke No Joke that his father paid monthly in child support. According to Marquise, however, that figure was simply not enough. "$6700 a month in the state of New York City, you do the math," Marquise ranted. "You're talking about a Forbes lister. You're talking about someone that has problems with everybody; you can't just live in any neighborhood; $81,000 is not a substantial amount of money..." he argued. "You talking about you got beef with everybody in the industry, you can't just live anywhere." As one can imagine, 50 Cent appeared none too pleased with his son's comments and seemingly shot back when he posted a clip from "Power," a television series he starred in, wherein his character kills his own son in cold blood. "No caption needed," the caption of the cryptic post read. YIKES.