What You Should Know About Elisabeth Hasselbeck's Husband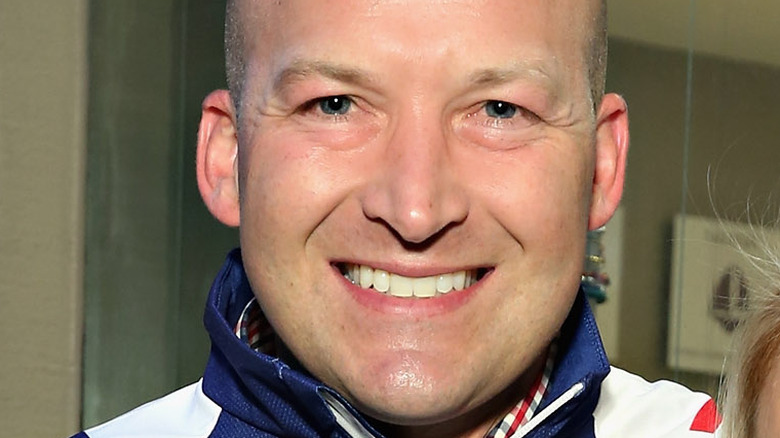 Cindy Ord/Getty Images
For better or for worse, Elisabeth Hasselbeck has recently returned as a guest host to "The View." Over the years, celebrities have slammed Hasselbeck for taking her conservative opinions and blunt personality too far. In 2007, she sent former co-host Rosie O'Donnell over the edge when the two argued about the Iraq War, leading to a premature show exit for O'Donnell. According to People, O'Donnell later answered fan questions on her website, including if she "ever enjoyed Elisabeth." She replied, "I can say this: I never tried harder to be friends with someone than I did with her, but I don't think we ever got there."
But long before Hasselbeck was escalating feuds on daytime television, she was a softball player studying at Boston College, per Good Housekeeping. There, she met her college sweetheart, Tim Hasselbeck, who was an avid athlete like her. The couple married in 2002 and have three kids — Grace, Taylor, and Isaiah. What else is there to know about Elisabeth's husband, Tim?
Tim Hasselbeck is a sports-loving family man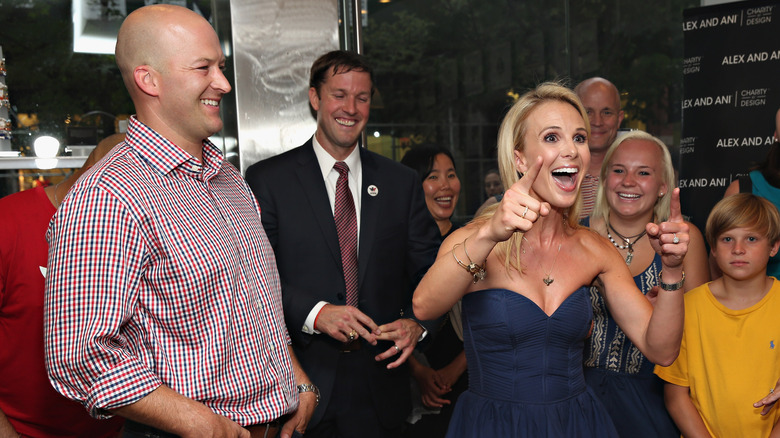 Cindy Ord/Getty Images
Tim Hasselbeck is an NFL quarterback turned sports analyst. According to Good Housekeeping, he played football for the New York Giants, Washington Redskins, and Arizona Cardinals before leaving to take a position at ESPN. He's been in the ESPN circuit since 2008, and is featured throughout the year on SportsCenter, Get Up, NFL Live and ESPN Radio, per ESPN Press Room. According to the outlet, Tim and Elisabeth Hasselbeck once shook things up and filled in for each other's on-air jobs in 2010.
In a 2021 interview with "The Anything's Possible Podcast," the couple reflected on the challenges they faced during the COVID-19 pandemic. Tim discussed how it affected his work and family life, saying, "I called 14 college football games from home. It's kind of weird to do that not in a stadium." However, there was an upside to being away from the field. He continued, "But it kind of provided an opportunity where Elisabeth made the halftime meal that I was able to eat." He also revealed he got to spend more time with his kids instead of traveling for work. While Tim is devoted to his job, he also seems to prioritize his family.
Elisabeth and Tim Hasselbeck are a devoted couple
Terry Wyatt/Getty Images
In 2021, Tim Hasselbeck made an Instagram post to honor his 19th anniversary to his wife. He posted a series of throwback photos with Elisabeth, including a picture of them at their wedding. He captioned the images, "Happy Anniversary @elisabethhasselbeck I'm so thankful for the last 19 years. Your loyalty, kindness, generosity, creativity, and faithfulness has blessed me beyond measure." Elisabeth echoed his sentiment in 2022 for their 20th anniversary, citing a Bible passage about love and writing, "You hold my heart. Timothy Thomas Hasselbeck."
And in sickness and in health, it appears that Elisabeth and Tim have each other's backs. In 2014, Elisabeth talked about her experience with emergency surgery to get rid of a tumor. She mentioned some details about her dynamic with her husband, telling Us Weekly, "He's the leader at home. You know he was a quarterback on field, he's a quarterback at our house, and I like it that way. Our house works best because of his leadership, and I can be bold, but he's our general." It's crystal clear who's boss in the Hasselbeck household.