Real Housewives Star Kandi Burruss Calls Out Kim Zolciak-Biermann On Twitter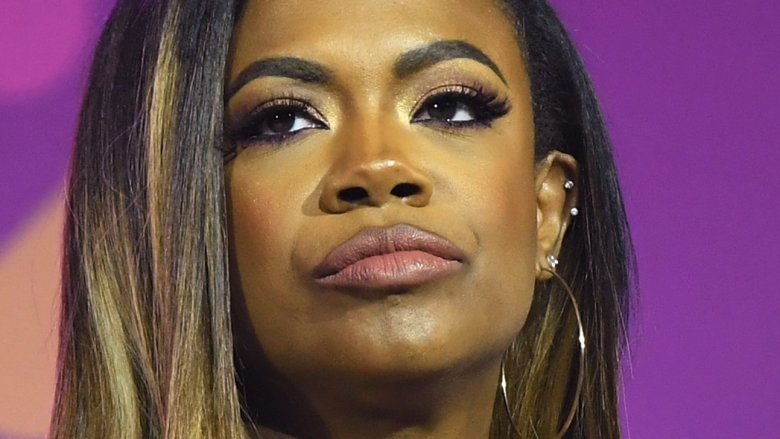 Getty Images
The claws are out!
On Sunday, Jan. 14, 2018, The Real Housewives of Atlanta stars Kandi Burruss and Kim Zolciak-Biermann engaged in a nasty social media fight. And it all centered around Zolciak-Biermann's claim that Burruss once propositioned her for sex (via E! News).
"I'm sick of these b****es lying on me," Burruss tweeted out. "@KimZolciak I have NEVER wanted you or your box. And stop swearing on your kids while you're telling lies. Lying a** b****."
Commenting on how Zolciak-Biermann recently re-joined the show's cast, the Xscape member continued, "Somebody's really reaching for a permanent peach here... This is my house. You're just a visitor!"
In another tweet, Burruss added, "PSA: stop lying @Kimzolciak!"
Of course, Zolciak-Biermann wasn't just going to let Burruss' comments slide. In response, she tweeted, "If anybody is lying it's you @Kandi."
"You and your husband are full on swingers f***ing all kinds of girls and can NEVER admit it," the original RHOA star, who'd previously left the show after season five, stated. "And b**** if it weren't for me there would be no house. Remember I built this house!"
Zolciak-Biermann's claim that Burruss once asked her for sex was shown during the RHOA episode that aired on Sunday, Jan. 14, the same night the two stars feuded on Twitter. In the episode, Zolciak-Biermann gossiped about Burruss to pal Shereé Whitfield, remarking on false allegations that Burruss and husband Todd Tucker had attempted to drug Shamea Morton in order to take advantage of her sexually. "I also know a lot about, you know, Kandi...I'm just saying the threesome part with the hubby. ... the elevator's not going to the top floor if you're willing to share your man," Zolciak-Biermann said (via E! News).
Zolciak-Biermann then alleged that Burruss had once tried to perform oral sex on her. "On my kid's life if God strikes me dead, I wouldn't let her," she told Whitfield. "I'm not saying that to be mean, I'm telling you the f***ing truth."
While we wait to see how Burruss hits back at Zolciak-Biermann, read all about the biggest secrets of the Real Housewives stars.