King Charles' Coronation Will Feature An Apparent Critic Of Meghan Markle And Prince Harry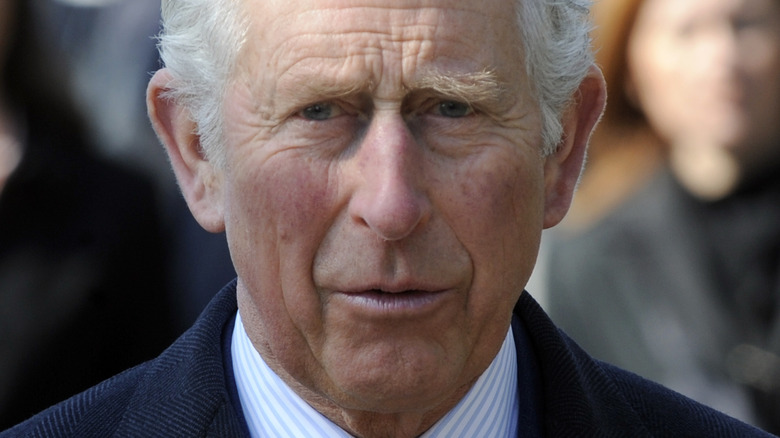 bibiphoto/Shutterstock
Great Britain and the United Kingdom were thrown into sorrow following the tragic death of Britain's Queen Elizabeth II on September 8. As her health had declined, Queen Elizabeth asked Prince Charles, The Duke of Cornwall, to represent her at official functions. He'd been waiting in the wings and preparing to take over the royal scepter for decades. So, it's safe to assume he had the limp handshake and wrist-twisting wave down pat. Many others worldwide were also united in grief for the monarch, whom NPR reports was the second-longest reigning in history behind King Louis XIV.
The USA has always been fascinated with "The Firm" despite having kicked the Brits out in 1776 following that whole tea thing in Boston. Maybe it's because the arrogant royal family members' outrageous behavior, the never-ending drama, and the glitz and glamor make for the perfect soap opera. It's like "The Bold and the Beautiful," but with bad teeth and weak chins.
According to The Hollywood Reporter, "The Crown" broke records in 2020, becoming one of the USA's most-streamed Netflix shows, "with viewers watching 3.36 billion minutes" of the royal drama in just one week. So, by now, many must be aware of King Charles' penchant for sulking, holding a grudge, and unwillingness to let things go (Camilla, Queen Consort, anyone?) There's also his strained relationship with Prince Harry, the Duke of Sussex, which likely won't be improved at all by King Charles' coronation featuring an apparent critic of Meghan Markle and Prince Harry.
King Charles' coronation could make for some awks interactions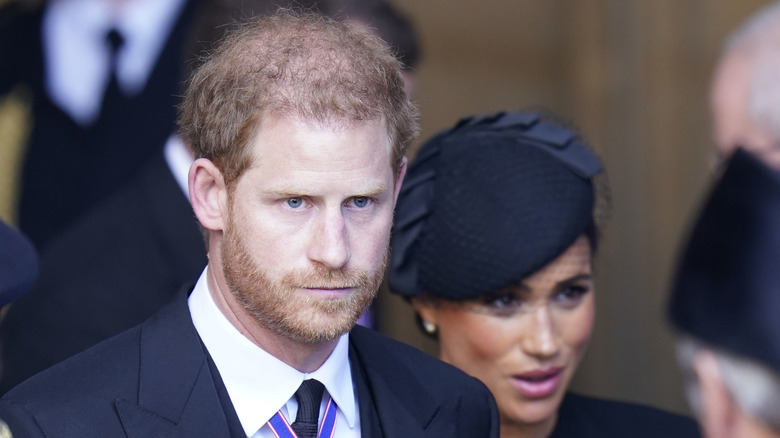 Wpa Pool/Getty Images
Of all the bishops in the U.K. (26 according to Parliament), King Charles III has to be crowned by the one who's an apparent critic of Prince Harry and Meghan Markle, the Duke and Duchess of Sussex. The Archbishop of Canterbury, Justin Welby, slammed the couple's claim he performed a "secret wedding" three days before their royal bash. "I signed the wedding certificate, which is a legal document, and I would have committed a serious criminal offense if I signed it knowing it was false," Welby told La Repubblica (via Express), insisting the wedding was on Saturday as planned.
In King Charles' defense, the Archbishop of Canterbury has performed every royal coronation since 1066, so he doesn't really have any choice. Meanwhile, BBC News reported details of the coronation ceremony. Welby will place the solid gold 17th-Century St. Edward's Crown on King Charles' head and present him and Camilla, the queen consort, with "an orb, sceptre, and ring." Then they'll be paraded through London in the Gold State Coach, a horse-drawn carriage in which they'll bust out the best wrist-twisting waves to their adoring subjects. The lavish affair will occur on May 6 at Westminster Abbey.
It's unclear how much Charles' will cost, but The New York Times reports that Queen Elizabeth's coronation cost around $54 million in today's money. Meanwhile, the Joseph Rowntree Foundation (via Big Issue) reports that in the U.K., "over 14.5 million people are living in poverty, including 4.3 million kids."