JoJo Siwa Cements Her Relationship Status With Avery Cyrus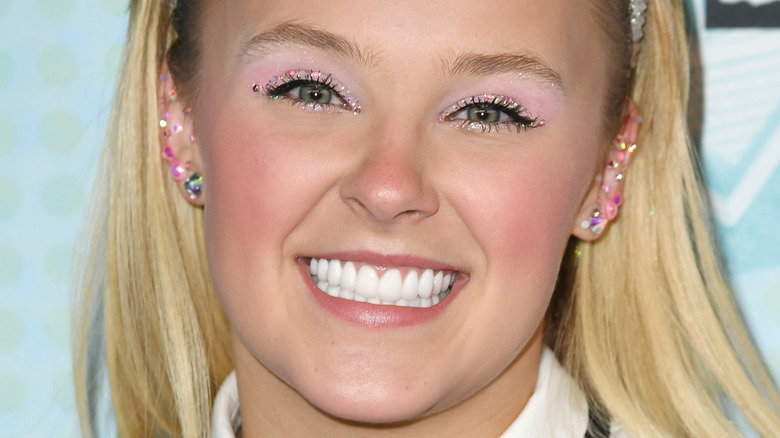 Jc Olivera/Getty Images
JoJo Siwa has certainly been making a lot of headlines in the past year, with many of them due her personal life opposed to her career. Many fans, for instance, were surprised to find out when her relationship status had changed yet again back in August. Unfortunately, she and her ex Kylie Prew decided to end their romance for good after briefly getting back together again. Prew hinted that there might have been something going on behind the scenes, as she said during an Instagram Live (via Page Six), "I don't like drama and it makes me really, really anxious and so I don't want to talk about it for a while, but someone asked me just now if I was single [and] I am."
Well, Siwa certainly didn't stay home and weep over the loss of that relationship for too long as she quickly moved on with Avery Cyrus. The two made their debut on TikTok (because where else do kids post such things these days?) in September, with Siwa hinting that she's never been happier in her life. And while Siwa and Cyrus have been spending a lot of time with each other these last few weeks, it looks like things weren't cemented between them until now.
JoJo Siwa and Avery Cyrus are really a thing now
JoJo Siwa and Avery Cyrus are now as official as it gets. Siwa took to her Instagram on October 9 to share adorable photos of her trip to Walt Disney World with Cyrus, including one that had a poster that said, "JoJo Be My GF?" If that weren't enough, Siwa also shared her feelings about their relationship in a YouTube video, noting how the two set out to take their time with the relationship. But it wasn't due to anything bad — the happy couple just wanted to have fun for a while. "It just clicks," Siwa exclaimed. The dancer also revealed Cyrus planned to pop the GF question on the trip, so it wasn't a complete surprise.
Many of Siwa's fans shared their happiness and support for the multi-talented singer, with one writing, "So happy for you and Avery y'all deserve to be happy don't let the haters get the best of you," in addition to, "Shocked me as well, that U 2 weren't girlfriends already! So happy  & equally as much 4 a real youtube vlog." 
So it appears good things come to those who wait — well, at least in the case of Siwa and Cyrus!