JoJo Siwa's Relationship Status Has Changed Yet Again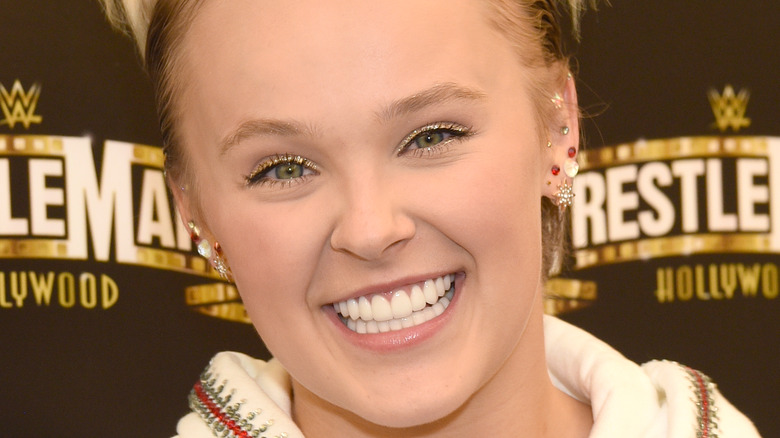 Gregg Deguire/Getty Images
In January 2021, "Dance Moms" alum JoJo Siwa sparked rumors about her sexuality. After posting a picture on Twitter of herself in a t-shirt that read "Best. Gay. Cousin. Ever," she addressed the situation on an Instagram livestream (via People). A fan asked what she labeled herself as, but the young dancer and social media influencer said that she just loves humans in general and focused on her happiness. "I'm the happiest I've ever been," she stated. "That's what matters." Siwa then announced that she had found love.
"I will say that I have made some choices, you know, I didn't really have my eyes open," she told E! News in April. "I am lucky to be in love. I think love is a very special thing that sometimes can be taken for granted. And I'm very lucky to have unconditional love." She didn't drop any names, but she did say she was "very, very happy."
In November 2021, the "Dance Moms" star was a guest on the "This is Paris" podcast. Siwa told podcast host Paris Hilton that she and her girlfriend, Kylie Prew, had broken up. The reality television star said that she and Prew are still "best friends," indicating that the split was mutual and amicable. But a little over six months later, Siwa and Prew reconciled. However, the honeymoon appears to now be over.
JoJo Siwa and Kylie Prew break up again
On May 5, "Boomerang" singer JoJo Siwa confirmed that she and her ex-girlfriend, Kylie Prew, were giving their relationship another try. She posted a picture on Instagram (pictured above) of the two cozying up to each other at Disney World, captioning the post, "If you love something let it go, if it comes back...." But the reconciliation didn't last very long. Prew took to Instagram to announce the couple's second split.
"I don't like drama and it makes me really, really anxious and so I don't want to talk about it for a while, but someone asked me just now if I was single [and] I am," Prew said on an Instagram livestream (via Page Six). She mentioned that she's been single for almost two months, but she assured everyone that "everything's fine," the breakup wasn't messy, and both she and Siwa are "safe and happy and healthy."
According to Just Jared, the last time the "Dancing With the Stars" alum showed her girlfriend off was at the end of June. Siwa documented going to her first pride parade on her Facebook Watch series "JoJo Goes," and Prew surprised her on a float.