Catherine Zeta-Jones Addresses Husband Michael Douglas' Sexual Harassment Denial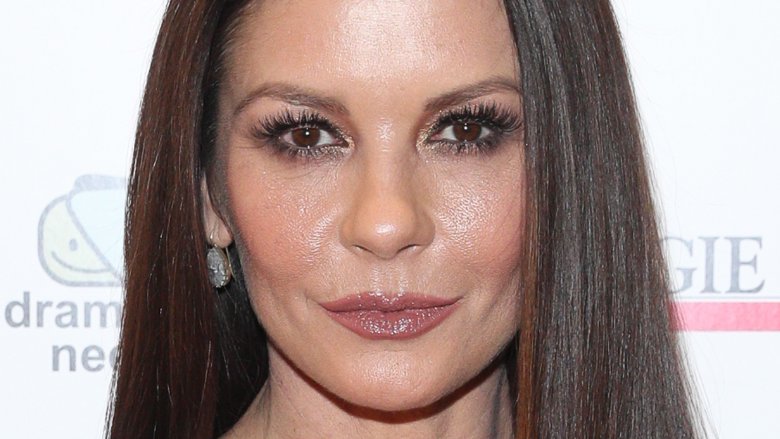 Getty Images
The Chicago star is standing by her man.
On Sunday, Jan. 14, 2018, Catherine Zeta-Jones opened up about husband, Michael Douglas' recent decision to preemptively deny sexual harassment claims from a former employee. She had been promoting her new movie, Cocaine Godmother: The Griselda Blanco Story, at Lifetime's Television Critics Association press day.
"My reaction was that as two people who have been in this business — him longer than me — was that we support 'Me Too' and the movement more than anybody, anybody — me as a woman, him as a man," Zeta-Jones began (via Entertainment Tonight). "And there was no other way than to be preemptive in a story that had to be watched. He did a statement, he did it. I think it's very clear the way that he stands. I cannot elaborate on something that's so very personal to him."
The 48-year-old actress, who wore black in support of the Time's Up initiative at the 2018 Golden Globes last week, went on to praise the multiple women who have come forward with sexual misconduct allegations against powerful men in Hollywood in the wake of Harvey Weinstein's shocking scandal.
"We're seeing changes that have taken many years to even be talked about," she said. "It's an amazing time for women, and I really want women to remember how strong we are in numbers. This is going to die down. This is not going to be at the forefront of everyone's mind forever and ever and we're going to have to be kind to each other. We can't ask everyone else to be kind to us unless we're kind to each other."
"I have a daughter [14-year-old Carys] and I instill [empowerment] in her every single day," Zeta-Jones, who has been married to Douglas for over 17 years, concluded.
As Nicki Swift previously reported, Douglas, 73, addressed sexual harassment claims from a woman who worked for him 32 years ago during an interview with Deadline on Tuesday, Jan. 9. The woman reportedly alleged that he'd used "colorful language" in her presence, "blackballed her from the industry," and once masturbated in front of her. 
Douglas denied the accusations, noting that he'd fired the woman "for the work she was doing." As the Wall Street actor explained, he chose to share his "thoughts and concerns" now rather than have to defend himself later, as he'd feared the allegations were about to go public.