Davante Adams' Assault Citation After Pushing Game Photographer Polarizes NFL Fans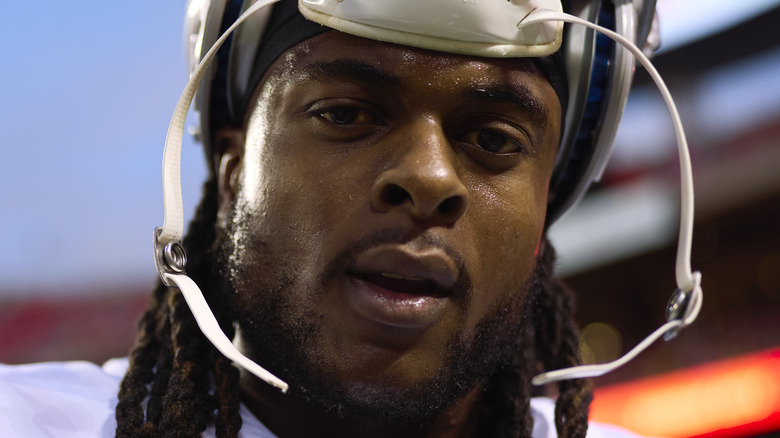 Cooper Neill/Getty Images
Davante Adams is in big trouble. According to ESPN, the NFL player was seen shoving a press photographer after losing to the Kansas City Chiefs on October 10. Ryan Zebley, who was later identified as the victim, was rushed to the hospital; his injuries included whiplash, a potential minor concussion, and a headache. After the credentialed worker received medical attention, he reportedly filed a police report and Kansas City Municipal Court then cited Adams for "intentionally inflicting bodily harm," as per court documents obtained by Fox News. 
The Las Vegas Raiders star was charged with misdemeanor assault and later broke his silence following the incident. "Sorry to the guy I pushed over after the game," he wrote on Twitter. "Obviously very frustrated at the way the game ended and when he ran infront of me as I exited that was my reaction and I felt horrible immediately." 
Despite his sincere apology, fans appeared to have mixed feelings about his situation. 
Fans are divided about Davante Adams' assault allegation
Davante Adams' shoving incident has caused quite a stir on social media. Political commentator Nick Adams took to Twitter to express his distain for what happened and insisted that the football player should receive severe consequences. "Devante Adams should be dropped in all formats in fantasy football, banned from the NFL, and arrested for attempted murder," he wrote. Another user called Adams a "sore loser" and expressed that he was completely in the wrong for what he did. "You don't just push people down because you're butt hurt about a loss," she tweeted. "Get some class Devante Adams." 
Although the wide receiver faced some serious backlash online, a lot of his friends and fans came to his defense. "I support Davante wholeheartedly as a human being," Raiders head coach Josh McDaniels said in a statement obtained by Fox News. "We obviously don't want any of our guys to be doing anything like that ... But I know the person, I don't think there was any intent behind it, on his part," McDaniels added. 
Meanwhile, some fans took a lighter approach and cracked jokes about the incident. "My sister has pushed me harder then [sic] that," one user wrote. "They charged Devante Adams for a push before they charged Brett Farve for fraud," another commented. According to ESPN, Adams is scheduled to appear in court on November 10.