Josh Allen's Reaction To Chiefs OT Coin Toss Set The Internet On Fire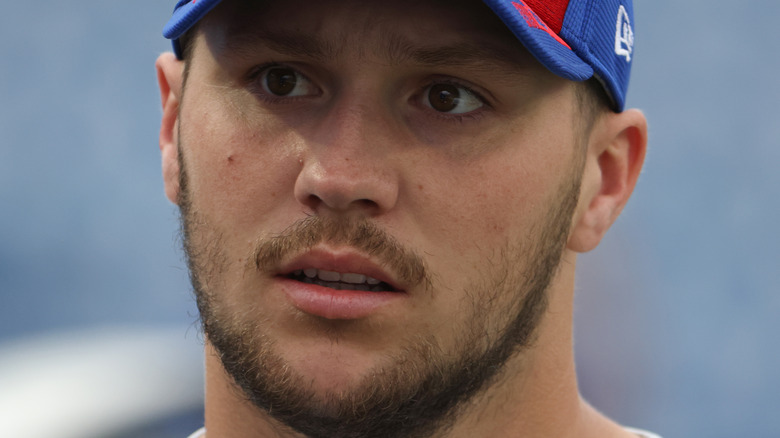 Timothy T Ludwig/Getty Images
Almost immediately after the Buffalo Bills lost to the Kansas City Chiefs in the AFC divisional round, viewers were already hailing the game as one of the best ever. In the last two minutes alone, both teams scored a record-breaking 25 points. Quarterbacks Patrick Mahomes and Josh Allen went head-to-head, throwing haymaker after haymaker in a showdown that left everyone on the edge of their seats. Unfortunately (or fortunately, depending on who you support), the Chiefs won the coin toss in OT and charged down the field to score a touchdown. Per the NFL's overtime rules, the Bills didn't even have a chance to touch the pigskin. The camera panned to a close-up of Allen's face, who, in that moment, was all of #BillsMafia.
Still, Allen had a classy reaction to his team's loss. "Obviously, it sucks the way it happened," he said, per Sports Illustrated. "We wanted to win that game. We had our opportunities. Taking it all in and holding on to the feeling and making sure that we don't feel like this again, like I said back-to-back years in the same spot." Despite his devastation, Allen took time to praise Mahomes, who embraced him following the game. "He throws the winning touchdown and comes right over to find me," Allen added. And, probably because the loss is still fresh, the AFC Championship game between the Cincinnati Bengals and the Chiefs brought up some bitter memories for the Bills quarterback.
Josh Allen had one word to say about the coin toss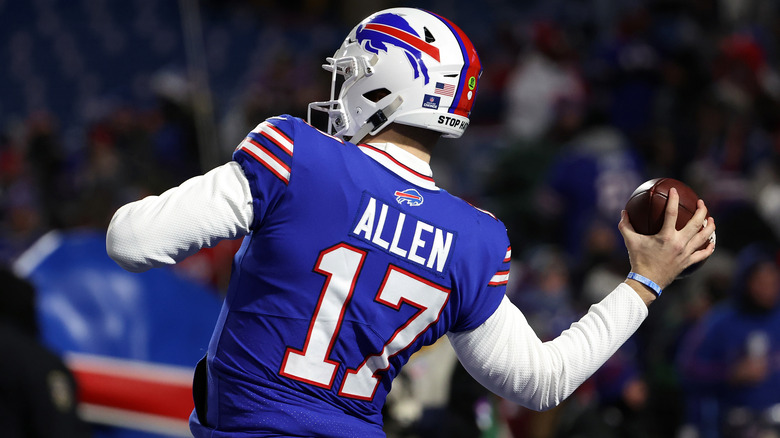 Timothy T Ludwig/Getty Images
Though the Cincinnati Bengals trailed the Kansas City Chiefs 3-21 close to the half, the Bengals managed to close the deficit, putting pressure on the Chiefs to tie up the game in the final minute. Just as in their game against the Bills, the Chiefs won the coin toss in overtime, giving Josh Allen déjà vu in the process. Allen took to Twitter to succinctly express his thoughts: "Pain." As of this writing, the post has been retweeted over 68.9K times, and fans have weighed in with their own thoughts. "Josh Allen just threw up watching that coin toss," one Twitter user wrote in response.
Allen wasn't the only Bills player to experience flashbacks, either. Linebacker Andre Smith tweeted out "PTSD," and long snapper Reid Ferguson wrote, "Gotta be a weighted coin toss." Likewise, Bengals quarterback Joe Burrow had a telling reaction on social media as well — but this time the outcome was different, and Cincinnati finished what Buffalo could not. The Bengals managed to intercept Patrick Mahomes on third down, and then quickly drove down the field before a field goal from Evan McPherson sealed their victory. Per NBC Sports, the Bengals have not made it to a Super Bowl since 1988. They will now face the Los Angeles Rams on February 13, in what is sure to be another thrilling matchup.