Avril Lavigne And Brody Jenner Got Matching Tattoos During Their Relationship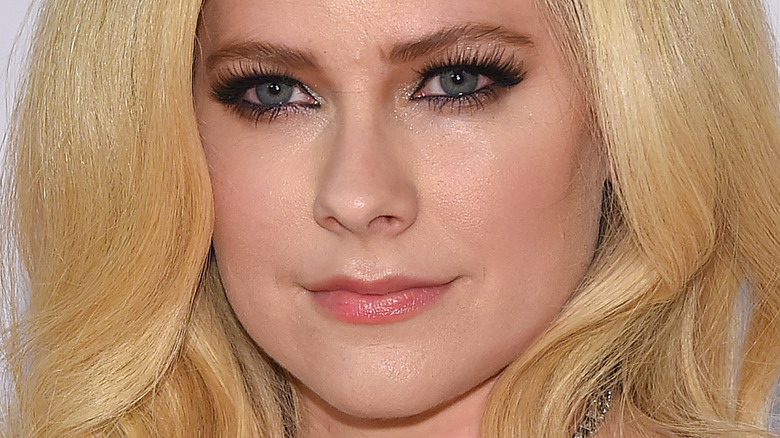 DFree/Shutterstock
Avril Lavigne loves fast and hard. The "Sk8er Boi" singer became a married woman at only 21, when she tied the knot with Sum 41's Deryck Whibley, MTV reported. But even before signing official documents, Lavigne had felt the need to permanently mark him on her body. In 2004, she got the letter "D" tattooed on her wrist encompassed by a red heart in honor of her then-boyfriend, according to The Courier Mail.
Lavigne and Whibley's relationship ended in September 2009, with Lavigne filing for divorce a month later, Entertainment Weekly noted. But the two remained close — so much so that they got another matching tat to mark Whibley's 30th birthday in March 2010, Steal Her Style noted. At that point, Lavigne had already moved on. Shortly after ringing in the new year, Lavigne started seeing Brody Jenner, who was then starring on MTV's "The Hills," E! News reported.
Lavigne and Brody dated for about two years, breaking up in January 2012, according to Us Weekly. Like she did after breaking up with Whibley, Lavigne moved on quickly. In August of that year, Lavigne became engaged to Nickleback's Chad Kroeger, People reported. This time around, Lavigne didn't wait at all, getting a matching tattoo with him first thing after meeting, according to the Daily Mail. But the partner she shares the most ink with is neither of her former husbands. Her two matching tats with Whibley and one with Kroeger are no match for the four she shares with Brody.
Avril Lavigne tattooed Brody Jenner's name on her ribcage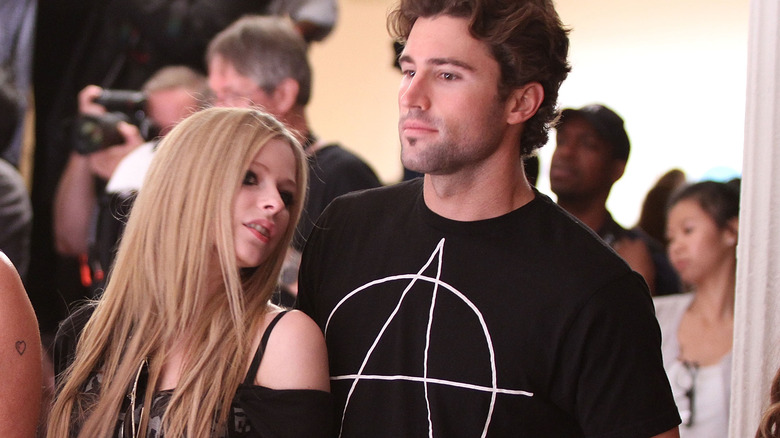 Jerritt Clark/Getty Images
As her history shows, Avril Lavigne isn't afraid of regret. In April 2010, just a few months into their courtship, Lavigne and Brody Jenner headed to the tattoo parlor to celebrate their affection, RadarOnline reported. During a trip to Las Vegas, the love birds brought back matching lighting bolts as souvenirs. She got hers on her forearm while Jenner got his behind his ear. They experienced the opposite of regret, as they decided to do it again the following month.
This time, they went bolder, opting to get the F-word inked on their ribcages. "It's my favorite word," she told Inked Mag in January. "Why the f*** not?" A source told RadarOnline that Lavigne and Brody looked like a train wreck when they went into the parlor. But impulsiveness has always accompanied the "Complicated" singer's relationship with tattoos. "All of my tattoos for a good 15 years were just random," she told Inked Mag.
But getting matching nature-inspired motifs or curse words are one thing. Getting the name of the person you've been seeing for half a year is another entirely. But that's exactly what they did in July 2010, with Lavigne getting "Brody" on her ribcage and Jenner getting "Avril" on his arm, according to MTV. Lavigne and Jenner also share the Roman numerals XXV on their right forearm, according to Body Art Guru. It in unclear what the number means, but Lavigne was 25 when they got it. 
Avril Lavigne and Brody Jenner remained close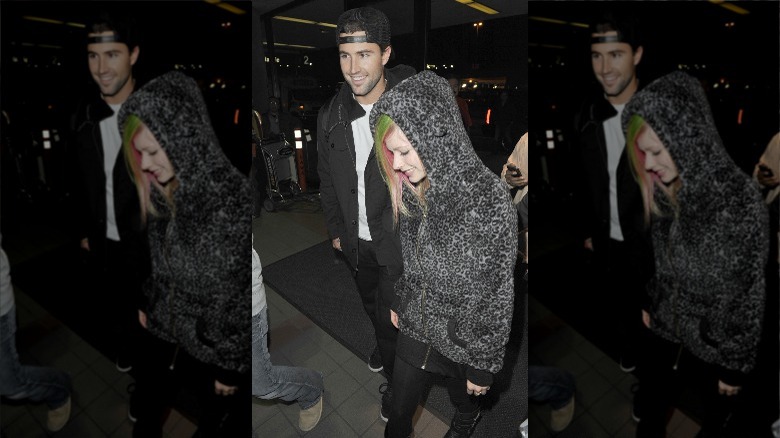 Worldswildlifewonders/Shutterstock
Unsurprisingly, Avril Lavigne and Body Jenner's split was surrounded by speculation, with many reports claiming the two ended things on a bad note. But that doesn't seem to have been the case. On January 18, 2012, Jenner took to Twitter to deny the rumors. "It really upsets me to read all the FALSE!! stories. Avril has always been there for me and is the closest person to my heart. I love her," he tweeted, to which Lavigne responded, "Luv u 2!!!"
While Lavigne and Jenner never addressed the details behind their split, their respective careers reportedly played a role in it. At the time, Lavigne was busy putting out new music and going on tours while Jenner hadn't done much since "The Hills," an asymmetry that supposedly put strain on the relationship. "He told her he was tired of always being her plus one, and always going on tour with her," a source told Us Weekly. They both agreed splitting was the right decision. "They still love each other," the insider added.
Jenner continues to show support for his ex. When news of Lavigne's engagement to Mod Sun surfaced, he wished her nothing but the best, according to In Touch Weekly. They even occasionally still spend time together. "Avril, Mod Sun and Brody hang out together, in fact," a source told the outlet. "Not all the time but when they run into each other, they all have drinks in L.A."