The Incident That Ended Margot Robbie's Run As A Tattoo Artist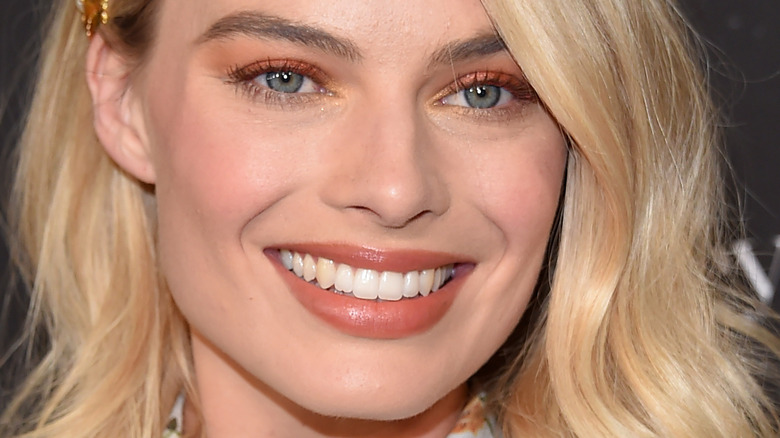 DFree/Shutterstock
"Suicide Squad" star Margot Robbie has a hidden talent, and it's not tap dancing or basket weaving. Hers is a little more punk rock, and totally something Harley Quinn would bestow her seal of approval. Prepare yourself — it's tattooing. Don't rub your eyes, you read that right. The Australian actor has a penchant for inking not only herself, but friends and even her colleagues on movie sets.
During a 2017 appearance on "The Graham Norton Show," Robbie told the Irish host that she's given almost a hundred small tattoos. Her specialty is "toemojis," smiley-faced tats on toes, and she even gave one to one of her "Suicide Squad" co-stars. Robbie admitted, "I like doing it. I really do. I'm not particularly good, but I like doing it."
Of course, Norton egged her on by providing a tattoo gun and a willing participant: Adam, a member of his production staff. As fellow guests Harrison Ford, Ryan Gosling, and Reese Witherspoon looked on in horror, Robbie then proceeded to give the eager staffer a toemoji in front of the live studio audience. "I actually haven't done one for a while ... My hands are shaking but you don't want to hear that," Robbie told Adam. Well, that's one way to comfort him. Robbie has since hung up the tattoo gun permanently, and for good reason too: One of her tattoos almost ruined a wedding.
Margot Robbie's tattoo art nearly ruined a wedding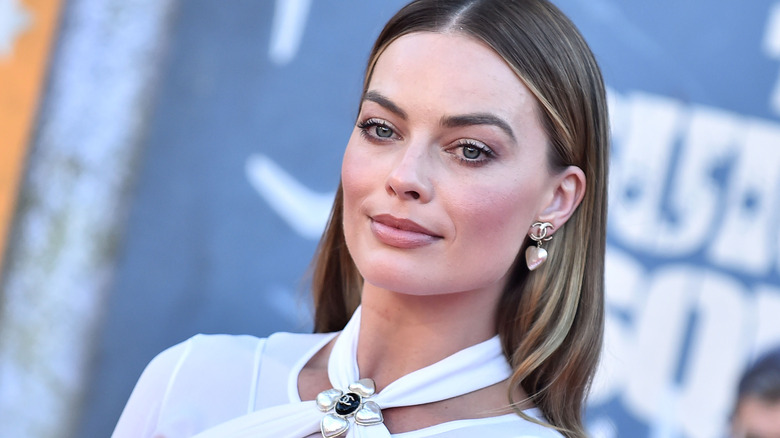 DFree/Shutterstock
During a 2020 appearance on "The Tonight Show Starring Jimmy Fallon," Margot Robbie revealed that she was forced to give up her penchant for ink for good after what she called "a few mishaps" during a bachelorette party in Australia. Thanks to the involvement of alcohol, the bridesmaids decided to get matching tattoos. So Robbie whipped out the gun and gave one bridesmaid a small heart tattoo on her back. 
Recounting the error to Fallon, Robbie said, "The next day at the wedding ... she walked down the aisle as one of the maids of honor in a backless dress and this red, raw, scabbing tattoo!" She continued, "And her mom was filthy with me ... She was so angry, and I thought, 'I really shouldn't do this anymore.' I don't know if Patricia's okay with it yet. I hung up the gun." Robbie posted about the blunder on her official Instagram (via Us Weekly), pointing to her friend's heart tattoo and captioning it, "Sorry Patricia!" Wherever Patricia is, we hope she's found peace.
Margot Robbie has no tattoo license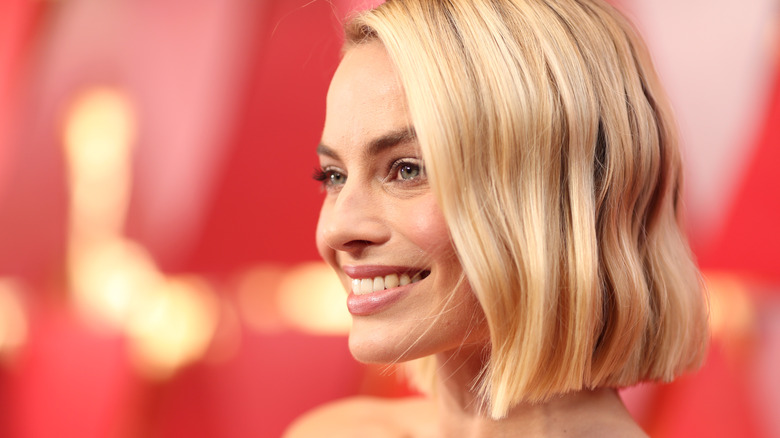 Christopher Polk/Getty Images
While sharing the bridesmaid story on "The Tonight Show Starring Jimmy Fallon," Margot Robbie shared that she isn't trained to give tattoos in any way, shape, or fashion: "I warned [people] I'm not good at drawing and I'm not qualified, but they still do it!" Certainly not, since she admitted on the same show in 2016, "I don't know what the rules are, but you can buy a tattoo gun on eBay." Dang.
Some of those who have insisted on the toemoji tats include Robbie's bestie, model and actor Cara Delevingne. Delevingne shared a pic to her official Instagram in 2016, displaying "The Wolf of Wall Street" star's handiwork on her toe. "TOEMOJI TIME," she captioned the pic, with both gals flipping their toes, their tongues (and the bird).
She didn't stop with Delevingne. Robbie even went so far in her heyday to tattoo her own wedding guests. Teen Vogue reported in 2016 that when Robbie married director Tom Ackerley, there was a tattoo station at the reception so guests could have a permanent reminder of the night on their bodies. Imagine including that on the RSVP!