Inside Tom Brady And Mark Wahlberg's Friendship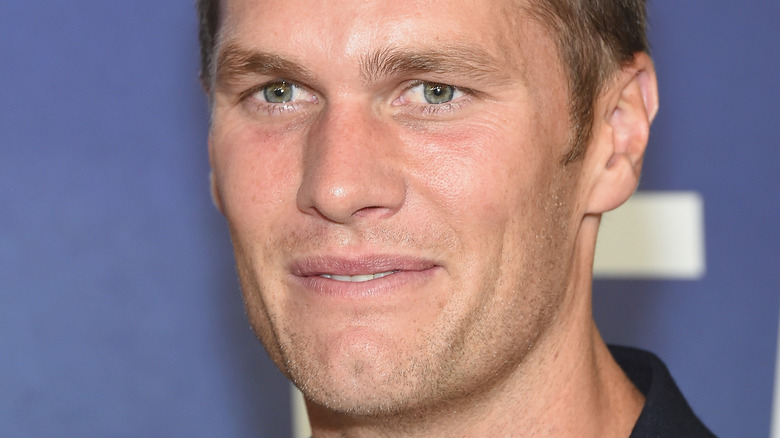 Michael Loccisano/Getty Images
Tom Brady originally hails from California, but he traded in West Coast sunshine for Massachusetts winters when he signed on to the New England Patriots franchise in 2000. After leading his team to six Super Bowl championships, the NFL star departed Foxborough two decades later to play for the Tampa Bay Buccaneers — but Pats fans still love him. A Boston.com article reported that 90% of its readership supported Brady and the Bucs when they faced off against the Kansas City Chiefs for Super Bowl LV, and Brady himself continues to speak fondly of his adopted state. "I still obviously have a great affection for New England," the three-time MVP winner told the outlet. "I said the other day, my kids were born in Boston. So I have a lot of love for Boston and all of New England and the incredible support over the years. Again, it was an amazing two decades in my life."
Unlike Brady, actor Mark Wahlberg was born in Boston, but both he and the quarterback share a love of Beantown. In 2016, Wahlberg spoke to People about the emotion he experienced after seeing his city's unified response to the Boston Marathon bombing. "It filled me with such pride to call myself a Bostonian. I kind of beat my chest for reasons other than what Larry Bird did, or the Patriots do," he said. Over the course of Brady's tenure with the Pats, these two Bostonians have bonded, and they remain close today.
Mark Wahlberg is a huge Tom Brady fan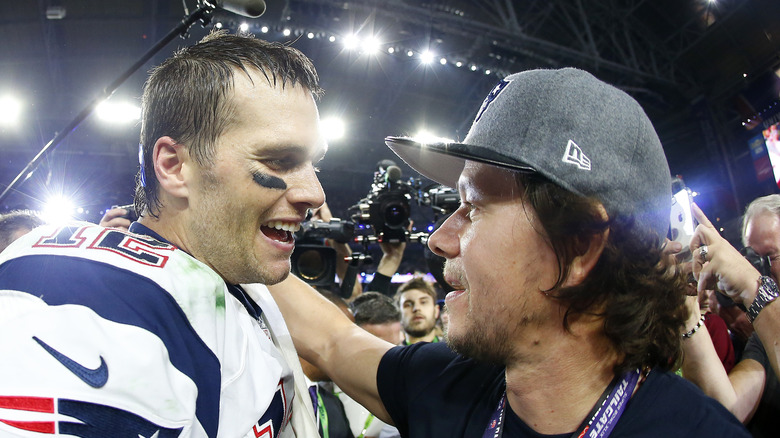 Tom Pennington/Getty Images
A Boston native, actor Mark Wahlberg is a lifelong fan of the New England Patriots. While Tom Brady later signed with the Tampa Bay Buccaneers, his two-decade tenure with the Patriots brought a number of trophies to Foxborough, forever endearing him to Wahlberg. In 2015, the actor gushed to Today about how he'd been friends with the NFL star "for a long time." Wahlberg added, "I think Tom Brady is the best quarterback to ever play the game."
Wahlberg has also showed support for his pal by celebrating several of Brady's Super Bowl victories, including the Patriot's 2015 win against the Seattle Seahawks. "Victory!!! Congrats Tom Brady and @Patriots," he tweeted at the time. Two years later, Wahlberg made another Super Bowl appearance, though he left the field before he could watch his team's historic comeback against the Atlanta Falcons, according to CBS Sports.
When Brady initially announced his retirement in February 2022, Wahlberg was among the first to wish him well. "I was just happy for him," the "Ted" actor said on "The Dan Patrick Show." "He's done so much for New England, he's done so much for football ... for us to win that many championships ... six titles [with the Patriots] — it's a blessing. Whatever he wants to do, I'm more than supportive and happy for him." Though Brady didn't explicitly name the Patriots in his farewell message, per Today, Wahlberg wasn't sweating it. "He'll always be a Patriot," he told People.
Tom Brady leans on Mark Wahlberg for support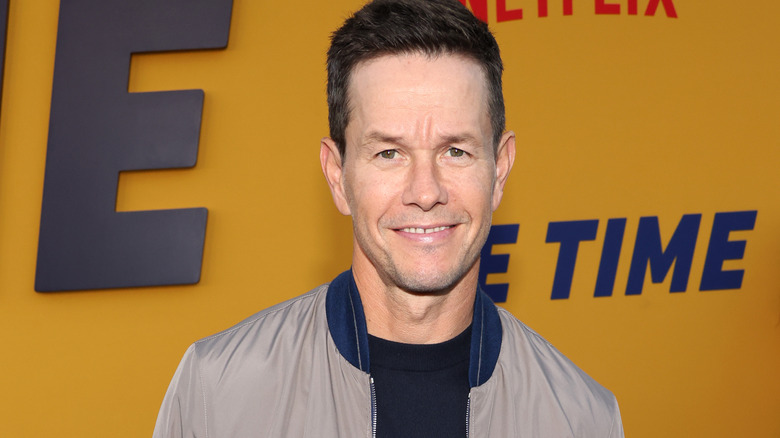 David Livingston/Getty Images
Mark Wahlberg and Tom Brady's friendship transcends the gridiron and extends to the big screen, as Brady famously made a cameo in Wahlberg's film "Ted 2." So when it came to picking out an actor to play him in a movie, Brady knew there was only one choice. "I'm going with Mark Wahlberg," he said during a Q&A session on Westwood One Sports. "A Boston legend, [from] Dorchester, you know, one of the just 'grind it out' kind of guys. He'd be my choice."
Brady previously spoke out about leaning on his Boston-based pals, including Mark Wahlberg, Matt Damon, and Ben Affleck — particularly following tough times like the 2015 "Deflategate" scandal. According to ESPN, Deflategate alleged that Tom Brady and the Patriots had deflated the footballs used in their AFC victory over the Indianapolis Colts. Reflecting on how much he owed the city of Boston, Brady told ET in 2015, "I've been a displaced Californian living in Boston and realizing the roots and how strong the Boston culture is, so that's where I've been for 16 years of my life." He continued, "[Matt, Mark, and Ben] in particular, I've gotten to know over the years and they're all friends. They believe in what we're doing and it's great to have such great support ... That is the Boston crew, man."
In other words, whether TB12 is with the Pats, Bucs, or any other team, he'll always have a home at Foxborough.