The Sweet Story Of How Jeff Bridges Met His Wife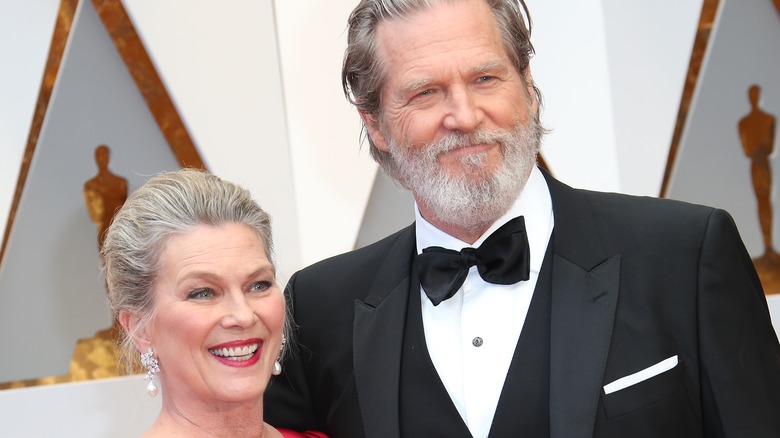 Dan MacMedan/Getty Images
Jeff Bridges has been known to be a part of many Academy Award-nominated films, but his one true accolade comes in the form of love. Bridges has walked many red carpets with his wife of nearly five decades, Susan Geston, by his side. The couple met back in 1975, and their love for each other has only continued to grow with each passing day.
While Hollywood has seen many heartbreaking public celebrity breakups, for Bridges and Geston, that was never a problem. The two actors met while Bridges was filming "Rancho Deluxe" and the pair went on to have three daughters. Even during troubled times with Bridges' health, his wife has continuously remained by his side.
In a letter written by Bridges from Good Housekeeping, he wrote all about how the couple doesn't fully know one another, but how this makes them stronger. Bridges shared, "But with each battle, we come closer to realizing that this "not knowing" is what we have in common. We know we'll experience our stuff, have tough times, but we're doing it together." But despite the "not knowing" and the "tough times," there was once a point where their relationship almost failed to materialize.
Susan Geston rejected Jeff Bridges' initial date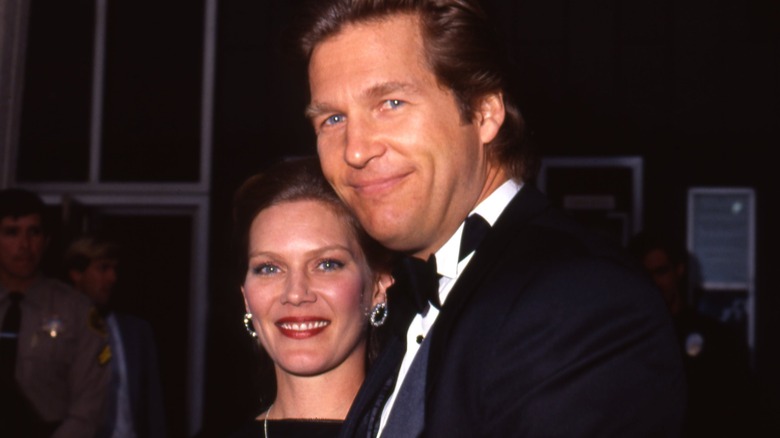 Maureen Donaldson/Michael Ochs Archive/Getty Images
Despite eventually falling in love with each other, Jeff Bridges did have a tough time asking out his now-wife Susan Geston. In his letter for Good Housekeeping, the actor wrote about how infatuated he was with Geston when he spotted her while filming a scene in "Rancho Deluxe." Bridges told the magazine, "Not only was she gorgeous, but she had two black eyes and a recently broken nose (from a car accident, I later learned). Something about her beauty and disfigurement kept me riveted."
"The Big Lebowski" actor shared that he decided to ask out Geston that same day after he finished his work. But, when he did, the actor didn't receive the answer he had hoped for. Geston rejected the date with Bridges not once but twice. Geston did leave the actor with some hope as she told him, "...it's a small town; maybe we'll run into each other later." The universe seemed to be on Bridges' side because the two did in fact end up running into each other and falling in love.
As time went on, it was evident not only to Bridges that he found the one, but also to Geston. In fact, Bridges revealed to Today that a photographer on the set of "Rancho Deluxe" snapped him and Geston's first conversation together. The two would go on to receive copies of the picture, which they both keep in their wallets after all these years.
Geston stuck with Bridges through good times and bad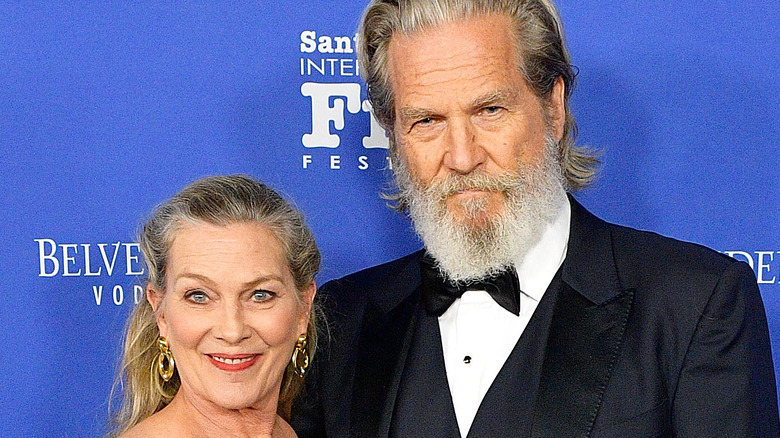 Matt Winkelmeyer/Getty Images
From the point that Jeff Bridges and Susan Geston got married, the couple has continuously stuck by each other's side. The two have been side by side for plenty of red-carpet moments and other lavish events. Both Bridges and Geston were together in supporting each of their daughters as they grew into adults with different professional careers. More recently, however, Geston has had to support Bridges through a serious health situation.
In 2020, the actor took to Instagram to reveal that he had been diagnosed with lymphoma, a cancer of the lymphatic system. The trouble didn't end there when just a couple months later Bridges shared that he had contracted COVID-19. He told E! News, "The chemo wipes out your immune system and when COVID hit me, I had nothing left." Through this difficult time, Geston never left Bridges' side and took the necessary steps to ensure that the actor would return to good health.
Geston revealed to People what she had told the doctors during this difficult time: "I said, 'Save his life. No matter what you have to do.'" Bridges fought hard and eventually entered  remission from his cancer. That's the power of true love!