Cringeworthy Celeb Run-Ins With Exes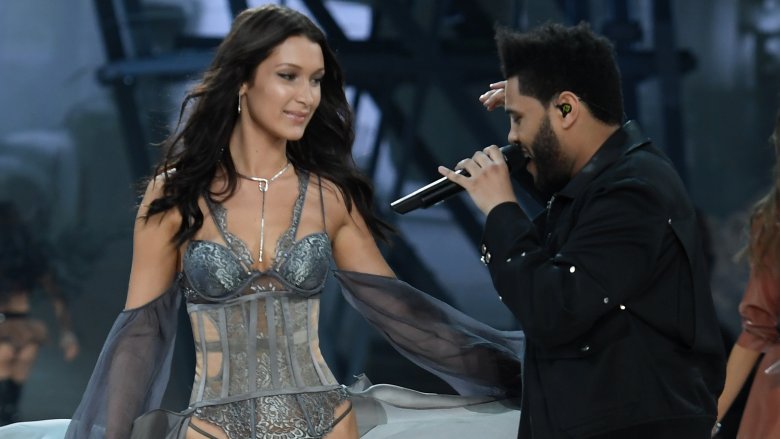 Getty Images
Running into an ex as a plebeian is bad enough, but imagine running into your ex after speculation about your breakup has played out on blogs and tabloid covers ... and if your ex was, say, an Avenger or a Victoria's Secret Angel. That's rough, right? These celebs all had awkward encounters with their former flames, and some played it off better than others.
Jenny Slate and Chris Evans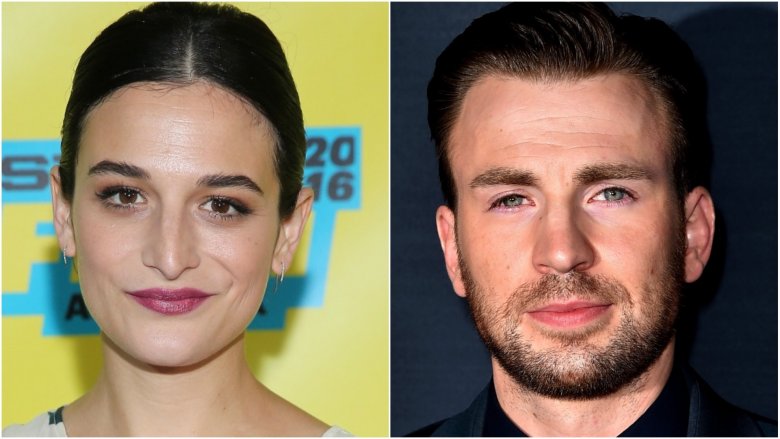 Getty Images
Jenny Slate and Chris Evans dated from summer 2016 to February 2017. In March 2017, Slate did an interview with Vulture in which she spoke at some serious length about her relationship with and split from the Captain America star. 
That's probably why she looks so uncomfortable shaking hands with him here, a month later, at the Gifted film premiere. 
On the bright side, the pair reunited in fall 2017, so apparently that awkwardness faded pretty quickly.
Miranda Kerr and Orlando Bloom
Just months after announcing their separation, Orlando Bloom crashed an interview that his estranged wife, supermodel Miranda Kerr, was giving on the red carpet at the Vanity Fair Oscar party in March 2014. He leaned in to tell her she looked "amazing," plant a kiss on the cheek, and ask if she was "doing well." A giggly Kerr replied, "yes," then quickly got back to work on camera as Bloom shuffled off. 
A source dished on the encounter with the Daily Mail: "Miranda and Orlando are in a really great space, they're still very close and I'm sure they knew they'd cross paths sometime during the night. It's not an issue for them." Oh, really?
Nick Cannon and Selita Ebanks
In November 2013, Nick Cannon, then married to Mariah Carey, appeared on Katie Couric's Katie with former fiancée Selita Ebanks, and it got weird fast.
"Y'all, just to clear this all up, we used to be engaged," a loud, extra-animated Cannon told the audience. "Just so it's not an awkward moment," he added, pointing to fellow guests, including rapper Nelly and comedian Kevin Hart. "They're laughing at us because we're sitting next to each other. We used to be engaged, but we're cool. We're friends," he said, hugging the stunner.
When host Couric asked if they shouldn't have sat next to one another, Ebanks stammered that Cannon's outfit would have clashed with another guest's, to which Cannon yelped, "What, you don't wanna sit next to me?" 
Ebanks mercifully changed the subject, but not before Cannon cracked, "It's about to be a whole different type of talk show."
Cara Delevingne, Harry Styles, and Kendall Jenner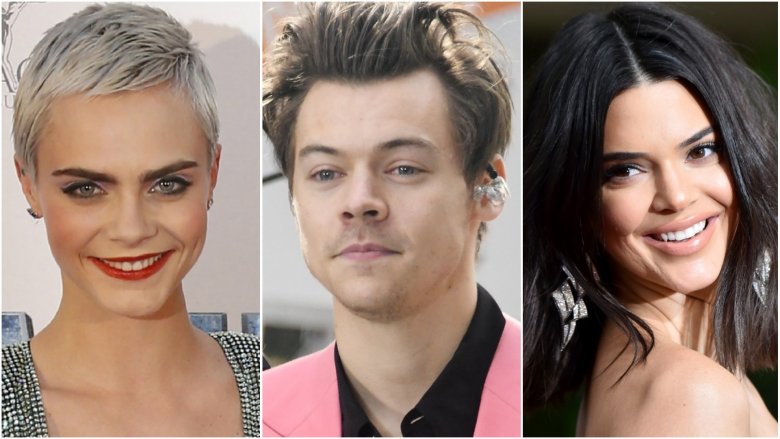 Getty Images
Harry Styles got a double dose of exes when he ran into supermodels Cara Delevingne and Kendall Jenner at the same time at the British Fashion Awards in December 2014. 
Perhaps in a show of solidarity during their encounter with the One Direction singer, Delevingne and Jenner held hands, but a source told Us Weekly it didn't deter Styles from drooling over the satellite Kardashian all night, noting, "His eyes were all over her."
Taylor Swift and Harry Styles
Taylor Swift dated Harry Styles for just a few months in late 2012, and she was apparently still bitter about the breakup in January 2015. The artists formerly known as "Haylor" ran into one another with mutual friends in a hotel lobby, and TMZ's video footage captured Swift focusing intently on her phone and turning away whenever Styles appeared to try to initiate a conversation — or merely make eye contact — with her.
Sean Penn and Charlize Theron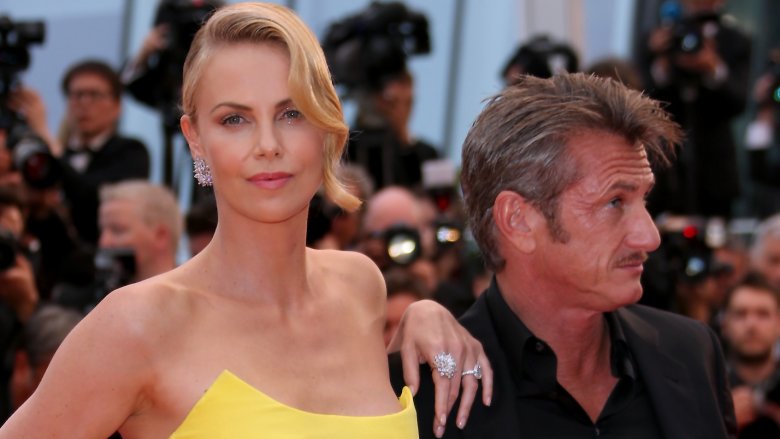 Getty Images
Charlize Theron and Sean Penn were together for two years and even got engaged before they split in June 2015, reported People. A source told Us Weekly that Theron had actually ghosted Penn. 
That July, Theron and Penn were forced to see one another at re-shoots for the movie The Last Face (2017), which starred Theron and which Penn directed. Photos obtained by the Daily Mail suggest these two were really not thrilled to encounter one another again. 
Maybe their reluctance to get back to work is why the movie was universally panned by critics, earning just a 5 percent rating on Rotten Tomatoes.
Sofia Vergara and Nick Loeb
Sofia Vergara's May 2014 split from Nick Loeb was an ugly one that included a bitter court battle over embryos they'd frozen together. The drama continued long after she moved on and married actor Joe Manganiello. That's why when Loeb crashed a red carpet interview with Vergara in October 2014, it was even more uncomfortable than it would be if they were just amicable exes. 
While Vergara was gushing about visiting Manganiello on the set of Magic Mike XXL (2015), Loeb popped into frame, whispered something inaudible, and lurked away, occasionally glancing over and grimacing. Vergara didn't acknowledge her ex at all. 
Laura Dern and Billy Bob Thornton
Laura Dern and Billy Bob Thornton split when he allegedly ghosted her and up and married Angelina Jolie. Dern told Talk Magazine (via ABC News) in 2002. "I left our home to work on a movie, and while I was away, my boyfriend got married, and I've never heard from him again. It's like a sudden death. For no one has there been any closure or clarity."
As a result of the acrimonious split, which mutual pal Melissa Etheridge confirmed was pretty brutal, it's no surprise Thornton and Dern weren't too enthused to be in close quarters at the Golden Globes in January 2017. In a "blink and you'll miss it" moment, Thornton passed Dern's table on his way to accept a trophy for the film Goliath (2016). While others in the shot turn their heads and smile to acknowledge Thornton, she remains stone-faced and appears to avoid eye contact.
Gigi Hadid and Cody Simpson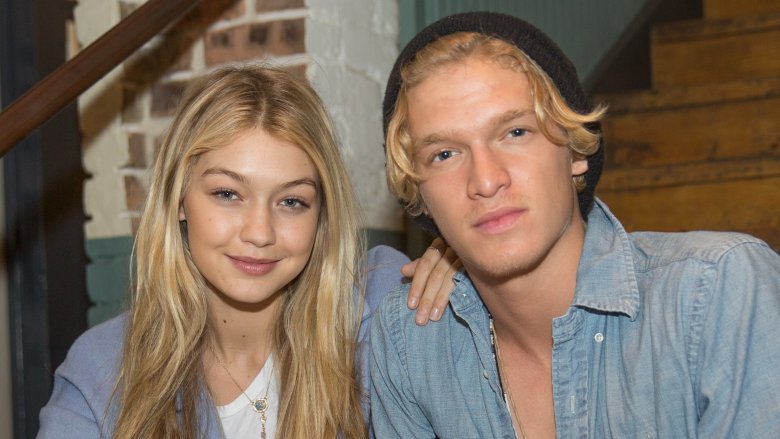 Getty Images
Gigi Hadid and ex Cody Simpson may not have necessarily wanted to run into each other on a flight in June 2015, but they at least had a sense of humor about it. Simpson, who dated Hadid off and on from 2013 to 2015, posted a Snapchat with the supermodel, captioning the selfie (via E! News), "when you get seated next to ur ex on a plane," accompanied by a skull emoji.
Nicole Kidman and Lenny Kravitz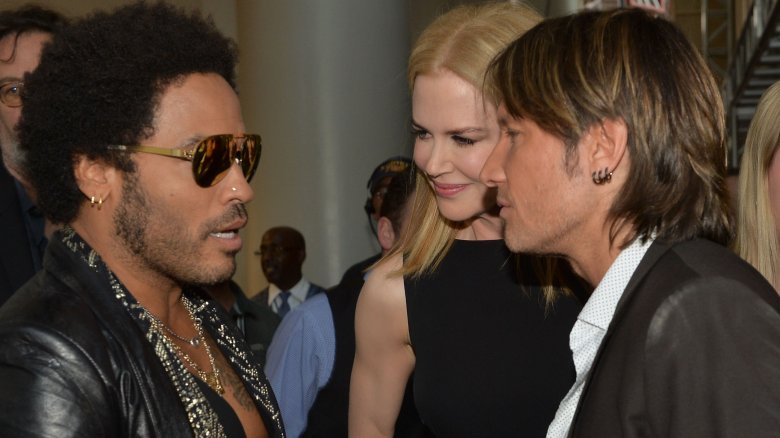 Getty Images
Nicole Kidman was engaged to Lenny Kravitz in 2003, but the romance didn't last. She told The Edit (via People), "I love Lenny; he's a great guy ... We weren't ready [to get married]. I wasn't ready."
Kidman went on to marry Keith Urban in 2006, and the happy couple ran into Kravitz at the CMT Awards in June 2013. They did pose for at least one pleasant photo together, but there's also this really awkward snap of Kravitz holding Kidman's hand that will make you cringe with secondhand embarrassment.
Jennifer Lopez, Casper Smart, and Diddy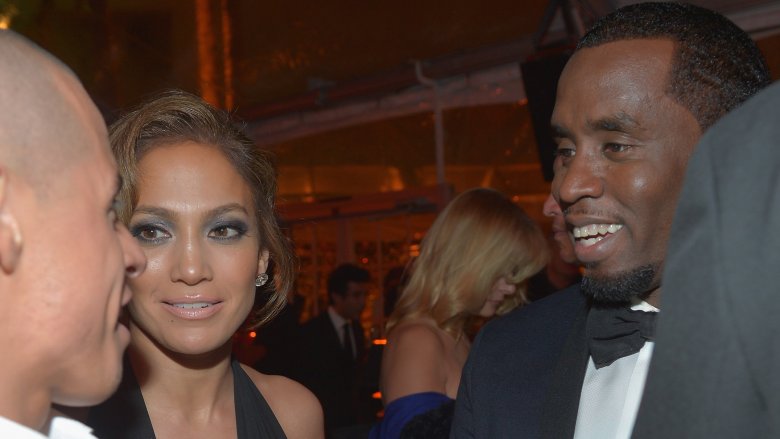 Getty Images
Oof — that face! That awkward handshake attempt! Jennifer Lopez looked a little nervous as she introduced then-beau Casper Smart to ex Diddy at a Golden Globes party in January 2013.
The discomfort didn't end there: In December 2015, Smart was reportedly smarting when he felt J.Lo got too close to her ex at another party. A source told In Touch magazine (via OK!), "The second they got home, Casper started screaming at Jennifer for humiliating him by being flirty and all over Diddy in public. He even accused her of still being obsessed with him after all these years." The insider added, "She thinks Casper was being totally ridiculous and acting like a jealous child."
Here's hoping Alex Rodriguez is a bit more secure.
The Weeknd and Bella Hadid
Bella Hadid and The Weeknd split after a year and a half of dating in November 2016 — and just weeks later, the singer had to watch Hadid strut her stuff in lingerie at the Victoria's Secret Fashion Show. 
Based on how he can't keep his eyes off of her (even after she swerved him slightly), it's safe to say that he may not have been over her just yet.