Tommy Lee's Feud With Kid Rock Fully Explained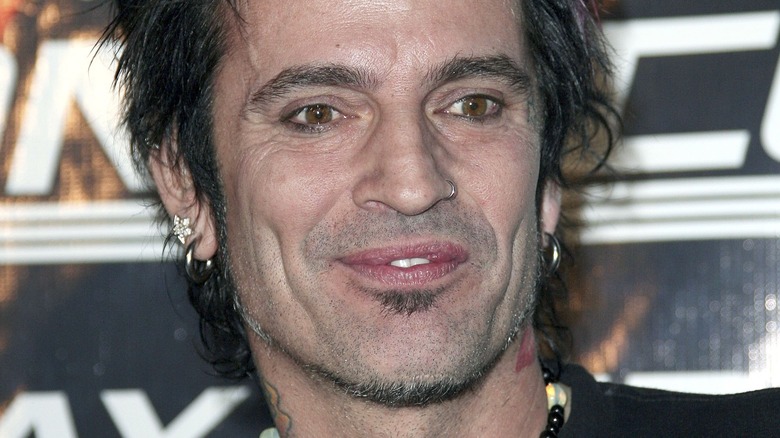 Chad Buchanan/Getty Images
Tommy Lee and Kid Rock have more in common than being famous rock stars, as both were married to Pamela Anderson. Although Lee stayed on good terms with the "Baywatch" star, Rock's split from Anderson was anything but harmonious. Their marriage was short-lived, as they finalized their divorce in February 2007 after tying the knot in the summer of 2006. Months after their divorce, the "Cowboy" singer publicly bashed Anderson. According to Rock, the Playboy model was living off of his wealth while they were together. "The worst thing in life is to be famous without money," he said on "The Howard Stern Show" in October 2007, via Today. During that incendiary interview, the singer also referred to his ex-wife as "psycho."
Anderson did not sit idly by while Rock took shots. The "V.I.P." star addressed her ex's comments on her website in 2007. "He's bitter," Anderson wrote referring to Rock, via CBS News. She added, "It's sad to see. I don't want to battle with him. I wish him the best. I'd hate to point out habits I had a hard time with." Apparently, the pair never made amends. According to Anderson, the former couple had not spoken since their 2007 divorce, as she revealed in a 2018 interview with The Hollywood Reporter.
Before tying the knot with Anderson, Rock was on good terms with Lee. They even collaborated on a song together in 1999. However, that good will was not sustained after Rock and Anderson split.
Tommy Lee and Kid Rock's infamous VMAs fight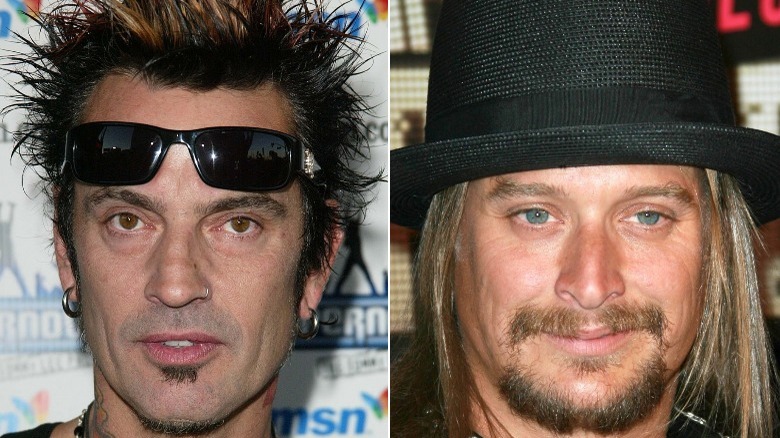 s_bukley/Shutterstock
In September 2007, Tommy Lee and Kid Rock made headlines when the two fought each other during the MTV Video Music Awards. Due to the high-profile event, the altercation was observed by several celebrities. At the time, Carson Daly told Access (via Today), "From our vantage point it looked like Tommy Lee went over to say hello to [Sean "Diddy" Combs] 'cause Kid Rock was out of his seat." He continued, "Kid Rock came back to his seat and all hell broke loose." According to bystanders, the awards show fight only resulted in one punch being thrown. "I can't say who started it. Tommy Lee took a blow," radio personality Sway Calloway said.
Afterwards, the Mötley Crüe drummer took to his blog to give his rendition of the dust up. "Here I am minding my own biz [when] I get a tap on the shoulder from Kid Pebble," Lee wrote in September 2007, via People. According to Lee, he tried to greet Rock cordially at first, but the friendly gesture was not reciprocated. "He punches me in the face ... well if ya wanna call it that!? ... more like a b**** slap!" Lee blogged.
Following the fisticuffs, Lee and Rock were both removed from the VMAs. Initially, Rock denied ever throwing a punch. "I never hit nobody for nothing before," the "Bawitdaba" singer said, per MTV. Later, Rock further opened up about the fight.
Why Kid Rock punched Tommy Lee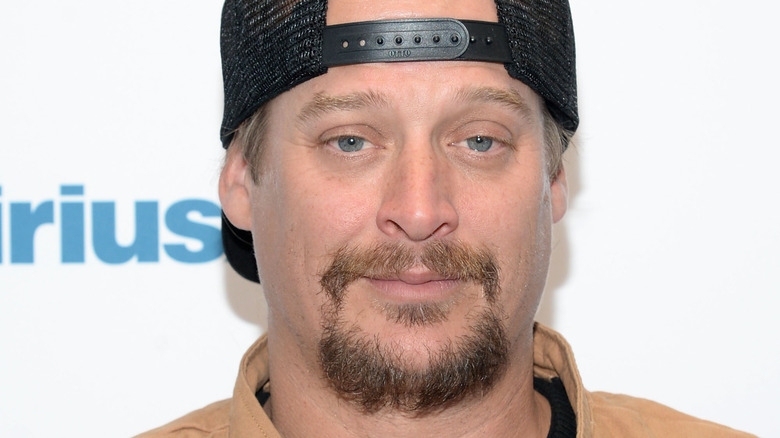 Ben Gabbe/Getty Images
As his fight with Tommy Lee stayed in the headlines, Kid Rock gave several interviews about the tension between the two rockers. Rock claimed issues first arose during his marriage to Pamela Anderson. "There was a lot of years of disrespect but I was a part of his kids' lives," Rock told the Sun in September 2007 following the MTV Video Music Awards run-in, via The Guardian.
In a separate interview, the "All Summer Long" artist claimed the friction even predated his marriage to Anderson. "Yea, it's been going on for 5 years," he told "The Mikey Morning Show" about his feud with Lee (via Perez Hilton). Even though Rock denied that his feud with Lee stemmed from his marriage, things came to a head once Rock and Anderson parted ways. "Last contact I had with this loser, was when me and Pam were going through our divorce he picks up her email and starts emailing me how much of a b**** I am," Rock said while claiming that Lee used Anderson's BlackBerry to send the messages.
While Lee and Rock's awards show dust-up was still in the news, a promoter tried to set up a boxing match between the two, offering $1 million to the winner. Jeff Beacher told Page Six, "We all know that they are fighting over Pam Anderson. What better way to settle their differences than to slug it out in the ring!" But alas, the two never laced up the gloves.