Twitter Is Fuming Over The Lack Of Security At BravoCon 2022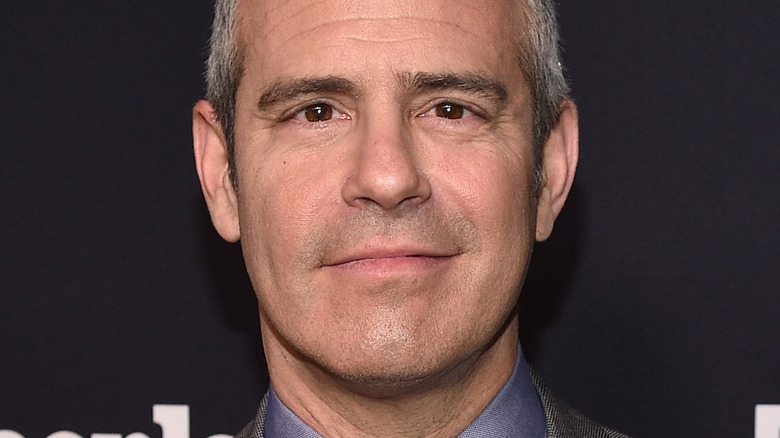 Bryan Bedder/Getty Images
Things took a terrifying turn during the first day of BravoCon 2022. On October 14, the highly anticipated annual convention welcomed fans to the Javits Center in New York City. Over the next few days, Bravolebrities from the "Real Housewives" franchise, "Southern Charm," "Vanderpump Rules," "Summer House," and more are set to bare it all with hilarious and sure-to-be drama-filled appearances. From Sutton Stracke and Jill Zarin to Kyle Cooke and Amanda Batula, the tea will definitely be split amongst the string of Bravolebrities, per E! News.
Even "Real Housewives" creator Andy Cohen will be making multiple appearances with live versions of his hit late-night talk show "Watch What Happens Live." In an interview with Variety, the TV host teased that fans should stay on their toes regarding potential drama. "The thing about this is you actually never know what's going to happen with anybody," he explained. "They've got me at two 'Ask Andy' panels, and I don't know if PR is worried because sometimes you put me in front of an open mic, and we don't know what he's gonna say." Yet, while the first day of BravoCon began without a hitch, it quickly took an unexpected and scary turn.
Fans slam BravoCon 2022 over uncontrollable crowds
During the first day of BravoCon 2022, attendees were left shaken after a large group of fans stormed past security for "The Real Housewives of Beverly Hills" panel, which featured appearances from the entire cast, except for Diana Jenkins. According to People, enthusiastic fans left the panel's designated line to rush toward the stage. "There was an issue where we failed to clear the room after one panel ended while the audience for the RHOBH panel entered," Bravo told the aforementioned publication. "Security acted immediately to ensure for safety for all present."
While the event organizers assured a safe and great experience moving forward, some fans have called out the popular network for their lack of control and organization on social media. One fan tweeted: "So scary I got shoved and like then I was reacting to my friend, and some girl got in my face." Another person tweeted: "If anyone is feeling sad about missing BravoCon, don't. Apparently, it's so bad there are people demanding a refund at the box office." The Twitter user also added that the "panels were too full" and that some Bravolebrities didn't show up for scheduled photo opportunities. It's safe to say that BravoCon 2022 is anything but boring — and that was only Day One.