The Special Meaning Behind Helen Mirren's Tattoo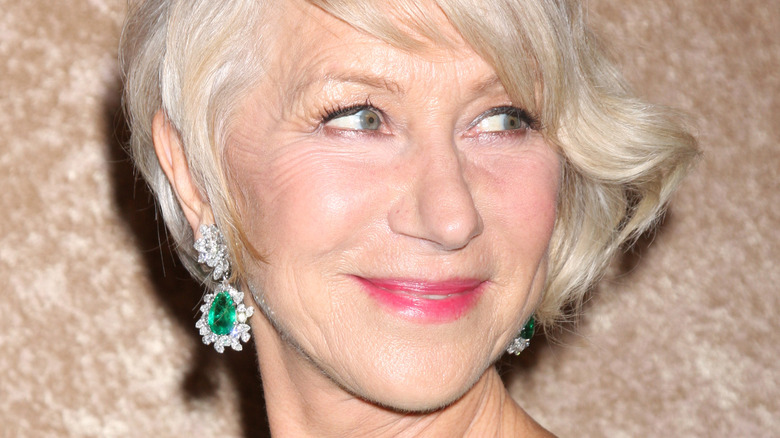 Kathy Hutchins/Shutterstock
Helen Mirren got inked in her youth, but there were no tramp stamps for this dame; her tattoo is clearly visible, front and center on her left hand. Gangsta! In the US, the actor's best known for her portrayal of Her Royal Highness. Mirren even thinks Elizabeth II watched her movie, "The Queen," which is a distinct possibility, as the late monarch was an avid viewer of "The Crown," according to royal historian Robert Lacey (via British Heritage). However, despite her regal presence on-camera and closeness to the late queen, it turns out Mirren is a bit of a dark horse. 
Her tattoo isn't the only surprising thing about her. For example, there's Russell Brand and Mirren's bizarre relationship. They've enjoyed a decidedly unusual and unconventional connection since meeting on "The Tempest" in 2009, per IMDb. In fact, Brand dedicated Chapter 18 of his second autobiography, "Booky Wook 2," to "Mummy Helen." Meanwhile, Mirren claims Brand got her juices flowing when she met him. "[He] just totally seduced me, the way he does," she admitted to Collider. Mirren dared anybody "to spend two hours with Russell and not be completely charmed." 
Then there's the fact that, when Mirren was younger, she starred in a naked threesome for the porn flick "Caligula." Mirren told the Daily Mail, "The film was like being on an acid trip. It has its good moments, and it has its bad moments." So, there's no doubt the special meaning behind Mirren's tattoo will boggle your mind, too.
Helen Mirren drew inspiration from ancient Maya civilization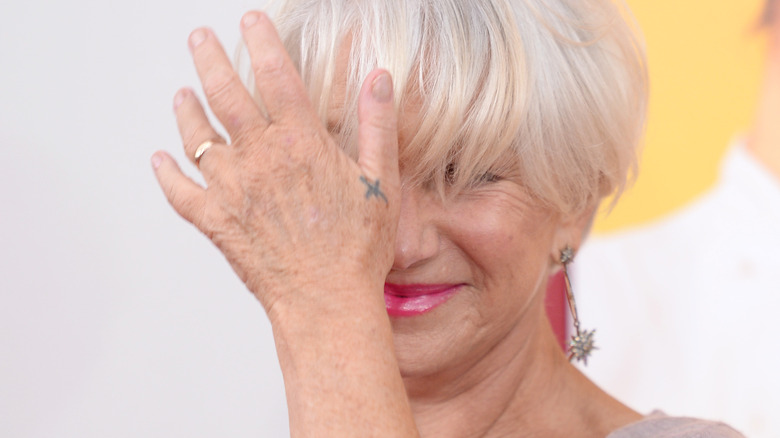 Dimitrios Kambouris/Getty Images
Helen Mirren spilled the tea on the special meaning behind her tattoo during her commencement speech at Tulane University in 2017 (via CNBC). "I know, it's hard to believe, Dame Helen Mirren does have a tattoo," she told the students. "I got my tattoo when only Hells Angels, sailors, and convicted felons got them."
Mirren shared that, in the early 1970s, she searched for spiritual meaning all around the globe. "Eastern, western, and all over the place," she said. Mirren finally found the answer she was looking for in the southern extremity of North America. The actor drew inspiration from the ancient Maya civilization, which controlled the Mesoamerica area for more than 3,000 years, per History on the Net. Mirren then gained insight from the Mayan affirmation "in La'kesh," so much so that she had the ancient symbol tattooed on her left hand. "In La'Kesh means 'You are my other self. We are one. I am another yourself,'" she explained. 
Per SanDiego.gov, the Chicano playwright Luis Valdes expanded on its meaning in his poem "Pensamiento Serpentino." The English translation reads, "You are my other me. If I do harm to you. I do harm to myself. If I love and respect you. I love and respect myself."
Helen Mirren learned there's no inked gain without pain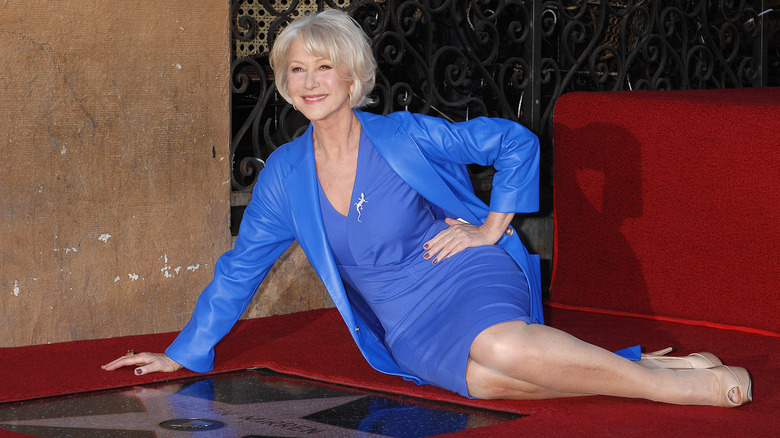 Ga Fullner/Shutterstock
Helen Mirren learned an important lesson after getting her first tattoo — it's difficult to stop once you start. The grande dame of British TV and international cinema claimed it's easy to get hooked on tatts and that she wants to add more ink to her epidermis in the future. During an interview with "Today," Savannah Guthrie acknowledged that she found Mirren less intimidating and more relatable than she'd imagined because she'd read that the actor has a tattoo.
"It's a little bit addictive," Mirren admitted. "I think as I get older, I'll get more tattoos." Guthrie was clearly enthralled as she said the fact Mirren has a tattoo makes them "cool and acceptable." The host even pondered getting one herself now. Well, she better brace herself first because it's true that getting tattoed hurts; there's no way around it.
Mirren admitted to feeling the distinctive discomfort while having her tiny hand tattoo done, even though she'd been wasted at the time. "I got very drunk on a reservation," Mirren told reporters at Cannes Film Festival (via the Independent). "Does anyone ever get a tattoo when they're not drunk?" Mirren explained the unconventional method that was used. "It was done with a safety pin; it was so painful. Oh my god. Like a prison tattoo." That said, Mirren acknowledged there's no ink gained without pain and it was worth the physical torment, as her tattoo "represents a very beautiful idea."