The Josh Duhamel Cheating Scandal Explained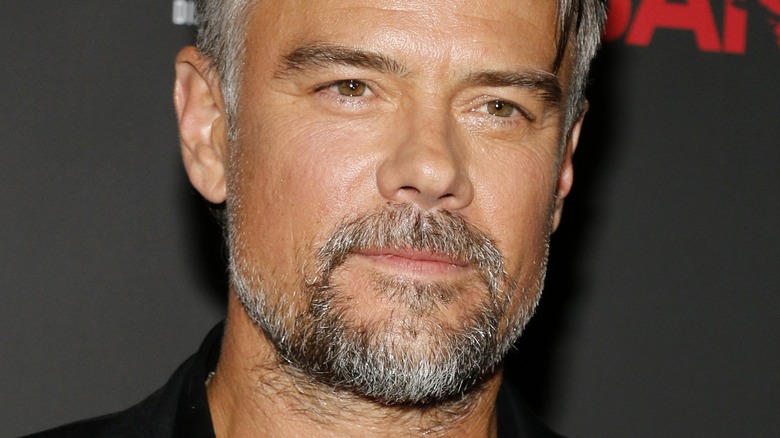 Tinseltown/Shutterstock
Back in 2017, Fergie and Josh Duhamel called it quits after being together for more than 10 years. And only Fergie knows how to make a breakup look "Glamorous" because, while the pair looked like the perfect couple, the Black Eyed Peas singer hinted later on that there was more than meets the eye going on with their relationship behind the scenes.
Fergie and Duhamel first sparked romance rumors back in 2004. The two met after the Black Eyed Peas starred on an episode of the TV show "Las Vegas," where Duhamel starred as Danny McCoy, per E! News. From there, the two fell head over heels in love with one another and were engaged three years later, in December of 2007. At the time, Duhamel proposed with a diamond ring engraved with "J heart S." Gushing to Glamour, Fergie said the ring was too big, but "I feel like the happiest, luckiest girl in the world."
The two then tied the knot in 2009, before welcoming a son in 2013. From there, the two lived happily ever after, until eight years later, when the pair called it quits. While the two maintained there was no bad blood during the split, with rumors of Duhamel being unfaithful swirling during the pair's marriage, many fans still wonder if Duhamel's possible infidelity led to their divorce.
Josh Duhamel reportedly cheated on Fergie at the beginning of their marriage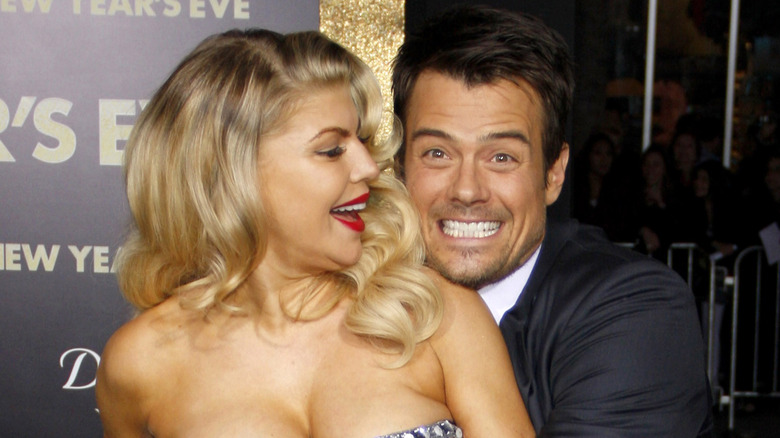 Tinseltown/Shutterstock
Less than nine months into their marriage, rumors of Josh Duhamel cheating on his wife Fergie began to circulate.
At the time, an exotic dancer named Nicole Forrester revealed that she had been intimate with Duhamel. The dancer claimed it happened when Duhamel was in Atlanta and visited the club in which she worked, per People. While Forrester claimed to have been with Duhamel — and took a lie detector test to prove it — both Duhamel and Fergie denied the allegations. "This is not the first nor will it be the last time that a stripper has paid a large amount of money to sell a false story about a celebrity," Duhamel's representatives said at the time. "This story is absolutely ridiculous."
Soon after Duhamel's denial, Forrester spoke out again. While the dancer didn't take back her accusation, she apologized for the pain it caused Duhamel and his family. "I thought, 'Nobody's gonna find out. It's not gonna hurt anybody. I'm sorry that I didn't think of it like I think of it now," Forrester told Extra (via People.) At the time, Fergie stood by her husband and his denial, but years later the star revealed how the rumors really affected their marriage. 
Fergie revealed that the cheating scandal was difficult on their marriage
Alberto E. Rodriguez/Getty Images
Amid the cheating scandal, Josh Duhamel continued to state that the rumors were false. At the time, Fergie stood by her husband, saying little about the allegations. Out in the public eye, the two maintained a united front, though Fergie revealed years later dealing with the allegations wasn't as easy as it looked.
In a one-on-one with Oprah Winfrey, Fergie revealed "it was difficult" when reports of Duhamel's infidelity began to appear in the headlines. In fact, the couple ended up going to therapy to work through their issues. However, Fergie revealed working through that difficult time together only made the pair's relationship stronger. "Our love today is a deeper love, definitely. We're stronger today definitely because of anything difficult that's happened with us," Fergie said (via Us Weekly). "We deal with it, we communicate; communicating's the most important thing." Echoing those thoughts, Duhamel told Oprah at the time that the bond that he and Fergie had was unbreakable — especially after all they had been through regarding the allegations. "I'm actually happy that all that happened because we wouldn't be as strong as we are now," Duhamel shared, per OWN. "We wouldn't be as happy as we are now."
While the two have now called it quits, they both remain each others biggest cheerleaders. After Duhamel announced his engagement in 2022, Fergie was quick to comment "Congrats!!" on the photo and wish them all the best.