What Happened To Kyle Richards' Former Fiance, Michael Tuck?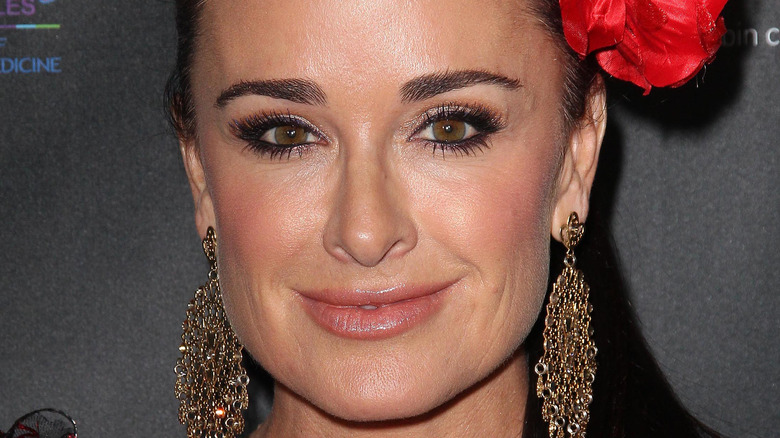 Kathy Hutchins/Shutterstock
Kyle Richards and Mauricio Umansky have been through a lot. The good-looking couple has long been a fan favorite in the Bravoverse, but things haven't always been smooth sailing. For years, Umanksy and Richards have been plagued by rumors of marital strife and infidelity. Fans will remember when Lisa Vanderpump commented on the rumors in front of their youngest daughter or when Vanderpump reportedly convinced Brandy Glanville to bring tabloids about Umanky's alleged affairs on a girl's trip.
Despite it all, Richards and Umansky have stuck it out. "Thank you for always having my back, for being my biggest cheerleader, best friend, the Yang to my Ying, father to our babies, partner in life. I am so grateful to have you by my side through this incredible life we have built," Richards wrote in an emotional Instagram post to celebrate the couple's 26th wedding anniversary. "I love & appreciate you more than ever."
Devoted fans know that Mauricio wasn't always the only man in Richards' life. At just 18, Richards married Guraish Aldjufrie, a businessman from Indonesia, and gave birth to her eldest daughter Farrah. Years later, she met Umansky — but in the interim, she was actually engaged to another man. Here's everything we know about Michael Tuck, the mysterious other man in Richards' life.
Kyle feels embarassed now
After so many seasons on the air, you might think Kyle Richards had no secrets left. Not so! Fans were shocked when she let slip that she was engaged when she met her now husband, Mauricio Umansky. "Do I have to give names?" Richards asked uncomfortably when Andy Cohen asked for more details during a "Watch What Happens Live" appearance.
Richards briefly explained that when she met Mauricio, she was engaged to a man named Michael Tuck, who was 24 years her senior. Though Richards wouldn't give any more details than that, we can piece together a little bit of what happened next. After Richards met Umansky, someone (we can't say who) called off the engagement, and Richards and Umansky dated for roughly two years, per The U.S. Sun. They got married in 1996 when Richards was four months pregnant with their eldest daughter, Alexia.
Based on Richards' body language during her "Watch What Happens Live" appearance, we can guess that the overlap between Umansky and Tuck was a little messy. How Tuck felt about the whole thing, we'll never know. The news anchor died at the age of 76 in August.
Kyle and Tuck had something in common
Michael Tuck, the man Kyle Richards planned to marry before meeting Mauricio Umansky, loved being on TV as much as his ex-fiance did. Tuck was a highly respected news anchor working in Southern California for 40 years.
"He made a mark on San Diego from his one-of-a-kind voice and delivery to his scorching perspectives," a co-worker said during a tribute story following Tuck's death in August. Tuck moved from Philadelphia to San Diego in the 1970s and began reporting for a local CBS affiliate. Tuck definitely left his mark on the station. "He was opinionated and demanding, and co-workers say he was worth it," the report stated. "Great as an anchorman and great in the field." After cutting his teeth in San Diego, Tuck moved to LA, where he met Kyle and worked until 1999, when he moved back to San Diego and began a new contract with his old station.
Tuck wasn't holding on to any hard feelings from his broken engagement with Richards. Not long after the breakup, Tuck met his wife, Jill, and soon welcomed two sons and a daughter, per The San Diego Union-Tribune. To Tuck, though, San Diego was his true love. "It meant a lot to him," Jill said in an interview following Tuck's death.