What You Didn't Know About Kyle Richards' First Husband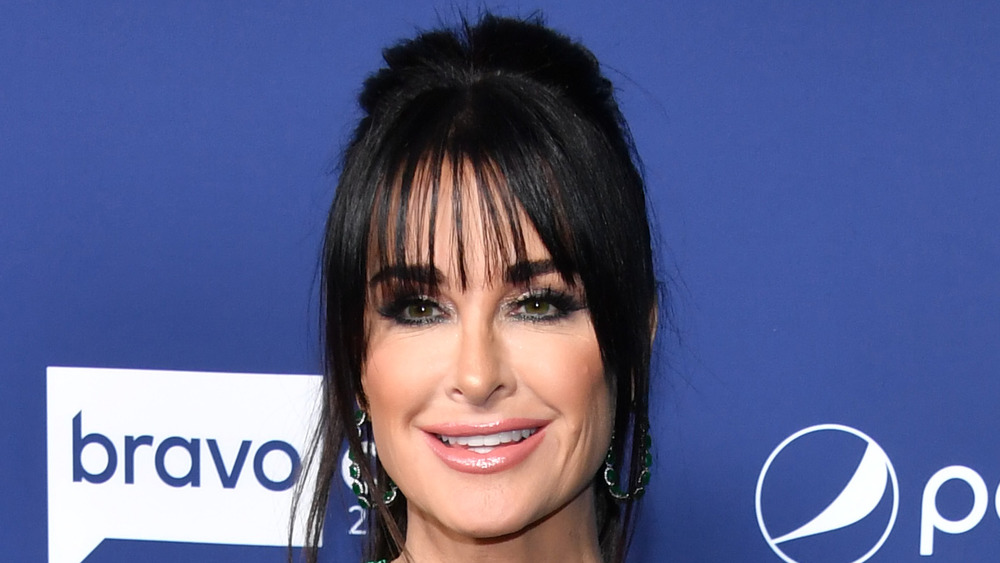 Dimitrios Kambouris/Getty Images
Second time's the charm! Even though it seems like Real Housewives of Beverly Hills star Kyle Richards was forever meant to be with real estate mogul husband Mauricio Umansky, she was in fact married once before. Shocking, right? Mauricio has been Kyle's side through all the RHOBH ups and downs and even founded his firm The Agency while on the series. 
Kyle and Mauricio have four daughters together, while Mauricio is a stepfather to Kyle's eldest daughter Farrah Aldjufrie — Farrah even now works for stepdad Mauricio as a real estate agent at The Agency! The University of Southern California grad credits RHOBH for bringing her parents even closer together. "[The show] has definitely made them stronger 100 percent and they are just the cutest honestly," Farrah told Us Weekly. "They have set such a great example for couples... because they truly are a team." She added, "Through the show, I think it just makes them appreciate their time together even more." 
But what about Farrah's biological father and Kyle's first husband, Guraish Aldjufrie? Keep scrolling to find out about their split! 
Kyle Richards wed Guraish Aldjufrie at age 18
Real Housewives of Beverly Hills star Kyle Richards certainly has a type! Her first husband Guraish Aldjufrie (pictured above) shares Mauricio Umansky's tall, dark, and handsome style, plus an entrepreneurial real estate spirit. 
The father of Kyle's eldest daughter, Farrah Aldjufrie, Guraish first met an 18-year old Kyle at a Tina Turner concert. Kyle reflected on meeting Guraish on the podcast Juicy Scoop with Heather McDonald, explaining that she originally lied about her age to then 23-year old Guraish to score a date (via The Daily Dish). 
Guraish, who was from Ethiopia, didn't speak much English at the time, but, according to Kyle, they communicated well enough to fall in love. Guraish was such a gentleman that there were rumors swirling child acting star Kyle was engaged to royalty. "He wasn't a prince, but he just acted like one because he was very reserved and sweet," Kyle clarified. They married in 1988 in a small ceremony while Kyle was pregnant with daughter Farrah. Guraish and Kyle eventually separated in 1990 and divorced in 1992, with Kyle later saying she was too young to dedicate herself to being a wife.
Though Kyle once grappled with the guilt of leaving Guraish, she takes pride in the fact that they're still good friends. Even Guraish and Mauricio are pals! 
Today, Guraish lives and works in Bali for his land development firm, but remains close with both Farrah and Kyle, per The Daily Dish. All's well that ends well!