The Real Reason Teddi Mellencamp Is Leaving RHOBH
Gary Gershoff/Getty Images
Looks like Teddi Mellencamp, founder of the "accountability coaching" business All In by Teddi, is all in for everything — except the next season of The Real Housewives of Beverly Hills. The reality star, who appeared for three seasons, won't be returning, according to a tweet from Bravo in September 2020. Teddi confirmed the news on Instagram, joking in the caption, "You heard it here last." She continued, "Yes, it's true, I am not coming back to #RHOBH. Thank you to @bravotv, @evolutionusa, @bravoandy and all of the amazing women for the support (and the shade) for the past three years."
In the accompanying IG video, she explained a little more. "I recently found out that my contract as a Housewife is not being renewed. Of course, I could give you the standard response of, 'Oh, we both came to the decision that it would be best.' Nah, I'm not gonna do that — that's not who I am," she said. "Of course, when I got the news I was sad. It feels like a breakup almost, because you develop such strong relationships... and you get to do incredible things that you probably never get to experience without the show."
But the entrepreneur seemed in good spirits, saying she was "really looking forward to the future and being able to focus on [her] family, [her] friends, All In." However, Teddi didn't go into detail about why she was axed, so let's take a look at the real reason for her Housewives exit.
Teddi Mellencamp was supposedly fired for being 'boring and stale'
Gary Gershoff/Getty Images
According to a source that spoke to Daily Mail, the decision to get rid of Teddi Mellencamp was a long time coming. "The network has not been impressed with her performance on the show," the person claimed. "They considered cutting her last season but gave her one last chance." Seems like Teddi blew that chance, as the source suggested. "She is boring and stale and does not offer anything to the franchise with her robotic and staged delivery when interacting with the other cast members," the insider continued. "The issue is, the other cast members don't particularly like her and beyond Kyle [Richards] no one is friends with her." 
That's the opposite of what Teddi said she experienced on Real Housewives, which was "strong relationships" with the cast and crew. As for Kyle Richards' friendship? "Kyle will most likely dump her, when Bravo does," the insider speculated. 
And it's likely that recent events didn't help Teddi's case. The reality star has been in a feud with Instagram influencer Emily Gellis Lande, who revealed examples of Teddi's All In clients claiming the accountability program was restrictive and unhealthy. "The network has been less than impressed," the Daily Mail's source claimed, adding it was "concerning" the fitness guru was pushing a program criticized by young women, who are a big chunk of Bravo's audience. As for Teddi, she posted a video defending All In and expressing her love for the company.
Some fans demanded more change, even calling 'RHOBH' a 'dumpster fire'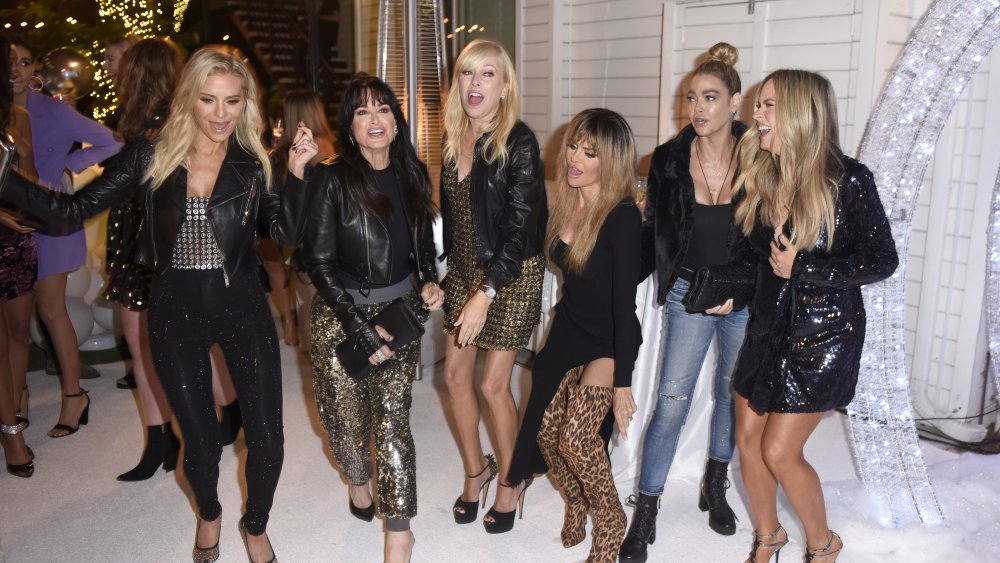 Vivien Killilea/Getty Images
Fans have had mixed reactions to Teddi Mellencamp's RHOBH exit. One posted on Twitter that the show was being "so nice" in their framing of the decision, since they thought Teddi "should have been let go last season." Others have different theories, saying Teddi was "actually somewhat [likable] this season." "Less boring than previous seasons for sure," the fan said. While many said they "like" the actress, but think the decision was a long time coming. "I liked Teddi her first season but after last season I lost all respect," another fan said, adding Teddi "dug her hole deeper" instead. "Glad she's gone." 
Others are attributing the exit to flack over Teddi's company, All In, which has come under the critical eye. Then there are those that are criticizing Bravo for not firing others instead, like Lisa Rinna and Erika Jayne, who fans think are the bigger "bullies." One called Rinna the "biggest pot stirrer." Yet another fan called out the entire network for its questionable decisions. "The entire show needs a reboot," the tweeter said, "Otherwise the fans will listen to our favorite podcaster recaps and never watch this dumpster fire again." 
As for any chance of Teddi returning to RHOBH, Daily Mail's inside source claimed, "Regardless of how much Teddi begs to keep her job when she is told, the network will not change their mind. She's done."