Did Hollywood Forget About David Schwimmer? Here's The Situation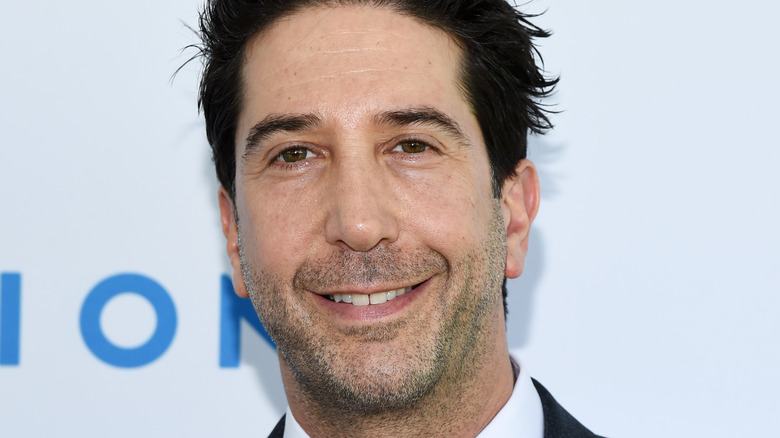 Amanda Edwards/Getty Images
The following article includes references to sexual misconduct and antisemitism.
David Schwimmer rose to prominence as the lovable nerdy paleontologist Ross Geller on the iconic sitcom "Friends." The role made him a household name and cemented his place in TV history. He even earned his first Emmy nomination for outstanding supporting actor in a comedy series in 1995. But while the actor seemed ready to take on the world when the pop culture phenomenon ended its 10-season run in 2004, his fame hasn't skyrocketed as fans had once expected. In fact, it arguably feels like he's disappeared in recent years.
From seemingly questionable career moves and big-screen criticism to reported neighborly kerfuffles and scandalous lawsuits, Schwimmer has gone through quite a lot over the years — and, unfortunately, all the drama may have left a permanent mark on his showbiz career. Could Schwimmer rebuild his reputation gig by gig and restore his career to its former glory? Well, let's first answer the question on everyone's minds: Why does it feel like Hollywood forgot about David Schwimmer?
David Schwimmer struggled mightily with fame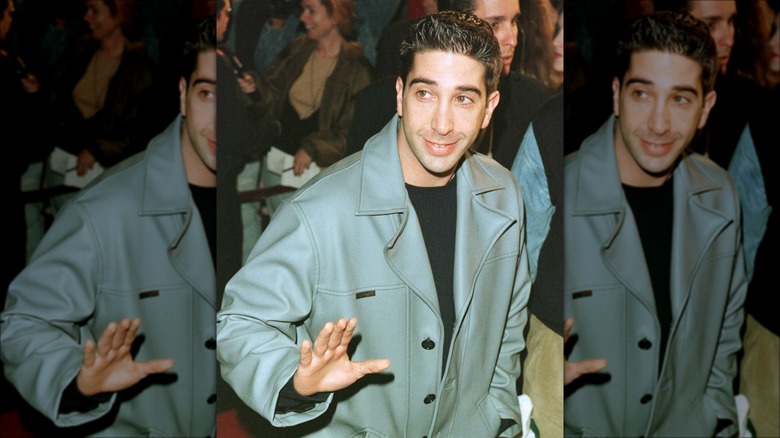 Getty Images/Getty Images
David Schwimmer became an overnight sensation in 1994, but quickly learned that fame wasn't all it was cracked up to be. "It was pretty jarring and it messed with my relationship to other people in a way that took years, I think, for me to adjust to and become comfortable with," the actor said on The Hollywood Reporter's "Awards Chatter" podcast in 2016. "It made me want to hide under a baseball cap and not be seen." Striking a balance between work and celebrity became difficult for the star, who explained, "I was trying to figure out: How do I be an actor in this new world, in this new situation? How do I do my job? That was tricky."
Understandably, Schwimmer needed to adjust fast, especially as his character, Ross Geller, became an instant icon. "I was very aware of the power of the success of the show," he told "Awards Chatter." While suddenly being known as a TV star all around the world likely came with its upsides, the actor also had to contend with a glaring lack of anonymity, which was a huge change from what he was used to.
The actor disappeared behind the scenes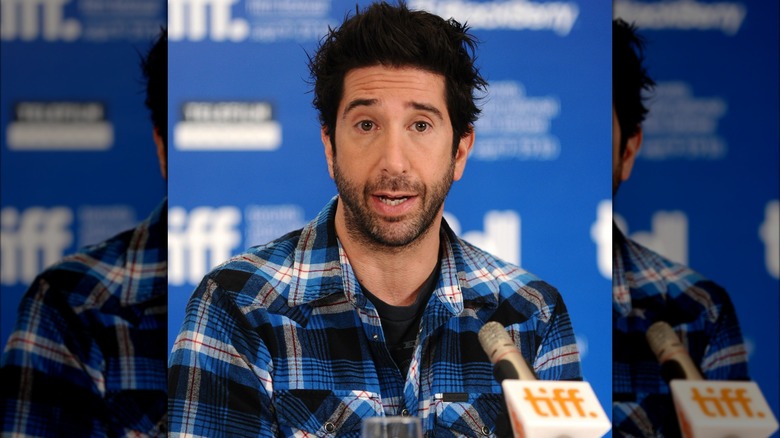 Alberto E. Rodriguez/Getty Images
After "Friends" went off the air, David Schwimmer turned his attention to directing — with varying levels of success. He made his film directorial debut with the British-American comedy "Run Fatboy Run" starring Simon Pegg, which was released in 2007. The movie received mixed reviews, but it did well at the box office, earning the director a British Independent Film Award nomination for best debut. Schwimmer went on to direct 2010's "Trust," a gripping drama about the potential dangers of online relationships, starring Clive Owen and Viola Davis. While the film garnered generally favorable reviews, it was a box office flop.
Schwimmer's TV directorial work has included "Little Britain USA," "Growing Up Fisher," and "Joey," Matt LeBlanc's failed "Friends" spin-off. In recent years, the star of "The Pallbearer" has turned his creative efforts to producing. As well as being an executive producer on "Friends: The Reunion," he executive produced the comedy series "Intelligence," in which he also starred.
At this point, Schwimmer has worked in many facets of the film and television industry, and he doesn't seem to mind working behind the scenes instead of standing in front of the camera.
You probably haven't seen any of David Schwimmer's best work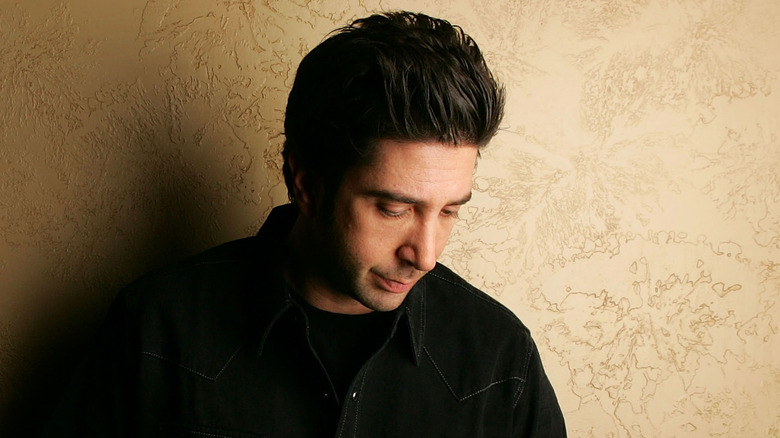 Carlo Allegri/Getty Images
David Schwimmer's heartbreaking performance in the 2005 drama "Duane Hopwood" was regarded as one of his strongest, but few people have actually seen it. "It's not a comedy. I play a father struggling with alcohol, divorce, and the custody of his two daughters," he told the Independent at the time. "I'm really proud of that film, it was like a real role in a real story."
Famed critic Roger Ebert selected "Duane Hopwood" as one of the highlights of 2005 and suggested that Schwimmer's work in the movie really showed what he was capable of as an actor. Unfortunately, the indie flick saw only a limited release after premiering at the Sundance Film Festival and received mixed reviews. What should have been a headline-making moment for the '90s sitcom star sadly disappeared into thin air.
It's also fair to say that despite appearing in the acclaimed 2001 mini-series "Band of Brothers," Schwimmer rarely gets the recognition he deserves for his dramatic work. While reviews at the time of the TV show's release hailed Schwimmer's magnificent performance, it's been all but forgotten by the general public. Instead, his acting talent has largely continued to fly under the radar, waiting for the world to take notice.
David Schwimmer was heard but not seen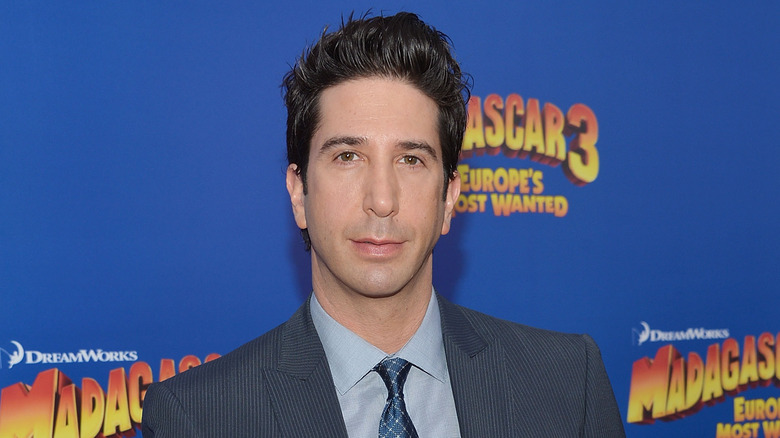 Mike Coppola/Getty Images
One of David Schwimmer's most successful acting roles was one that didn't even require him to appear on screen. In 2005, he voiced Melman, the panic-stricken, hypochondriac giraffe in the DreamWorks movie "Madagascar." While the computer-animated film earned somewhat mixed reviews, Schwimmer's anxiety-ridden performance as the fan-favorite character was highlighted as a scene-stealer.
Regardless of its less-than-stellar ratings, the kid-friendly comedy raked in hundreds of millions of dollars worldwide and was a bona fide box office smash that became a full-blown franchise. That's definitely a good thing for Schwimmer, as his character is one of the leads of the series alongside Ben Stiller's lion Alex, Chris Rock's zebra Marty, and Jada Pinkett Smith's hippo Gloria. Playing such a key role in a popular children's movie series must have been a steady job for Schwimmer, and it also highlighted his wonderful comic timing. But for better or worse, "Madagascar" also kept him out of the spotlight — and it remains to be seen if that success would help him transition into more mature, live-action projects.
The Friends star hit the stage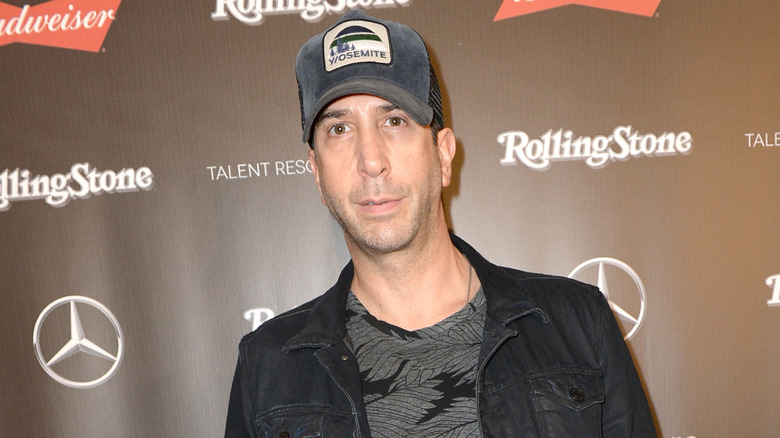 Gustavo Caballero/Getty Images
David Schwimmer attempted a big career pivot in 2005 when he made his West End debut in Neil LaBute's comedy "Some Girl(s)." Obviously, the actor-director was well aware of how his performance may be perceived so soon after the end of "Friends." "I'm sure there will be people, including some critics, saying it's just Ross up there," he told the Independent. "And I'll take that ... really hard actually." However, he also wasn't about to let preconceptions stop him from exploring a new career opportunity. "But what am I gonna do? I can't control it. Someone has said it about every single thing I've done outside of 'Friends.' Every time someone says: 'It's just Ross'. Whether I'm playing a cokehead screenwriter or a psychopath or whatever."
Unfortunately, the Daily Mail (via BBC News) suggested that Schwimmer's West End debut played a little too closely to his work on a certain NBC sitcom. Despite the depressing feedback, Schwimmer continued pursuing stage work, making his Broadway debut in "The Caine Mutiny Court-Martial" in 2006, appearing in Chicago's "Our Town" in 2009, and going Off-Broadway with "Detroit" in 2012. The "Six Days, Seven Nights" star also brought his expertise as a director to the stage with the 2008 premiere of Stephen Belber's dark comedy "Fault Lines," but unfortunately, some critics similarly didn't know what to make of his directorial hand.
David Schwimmer's reputation came under attack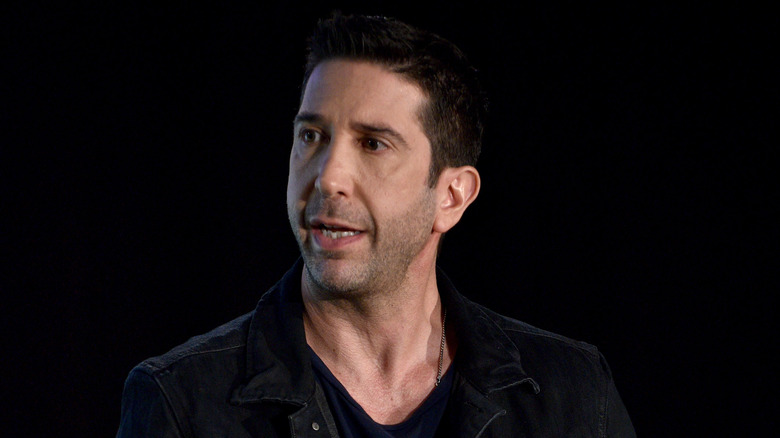 Bryan Bedder/Getty Images
David Schwimmer nearly had his nice-guy reputation ruined when a charity fundraiser made unfounded allegations about the actor. Per Fox News, Aaron Tonken allegedly suggested that Schwimmer only agreed to attend a charity event if he received two Rolex watches in return. As a result, the actor sued for defamation in 2006 and won $400,000. Tonken eventually retracted his statements about Schwimmer and apologized. The "Intelligence" star said in a statement, "I feel vindicated by the judgment. ... I am pleased that Aaron Tonken has set the record straight and admitted that his statements about me ... were untrue."
2012 saw the director's reputation come under attack once more, this time in relation to a New York property he'd purchased. According to the New York Post, Schwimmer got into hot water with his neighbors in the East Village when he demolished a townhouse that dated back to 1852. The publication reported that the actor had been informed by the Landmarks Preservation Commission that the property would likely be given "landmark status," meaning that it was deemed to be historically important in some way.
However, Schwimmer apparently had the house torn down before that could happen and built a new home to his exact specifications in its place, much to the chagrin of the locals.
David Schwimmer is notoriously private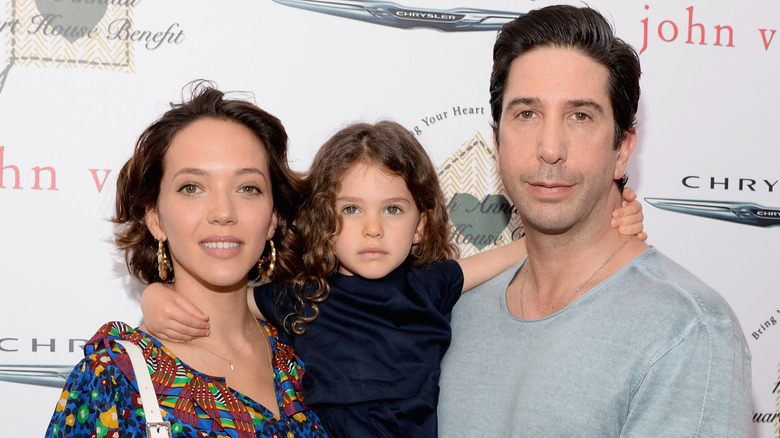 Michael Kovac/Getty Images
Having spent much of his adult life in the spotlight, David Schwimmer is understandably guarded when it comes to his personal life, which has mostly been shrouded in secrecy. Schwimmer met artist Zoe Buckman in 2007 while directing "Run Fatboy Run" in London. At the time, she was working at the Cuckoo Club as a waitress, where she served him. Three years later, the actor-director's rep announced the couple's engagement, and they wed in a secret ceremony in June 2010. However, the wedding news wasn't publicly revealed until four months later. The married pair welcomed their daughter, Cleo, in May 2011, but Schwimmer only ever made rare public appearances with his entire family in tow. Clearly, the actor has always wanted his private life to stay separate from the bright lights of Hollywood.
When Schwimmer and Buckman announced their separation after seven years of marriage in April 2017, it was made clear that their family would continue to be the actor's primary focus. "It is with great love, respect and friendship that we have decided to take some time apart while we determine the future of our relationship," the former couple said in a joint statement to Us Weekly. "Our priority is, of course, our daughter's happiness and well-being during this challenging time, and so we ask for your support and respect for our privacy as we continue to raise her together and navigate this new chapter for our family."
He spoke out against sexual harassment at a time when many were silent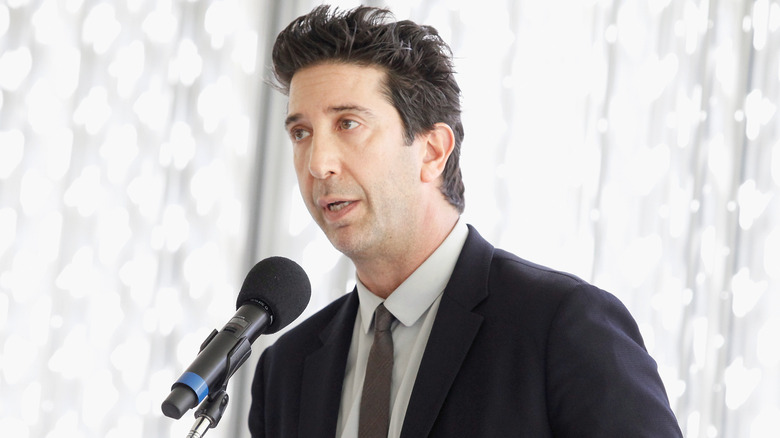 Tibrina Hobson/Getty Images
David Schwimmer has served on the board of directors for the Rape Treatment Center in Santa Monica, California since 2001. He's also a longtime advocate of banning date rape drugs such as Rohypnol and GHB. "I thought I could maybe give voice and give presence and get guys to see that it is their issue and it is their responsibility," he said of his decision to channel much of his energy into activism instead of Hollywood, per Look to the Stars. "I realized that these are our girlfriends, our wives, our daughters, our sisters, so it's as much a man's issue as it is a women's issue."
Before the Harvey Weinstein scandal broke in October 2017, Schwimmer was already busy taking a stand against sexual misconduct in the entertainment industry, producing a campaign video series against sexual harassment called #ThatsHarassment. "The reality is there's still fear of retaliation [of reporting harassment on social media]," Schwimmer said during a Cosmopolitan panel. "We're trying to get at the culture and generate as much awareness, for men, as well. We just feel like men have trouble really understanding where the line is."
Schwimmer's outspoken stance began at a time when key Hollywood heavyweights had not yet been taken down by the #MeToo movement. Did his bold activism hinder his opportunities among powerful industry leaders, causing potential roles to disappear?
If you or anyone you know has been a victim of sexual assault, help is available. Visit the Rape, Abuse & Incest National Network website or contact RAINN's National Helpline at 1-800-656-HOPE (4673).
David Schwimmer can't outrun Ross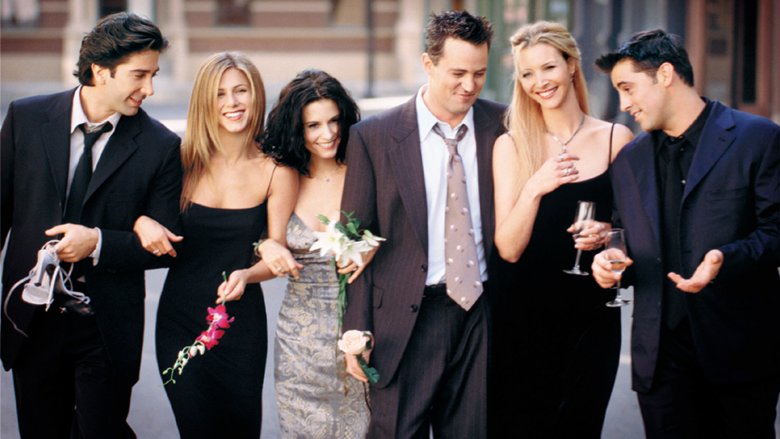 Getty Images/Getty Images
Just a glance at David Schwimmer's IMDb page shows that the actor had somewhat of an identity crisis in a post-"Friends" world — at least on the small screen. Other than directorial, theater, and voice work, his other roles have included multiple caricatures of himself on shows such as "Curb Your Enthusiasm," "30 Rock," "Episodes," and the BBC's "Come Fly With Me." In other words, Schwimmer has seemingly disappeared under Ross Geller's shadow.
"I feel equally comfortable on stage as I do in television or film," he told the Los Angeles Times in 2016, explaining that the paradox of his fame was finding himself typecast, despite the financial stability that gave him options. "I don't really have a strategy. Maybe if I did I'd be a much bigger film actor or star." Perhaps he finally took his own advice, because he did experience something of a career renaissance thanks to his portrayal of Robert Kardashian in Ryan Murphy's "The People v. O.J. Simpson: American Crime Story." 
But Ross Geller seems to still loom large whatever Schwimmer does.
How David Schwimmer has been turning it around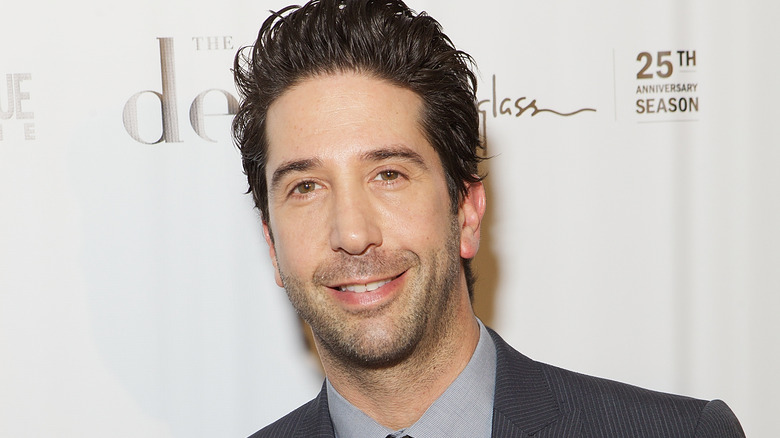 Jeff Schear/Getty Images
David Schwimmer may have spent much of his post-"Friends" career disappearing behind the camera or on stage, but as previously mentioned, that changed in 2016 with Ryan Murphy's "The People v. O.J. Simpson: American Crime Story." Schwimmer delivered a critically acclaimed performance as Robert Kardashian in his highly anticipated return to the small screen, receiving an Emmy nomination for a dramatic performance widely praised by critics and viewers alike. Not to mention, he finally overcame the shadow cast by the "Friends" role that made him famous more than 20 years earlier.
But that doesn't mean Schwimmer has said goodbye to his off-camera work. In the spring of 2018, he directed "Plantation!" — a play by Kevin Douglas. The production's world premiere coincided with the 30th anniversary of the LookingGlass Theatre, which Schwimmer co-founded after college. That December, Variety reported that Schwimmer was set to play an NSA agent in a British comedy series called "Intelligence" — proving that he also hadn't totally abandoned him sitcom roots. More on this TV gig below.
He joined The Great British Bake Off for a good cause
David Schwimmer surprised everyone in 2023 when he decided to take part in the annual Stand Up to Cancer special organized by the popular reality series "The Great British Bake Off." The actor's appearance on the show was a raving success, with Schwimmer demonstrating his accomplished culinary skills. In one stand-out moment, Schwimmer actually received a coveted handshake from judge Paul Hollywood, who praised the actor's tofu and veggie curry savory pies. The theater director adorably revealed on the show that he'd chosen to make the dish as his daughter followed a plant-based diet. After receiving the compliment from Hollywood, Schwimmer said on-camera, "I can't wait to tell my daughter."
Speaking about Schwimmer's appearance on the show, judge Prue Leith told the Mirror, "What I was surprised about, though, was I thought he'd behave like he behaved as Ross, he'd be like he was in 'Friends,' but he was actually very concentrated and didn't want to talk to anybody." As for why he chose to take part in the baking show, Schwimmer revealed (via the Mirror), "I lost a grandmother to cancer, my daughter lost a grandmother to cancer and my sister is a cancer survivor, so it's important to me. ... I am here to have fun. I am here to raise money for a great charity. It's a great cause and I happen to be a massive fan of the show."
David Schwimmer made a surprising appearance on Shark Tank
It would seem that David Schwimmer has something of a soft spot for reality TV. As well as making a surprising appearance on "The Great British Bake Off," Schwimmer also dropped in on an episode of "Shark Tank" in January 2023. As if his presence on the popular show wasn't exciting enough, Schwimmer also unexpectedly reunited with his former "The Pallbearer" co-star, Gwyneth Paltrow. The Goop founder was a guest Shark for Season 14, Episode 10, which saw Schwimmer endorse Long Table, a company selling healthy pancake and waffle packet mixes that use popcorn flour.
As it turns out, Long Table founder Samuel Taylor became friends with the "Friends" star via the Lookingglass theater company, leading Schwimmer to help him on "Shark Tank." "The best damn pancakes and waffles I've ever had. I'm not an investor, I have nothing to gain here," Schwimmer shared of the product on Instagram, adding, "A nutrient dense, whole grain superfood — and the lightest flour on earth. They're protein packed and crazy good. Which is why I suggested [Taylor] go on Shark Tank, and offered to join him if he made it through their intense application and vetting process! 10 months later... Here we are."
Sadly, the Sharks didn't endorse Long Table's pancake mixes, despite Schwimmer's glowing recommendation. Still, it's nice to know that the actor is supporting both his real-life friends and entrepreneurial businesses, even if it temporarily takes him away from Hollywood.
News of his Jennifer Aniston crush eclipsed his career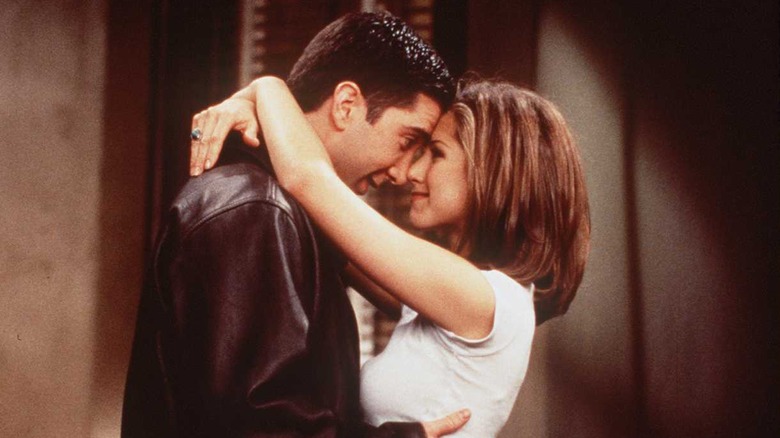 Getty Images/Getty Images
Throughout the '90s and early '00s, viewers shipped Jennifer Aniston and David Schwimmer's characters on "Friends," Rachel Green and Ross Geller, whose on-and-off relationship was a central part of the show. In 2021, the pair shocked fans worldwide when they revealed they'd both been crushing on one another during the early seasons of "Friends." 
During "Friends: The Reunion," which brought the original cast back together for a special interview on HBO Max, Schwimmer explained (via Entertainment Weekly), "The first season I had a major crush on Jen." Aniston was quick to add, "It was reciprocated," revealing that Ross and Rachel's romance very nearly continued off-screen. As for why a real-life relationship never transpired, Schwimmer explained, "At some point we were both crushing hard on each other, but it was like two ships passing because one of us was always in a relationship and we never crossed that boundary. We respected that." Sadly, they were never single at the same time, and Aniston said during "Friends: The Reunion," "We just channeled all of our love and adoration for each other into Ross and Rachel." 
Fans were undoubtedly thrilled to discover the reason why Ross and Rachel's romantic chemistry seemed so real. However, gossip about the crush soon overtook the internet, and likely became bigger than any projects Schwimmer was working on at the time.
David Schwimmer criticized Friends' lack of diversity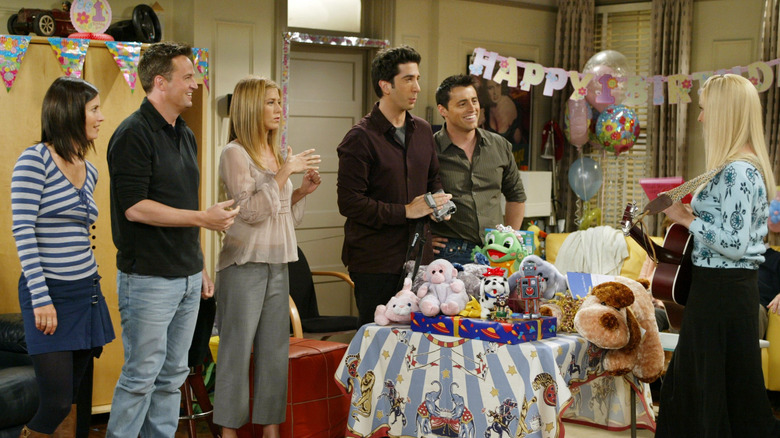 David Hume Kennerly/Getty Images
In 2022, David Schwimmer took part in the Channel 4 documentary "Jews Don't Count," where he spoke to host David Baddiel about the lack of representation on "Friends." Discussing the popular '90s sitcom, Schwimmer explained (via Metro), "The show was supposed to be taking place in New York in a city that's very diverse, but had no real representation of other minorities, of people of color." He continued, "I think the criticism is appropriate. But in terms of the Jewishness, that was something I think was only mentioned a couple of times, like the Holiday Armadillo that I played."
Schwimmer had previously addressed the show's lack of diversity in a 2020 interview with The Guardian, saying, "Maybe there should be an all-Black 'Friends' or an all-Asian 'Friends.'" He also noted that he attempted to instigate change while appearing on the show, telling the publication, "I was well aware of the lack of diversity and I campaigned for years to have Ross date women of color. One of the first girlfriends I had on the show was an Asian American woman, and later I dated African American women. That was a very conscious push on my part." 
The fact that such a famous actor has been standing up for equality in the entertainment industry is important, regardless of how it might impact his own career.
The actor's lackluster TV appearances haven't helped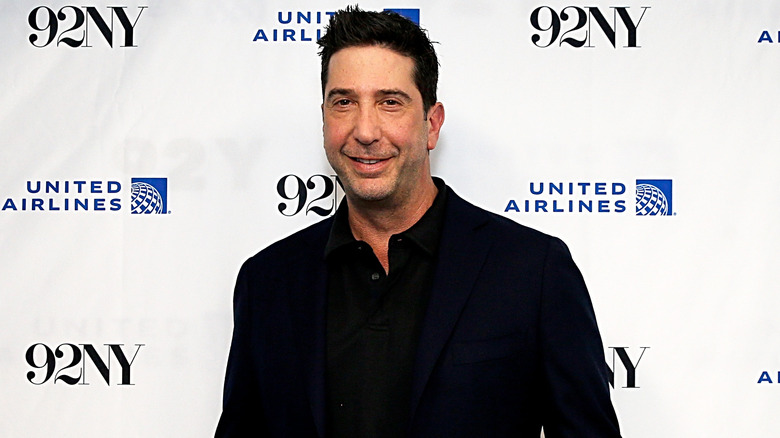 Dominik Bindl/Getty Images
While David Schwimmer hasn't quit acting, many of his attempts to return to the small screen haven't been as well received as many would hope. As previously mentioned, he joined the cast of the British comedy "Intelligence," created by "Ted Lasso" star Nick Mohammed. While many critics praised Schwimmer's performance, they also suggested that his talent was wasted in the sitcom, which has received mixed to negative reviews.
So far, the series has spawned two seasons, but it's unclear if a third season will materialize. During a 2022 appearance on "That Gaby Roslin Podcast," Mohammed did reveal that he'd written more episodes of the spy comedy show, but it seems as though the general critical response could hamper a full-season return of "Intelligence." In April 2023, Mohammed and Schwimmer reprised their roles in a one-hour TV special.
Back in 2018, Schwimmer staged a return to American TV with an arc in the "Will & Grace" reboot. In 2023, he also appeared in an episode of the Apple TV+ show "Extrapolations," but the series nabbed largely negative reviews, with many critics claiming that the star-studded cast — which includes Meryl Streep — wasn't even a reason to tune in. Sadly, Schwimmer's attempts to reignite a TV career have been middling at best, and he's still awaiting his next big hit.
David Schwimmer stood up to Kanye West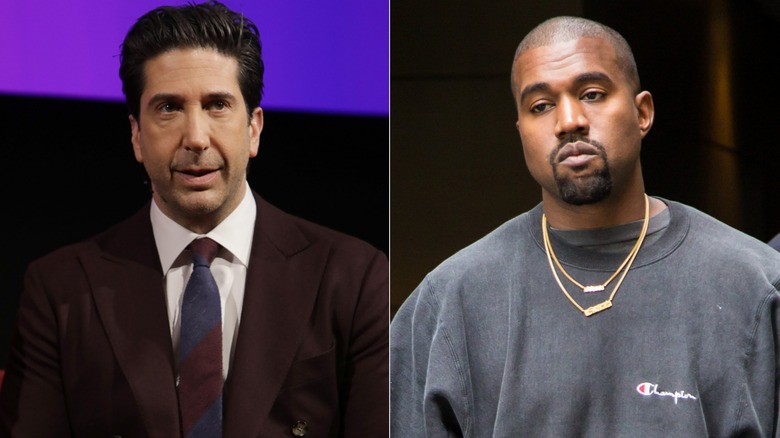 David M. Benett/Getty Images, Liam Goodner/Shutterstock
Having already spoken out about the lack of diversity on "Friends," David Schwimmer also took a stand against antisemitic comments made by rapper Kanye West in 2022. Taking to Instagram that October, Schwimmer wrote in part, "Anti-semitism is on the rise globally. Jews make up only 2.4% of the population of the United States but are the victims of more than 60% of all religious hate crimes." 
He continued, "Whether or not Kanye West is mentally ill, there's no question he is a bigot. His hate speech calls for violence against Jews. If you interpret his words any other way and defend him, guess what? You are racist." As he'd previously done with his comments about lacking diversity in the sitcom that made him a household name, Schwimmer was committed to speaking out against bigotry and hatred. "If we don't call someone as influential as Kanye out for his divisive, ignorant and anti-semitic words then we are complicit," the actor added in his Instagram post.
Though Schwimmer has spent the past two decades expanding his resume to varying success, his continued passionate advocacy has remained crucial in the more recent sociopolitical climate, especially in the face of such public displays of discrimination. It's unclear if his decision to speak out on various issues has affected his acting career to date, but fans will likely be grateful to the star for using his position in Hollywood to instigate real change. Regardless of what David Schwimmer does next, that's certainly something to be applauded.