Here's What Jason Momoa Really Smells Like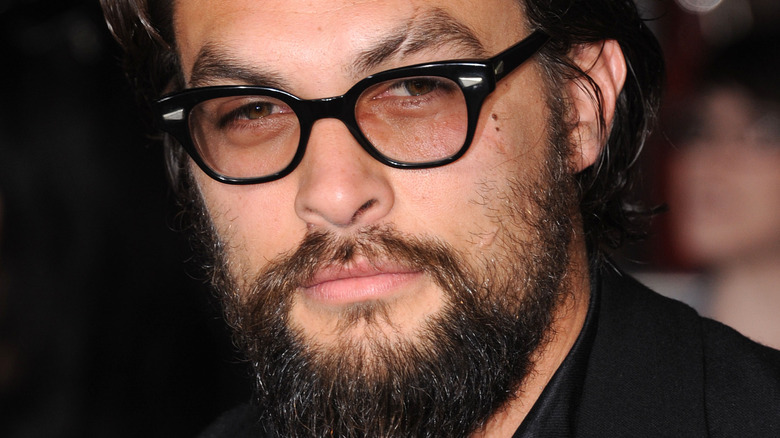 DFree/Shutterstock
Jason Momoa started his acting career in the late '90s but came to prominence when he landed his role as Khal Drogo in HBO's mega hit series "Game of Thrones." The role cemented his place in Hollywood and opened many doors for the actor, who would go on to star in blockbusters such as "Batman v Superman: Dawn of Justice," "Justice League," "Dune," and his own leading film "Aquaman." For his role as the aquatic superhero, Momoa was nominated as Favorite Movie Actor and Favorite Superhero at the Nickelodeon Kids' Choice Awards in 2019. He also earned a nod for Choice Sci-Fi/Fantasy Movie Actor at the Teen Choice Awards, per his IMDb page.
In addition to his acting skills, Momoa is also widely known for his signature rugged looks. His long curls (which he shockingly shaved off in a viral Instagram video), thick facial hair, muscular build, and overall handsome face captured the heart of millions and made Momoa a certified Hollywood heartthrob. In fact, he was even voted Most Handsome Man in an annual list put out by British film critic TC Candler in 2018, as reported by ET Canada. Perhaps Luna Magazine said it best, "Momoa looks like a warrior from times long gone, or a walking novel character. The wild hair, the dark complexion, the figure and the voice — it seems as if he does not exist in the real world."
But what of Momoa's signature scent? Ever wonder what the "Aquaman" actor smells like?
Yup, Jason Momoa smells like 'fire and oil'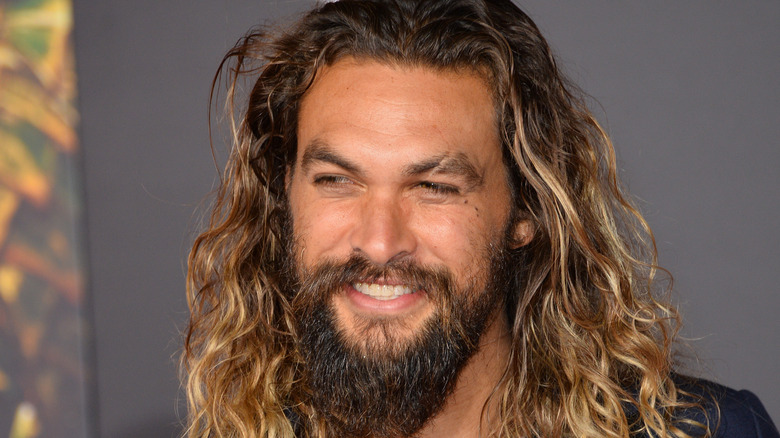 Featureflash Photo Agency/Shutterstock
Thanks to his "Sweet Girl" co-star Isabela Merced, the world finally knows just what the great Jason Momoa smells like. While promoting their film in an interview with PeopleTV in 2021, Merced dished on Momoa's signature scent and confirmed what fans have been suspecting about the actor. "He smells like Palo Santo," she said, adding that Momoa "smells good all the time." "There's not one stinky moment, at least for me. Are you stinky right now?"
Momoa responded, "Hell no. I'm Jason Momoa. I don't stink." He then clarified that he indeed smells like "fire and oil." "A lot of essential oils," Merced added. "But if you give me a hug, it's like a breeze that's Palo Santo coming from his armpits."
Okay, but what does Palo Santo smell like? According to Harlem Candle Co., it is often described as "subtle, sweet, and woody" (it's a tree, after all), with "hints of mint and citrus" and is somewhat reminiscent of licorice. Though sometimes confused with sage, the scent of Palo Santo is relatively more subtle, fresher, and sweeter, and it is often used as a key ingredient in many perfumes, scented candles, and fragrance oils, thanks to its heavenly, calming aroma. In fact, Gwyneth Paltrow's Goop has an entire line of it. Basically, Momoa smells great, just like what Merced said.
Jason Momoa talks about his personal hygiene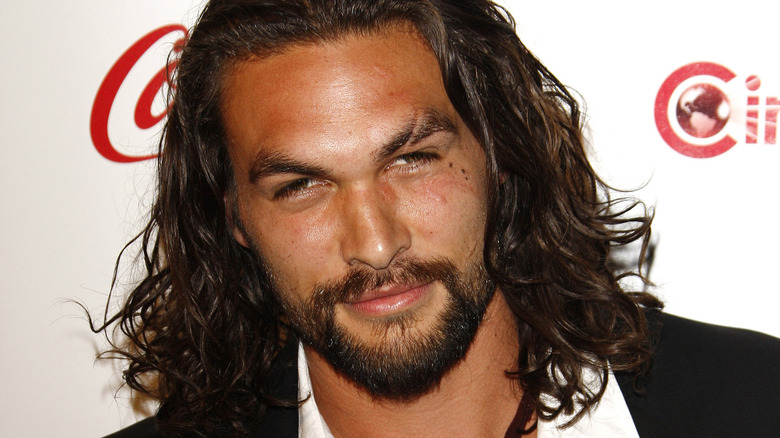 Joe Seer/Shutterstock
The reason why Jason Momoa smells great is because he has impeccable personal hygiene. The "Slumberland" actor spoke to Access Hollywood in 2021 about his hygiene habits, assuring fans that he showers regularly unlike, erm, some celebrities. "I'm not starting any trends. I shower, trust me," said Momoa. "I'm Aquaman. I'm in the f***ing water. Don't worry about it." He added, "I'm Hawaiian. We got saltwater on me. We good."
His statement comes after stars such as Jake Gyllenhaal, Mila Kunis, Ashton Kutcher, and Kristen Bell admitted that they don't shower every day. "More and more I find bathing to be less necessary, at times," Gyllenhaal told Vanity Fair in 2021, ironically while promoting Prada's Luna Rossa Ocean fragrance. "I think that there's a whole world of not bathing that is also really helpful for skin maintenance, and we naturally clean ourselves." Sure enough, the candid admission sparked a discourse about the personal hygiene of Hollywood celebrities and forced many, including Momoa, to come clean about their stance on bathing. Aside from Momoa, his good friend and fellow Samoan, Dwayne "The Rock" Johnson, also revealed his showering habits on Twitter, saying that not only does he shower every day, but he takes showers three times a day. "Nothing weird about this, my friend," Johnson wrote. "I workout twice a day and then I go to work for 12+ hours. I shower 3xs. Easy to understand."