Jason Momoa Trades His Signature Hairstyle For A Brand New Look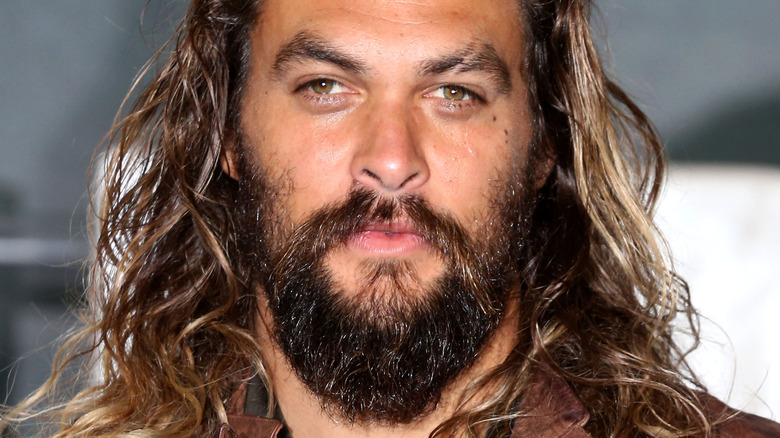 Cubankite/Shutterstock
Jason Momoa is known for many things in his life, including his marriage to Lisa Bonet and his incredible acting career. However, when most people think of the Hollywood star, they immediately think of his signature hairstyle, which stands out amongst the other men in Hollywood. Momoa has always rocked a long head of hair, and there's no doubt that it's his most recognizable feature.
In 2018, before he and wife Lisa Bonet called it quits, the actor talked about how much his long locks meant to Bonet. "My wife would leave me if I cut my hair, so I just don't cut my hair," the star told the Daily Telegraph. "I am not cutting my hair for a while, I will tell you that much." To be honest, we can't really say that we blame her. Of course, that's not the only time when his 'do came up. The actor also talked about his hair in 2021 as he promoted "Aquaman 2." "This is the last day of the brown. I'm gonna be a blonde. Supposedly [they] have more fun. I don't know about that," he told fans on Instagram, per Metaflix. "We'll test it out. But I'm excited to see James [Wan, the director], see my whole cast."
While brunette to blonde proved to be a pretty big transition in his hair game, Momoa's most recent hair change has generated even more buzz.
Jason Momoa chops off his locks for a good cause
Jason Momoa has a new hairstyle, and it has fans feeling all the feels. The actor took to Instagram on September 5, sharing a video of himself buzzing his long, signature mane. The footage began with Momoa sitting shirtless in a chair, sporting only a long, beaded necklace. Another person's hands could be seen brushing through the star's hair before Momoa grabbed a set of his cut-off braids. As Momoa panned to his freshly buzzed head, he told fans that he's "never even felt the wind right there."
But Momoa's publicity stunt was for a good reason, which he explained in the video and its caption. "Heres to new beginnings let's spread the aloha. be better at protecting our land and oceans," he wrote. "We need to cut single use plastics out of our lives and out of our seas. plastic bottles, plastic bags, packaging, utensils all of it." Momoa ended the post by tagging Mananalu Water Official, a water company he founded, which aims to end the use of plastic by serving water in recyclable, aluminum cans. Some fans were upset over Momoa's haircut, though most applauded the "Game of Thrones"actor for raising awareness. "Yooooo, big move for a great cause!" one person wrote.
This isn't the first time Momoa has raised awareness for this exact cause. In early September, he and James Corden did the tortilla challenge as he asked fans to make reels for the water contest.