Who Is Aaron Judge's Wife, Samantha Bracksieck?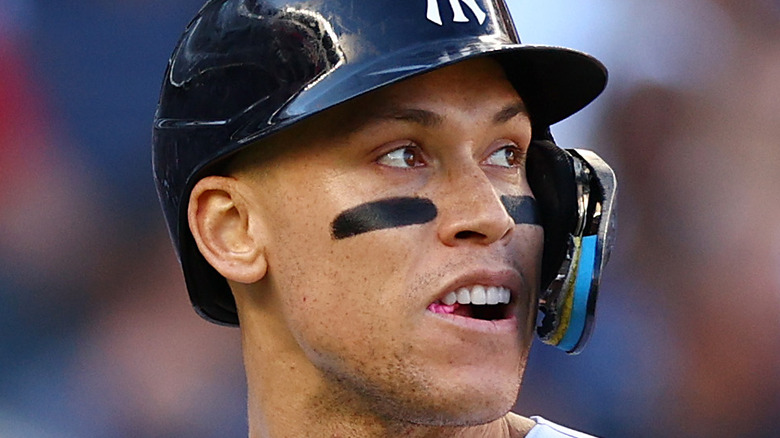 Elsa/Getty Images
Professionally, Aaron Judge is having a great year. According to The Guardian, the New York Yankees right-fielder made history on October 4, 2022 when made his 62nd home run of the season, surpassing previous record holder, Roger Maris. The official clip, posted to the MLB Twitter account, has gone viral and racked up over 39,000 likes and 9,000 retweets. Prior to Aaron's impressive record, he was already in the middle of a bidding war after rejecting a $213.5 million offer from the Yankees, per NJ.com — but now, he's become an even hotter commodity.
Despite Aaron's success, the old adage still rings true: Success without someone to share it with feels hollow. Fortunately, Judge has plenty of love and support in his life. After hitting his 61st home run, thus tying Maris' record, Judge embraced his mother, Patty Judge, and shared sweet words about his support system. "I'm nothing without my family," Judge shared with the YES Network (via the New York Post). "They mean the world to me. They're the reason that I'm here, the reason that I'm the person that I am. Getting to share this moment with my mom, and trying to give a little nod to Roger Maris Jr. It means a lot that he shows up here, too. Looking forward to taking it back home."
Of course, Judge's mom isn't the only woman in his life. There's also Judge's wife, Samantha Bracksieck, who he married in 2021. 
Samantha Bracksieck is Aaron Judge's high school sweetheart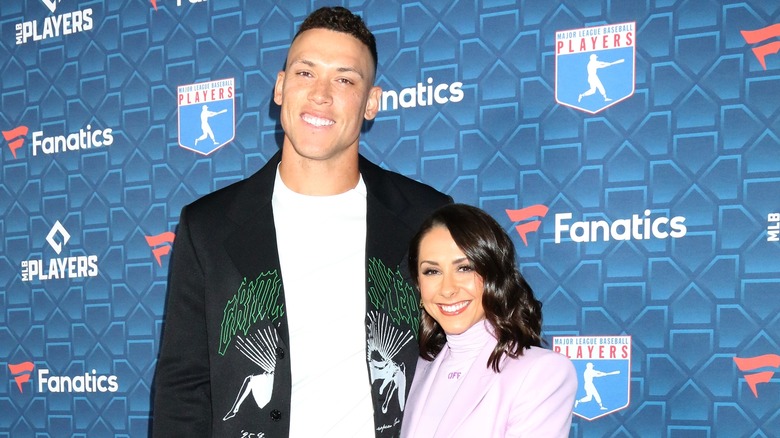 Kathy Hutchins/Shutterstock
According to the Daily Mail, Aaron Judge and Samantha Bracksieck wed in a secret Hawaiian ceremony on December 21, 2021. Per the publication's report, their wedding was held outdoors in Maui in front of their closest friends and family. However, the couple go way back and were actually high school sweethearts.
Bracksieck, 28, first met Judge while at Linden High School in California. According to the New York Post, Bracksieck and Judge started dating while attending the school, lost touch, then regained contact years later at Fresno University. The same report states that, somewhere in their relationship timeline, Judge and Bracksieck broke up before reconciling in 2019. While still in college, Bracksieck majored in kinesiology — which studies and analyzes how movement affects the body — according to Yahoo! In 2017, Bracksieck received an award for an outstanding master's thesis in kinesiology. The project studied elbow injuries in professional baseball players, per People. Today, it's unclear if Bracksieck currently works in her field. 
With that said, Bracksieck's education and her husband's athletic ability sure do make a complementary pair. 
Samantha Bracksieck is very private
Unlike Aaron Judge, who is one of the most famous athletes in Major League Baseball and currently boasts 1.5 million followers on Instagram, Samantha Bracksieck is super private. As of writing, Bracksieck doesn't appear to have any public social media accounts, although an article by the New York Post stated she had an Instagram account as of 2020. Given that Judge rarely posts his wife on his own Instagram account (the most recent picture was about three months ago), there's little to draw about her life. However, just because Bracksieck is private doesn't mean she's not visible. 
Bracksieck is seen often at her husband's games, offering support and cheering him on. And according to Judge, she handles his fame very well. "My wife has been with me through it all, and she's calm as a cucumber, that's for sure," Judge shared of his wife's reaction to the interest around him breaking Maris' record, per the NY Post.