Inside Tiger Woods' Relationship With His Son Charlie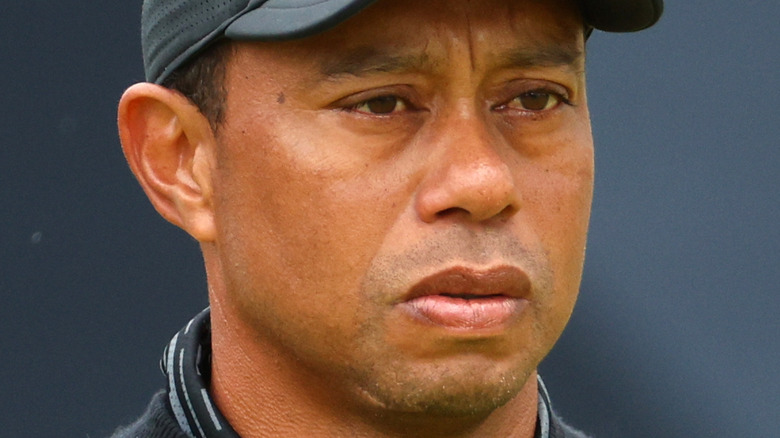 Andrew Redington/Getty Images
Back in 2009, Tiger Woods was everywhere and winning everything. Seen as a devoted dad to two kids and a wife, Woods had a perfect life — winning on and off the golf course. That is until it all came crashing down when cheating rumors began to swirl.
In late November 2009, Woods crashed his car causing the star to be thrust into the headlines for reasons other than golf. And those headlines wouldn't stop there. Following his car crash, alleged mistresses continued to put the golf star in the news after revealing they had been with Woods. While Woods didn't deny the allegations, it wasn't until 2010 that the star officially spoke out and confirmed that he had been unfaithful in his marriage, per OK! Magazine.
The news of Woods' infidelity shocked the world, who now saw their golden golf star in a new light. Shortly after Woods' confirmation regarding his unfaithfulness, Woods' wife, Elin Nordegren, filed for divorce, per People, via ABC News. And while Woods lost his magic touch on the course for years following, the star found it once again when he won the 2019 Masters. And despite all that happened between he and Nordegren, golf definitely runs within the Woods family because Woods has now passed the torch to his son, Charlie Woods.
Tiger Woods and his son Charlie bond over their love of golf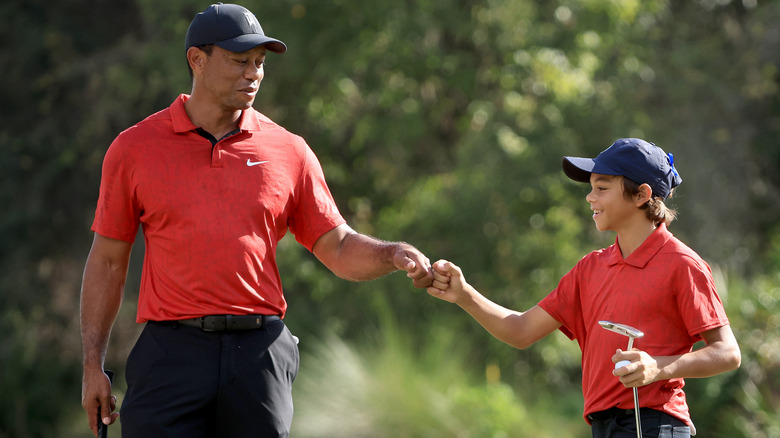 Sam Greenwood/Getty Images
Despite Tiger Woods and Elin Nordegren's divorce in 2010, the two have maintained a positive co-parenting situation for their kids, Charlie and Sam, per Reuters. And with their co-parenting situation, Woods found that heading to the golf course is something that allows him and his youngest son Charlie to bond — especially during the pandemic.
"And we just started playing a lot, and he started getting the bug for it. And so did I," Woods told Golf Digest. "It kept me competitive, kept me in it when we didn't have any tournament. But I had a tournament every day with him and that was the fun part. Was just like me growing up with my dad." During the pandemic, Woods and Charlie were spotted multiple times out on the course together with Woods even carrying Charlie's bag and giving his son some pointers on his swing, per People.
But while Woods offers Charlie tips on the game, the golf star noted, there's no one Charlie is more like on the course than himself. In fact, when playing, Woods said that Charlie will even use the phrases Woods' uses when he is upset with his plays. "But that's the good side of it. We have fun with it."
Tiger Woods is now Charlie's biggest fan like Charlie was all those years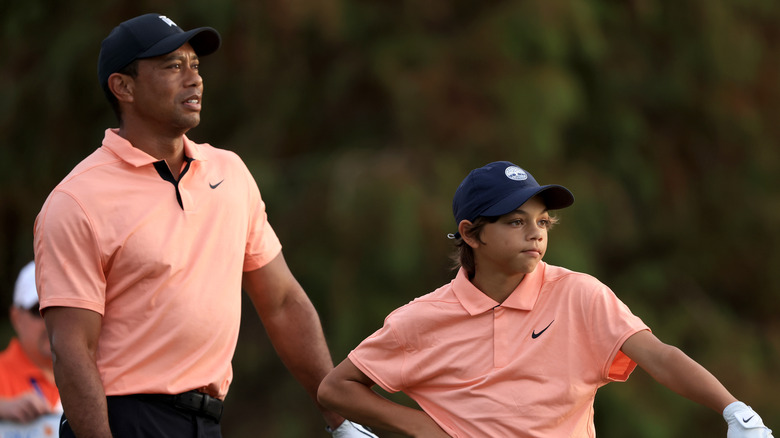 Sam Greenwood/Getty Images
Since Charlie Woods was his dad's biggest fan growing up, it's only fair that since Charlie is now playing the course, his dad, Tiger Woods, is his biggest cheerleader.
After winning the 2019 Masters, Woods revealed how amazing it was to have his kids there to see him in a new light — after the cheating scandals and injuries that have plagued Woods since 2009. "I think the kids are starting to understand how much this game means to me, and some of the things I've done in the game; prior to comeback, they only knew that golf caused me a lot of pain....that's basically all they remember," Woods said, per People. "Luckily I've had the procedure where that's no longer the case and I can do this again. So, you know, we're creating new memories for them and it's just very special."
One of those new memories is playing the course with Charlie. In 2021, Tiger and Charlie teamed up to play in the father-and-son PNC Championship. At the end of the tournament, the two won second place. But to Woods, it wasn't the title that meant anything to him. "I'm playing as a Dad and couldn't be more excited and proud," he said at the time.