Tiger Woods' Son Charlie Was Into A Different Sport Before Picking Up Golf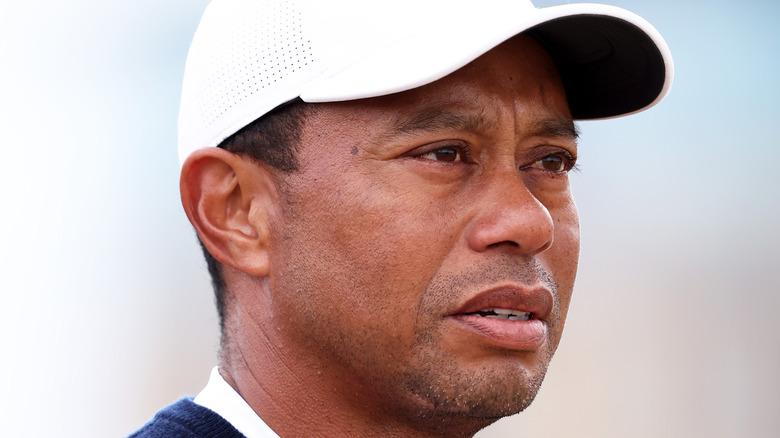 Warren Little/Getty Images
Tiger Woods' 13-year-old son, Charlie Woods, has certainly attracted a ton of attention thanks to his golfing abilities, but was golf always his first choice? 
As a refresher, Charlie made headlines for his incredible success at the 2022 Notah Begay III Junior National Golf Championship Last Chance Qualifier. In fact, in an interview after Charlie achieved the greatest score of his career to date, Ryan Burr named him "the star" of the day's events. In turn, Charlie gave his dad — who served as his caddy for the occasion — a sweet shout-out. "I couldn't have done it without him. I mean, some shots ... I would have been so off. He steered me on the right course," he shared.
The fact that Charlie has some incredible golfing abilities shouldn't come as much of a surprise given his gene pool. After all, as noted by The Scotsman, Tiger holds a whopping 82 PGA victories. And, as evidenced by Charlie's interview with Burr, it's pretty clear the young golfer appreciates his dad's guidance in the sport. It may come as a surprise to many then, that, not too long ago, he was passionate about a very different sport. 
Charlie was a major soccer fan in his younger years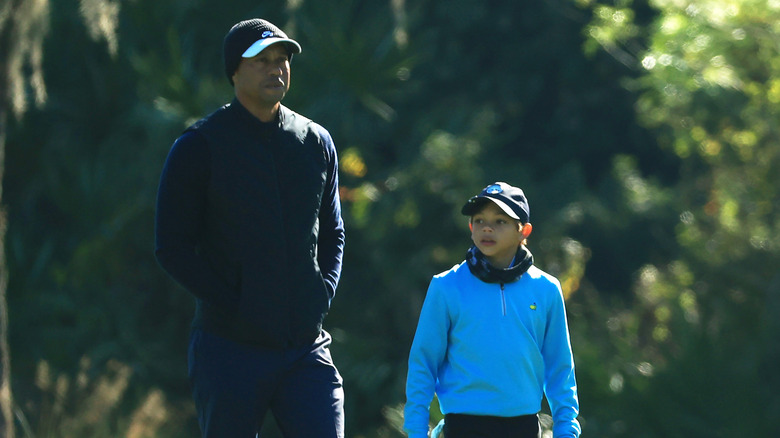 Mike Ehrmann/Getty Images
Charlie Woods may be making a name for himself in the world of golf, but a few years ago, it was soccer that excited him the most. 
Speaking to Golf back in 2018, Tiger Woods revealed that both Charlie and his eldest child, daughter Sam Woods, were "keen into soccer." However, Tiger wasn't too phased by their interest in another sport. In fact, he told the outlet that his top priority was seeing both his kids enjoying themselves. "I get such a big kick out of watching them compete and play. It's so much fun to see how happy and passionate they are about soccer," he gushed. That said, he also pointed out that, though there was no pressure from his side, if either of his kids did show any interest in golf, he'd back them all the way. "If they want to play golf, that's great," he shared.
That's just as well because there were definitely hints that Charlie would ultimately try his hand at the sport that propelled his dad to superstardom. In a 2011 interview with "Good Morning America," Tiger revealed that Charlie — "my little brute" — was a sports fan all-round. More specifically, though, he joked, "Anything with a stick and a ball, he's happy." How's that for foreshadowing?
Tiger's a proud dad, no matter what sport Charlie chooses
Mike Ehrmann/Getty Images
Now that Charlie Woods has turned his attention from soccer to golf, comparisons between him and his dad have been inevitable. However, Tiger Woods is adamant that his son should shine as himself.
In a PGA Tour video published in late 2021, Tiger was presented with a side-by-side montage of his and Charlie's twinning moments. Tiger chuckled at the likeness, even stating, "Two things that stick out: the timing of the twirls and the pick up of the club." He also joked that their identical nose rub resulted from a shared condition. "We both have allergies, so we both struggle on the golf course," he laughed. But, the doting dad also noted that, similarities aside, Charlie was an individual, and deserved to be treated as such. "Yes, he's my son, but ... he's his own person, and I'm proud of whatever direction he chooses, whether he sticks with the game or not," he pledged. 
Seven-time PGA Tour winner Jon Rahm once mused in a Sentry Tournament of Champions interview that, if the younger Woods kept up the good work, "I wouldn't doubt one second we'll see him maybe one day sitting here" (via TenGolf). Maybe a lengthy golfing career is in Charlie's cards, but it's good to know that even if he chooses another route, Tiger will be backing him all the way.