Kaley Cuoco Had An Emotional Reaction To Selma Blair's DWTS Exit
Frazer Harrison/Getty Images
Since being diagnosed with multiple sclerosis in 2018, Selma Blair has become an inspiration to her fans by documenting her lows and highs on Instagram — from the heartbreaking realization that she could no longer show her son how to perform a cartwheel to dancing on her tiptoes on a rocky seashore less than three years later.
In the documentary "Introducing, Selma Blair," the actor revealed that she was advised to prepare for her death when she was undergoing treatment for MS, but a risky stem cell transplant gave her a new lease on life in 2019, per Vanity Fair. Her determination to live her best life has also carried the "Cruel Intentions" star far — all the way to the cast of "Dancing with the Stars," in fact. But the transplant wasn't a miracle cure, and Blair told "Access" that she worried she might freeze up on the dance floor during her first "DWTS" performance because of the way her body reacts to adrenaline.
Blair and her dance partner, Sasha Farber, made it to Week 5 of the competition before Blair had to bid the ballroom a sad farewell. She'd moved pretty much everyone to tears week after week, and her swan song received a perfect score from the judges, per TheWrap. So many people were sad to see her go, including "The Big Bang Theory" star Kaley Cuoco.
Kaley Cuoco expresses love for her fellow horse girl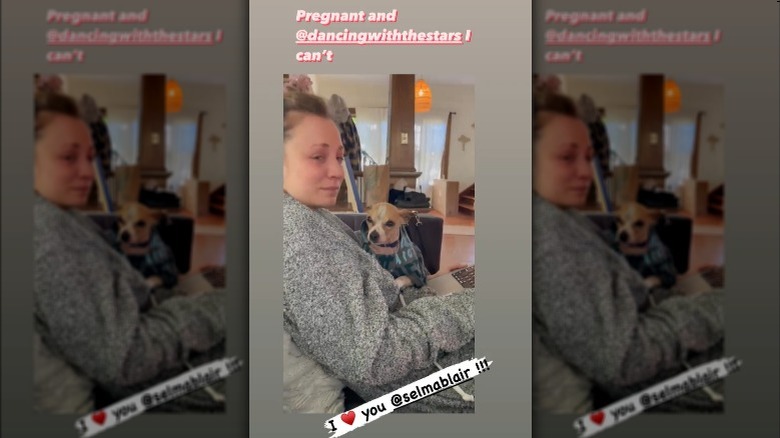 Instagram
Kaley Cuoco's boyfriend, "Ozark" star Tom Pelphrey, filmed her emotional reaction to Selma Blair's heartbreaking "Dancing with the Stars" exit. However, it was his girlfriend who shared the footage with her 7.5 million Instagram followers. Cuoco, who's expecting her first child with Pelphrey, looked quite cozy in a fluffy, gray robe and pajama pants with one of her rescue dogs cuddled up beside her. The waterworks flowed as "The Flight Attendant" star witnessed Blair get her quartet of 10s from the judges, prompting Periphery to tell his sniffling girlfriend, "Babe, you're literally weeping." A sobbing Cuoco replied, "I can't handle it, I love her." Pelphrey couldn't help but laugh as he placed a comforting hand on Cuoco's arm.
Blair explained that she decided to exit "DWTS" after consulting with her doctor, who was concerned about an MRI that showed inflammation in one of her knees, per Entertainment Weekly. But making it as far as she did was quite the feat for the avid equestrian, who couldn't even ride a horse in 2018. "I will heal. I will ride," she vowed on Instagram. And now she's back in the saddle and winning blue ribbons in show-jumping competitions.
Cuoco's also a show jumper. On "The Ellen DeGeneres Show," she revealed that she almost had to have her leg amputated in 2010 after a scary riding accident, but she, too, didn't let a health setback keep her out of the stirrups.