The Heartbreaking Reason Selma Blair Had To Exit Dancing With The Stars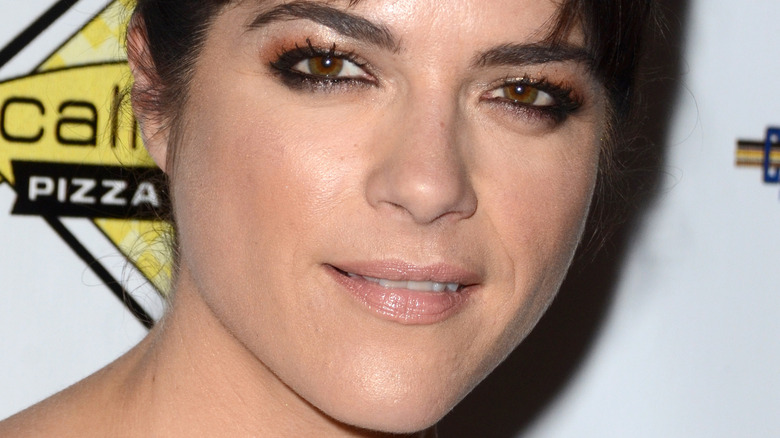 Kathy Hutchins/Shutterstock
Selma Blair has sadly had to say goodbye to "Dancing with the Stars" for a heartbreaking reason. The "Legally Blonde" star has been competing on Season 31 of the dance competition, the first ever season to air on Disney+, appearing alongside the likes of "The Real Housewives of New Jersey"'s Teresa Giudice, "American Idol" winner Jordin Sparks, and actor Wayne Brady.
The "Cruel Intentions" star was partnered with Sasha Farber, and her involvement with the show marked a poignant moment in the wake of her 2018 Multiple sclerosis diagnosis. "I'm beyond thrilled. I'm [here] with perspective and coming back and realizing the support of people when you try — it's changed my life. This is so powerful to me," she said on "Good Morning America" in September. "I am thrilled to learn how to move my body better right now," she continued, adding she was excited to get to know her fellow competitors and to cheer one another on.
Blair went on to thrill the judges week after week, keeping fans updated with her journey via Instagram. On September 27, she shared a video of her dance and gave an insight into her difficulties dancing with MS. "The real personal victory for me was still being able to continue when I lost some control of my left leg towards the end... my body did what bodies can do (especially with MS) and the show went on," she wrote. But, sadly, the show can no longer going on.
Selma Blair pulled out of Dancing with the Stars due to health issues
Selma Blair announced on October 17 that she could no longer compete on "Dancing with the Stars" due to her deteriorating health. Blair made the emotional announcement in a video piece that aired during the Disney+ show, as she told her partner, Sasha Farber, she'd had the results back from MRI scans and had been informed by doctors it wasn't advised for her to continue on. "With a chronic illness, you do have special considerations, and my body is definitely taking a hit. It's way too much for the safety of my bones. There's just intensive bone trauma and inflammation," she explained, noting she could permanently damage her body. Blair and Faber danced their final dance, receiving a score of 40 out of 40.
Blair had previously opened up about the struggles she could face in the ballroom, telling "Good Morning America" in September, "I am really nervous if I lose my partner's touch. I am used to having a counterbalance of my dog or a cane or at home my abilities are much more seamless than out and about, so this is a bit of a flop sweat."
Following her exit, the National MS Society tweeted a message of support for the actor, writing in part, "you continue to inspire the nearly 1 million people with MS in U.S. and countless millions around the world. Thank you for continuing to share your journey with MS."