Inside 50 Cent And Bette Midler's Unusual Friendship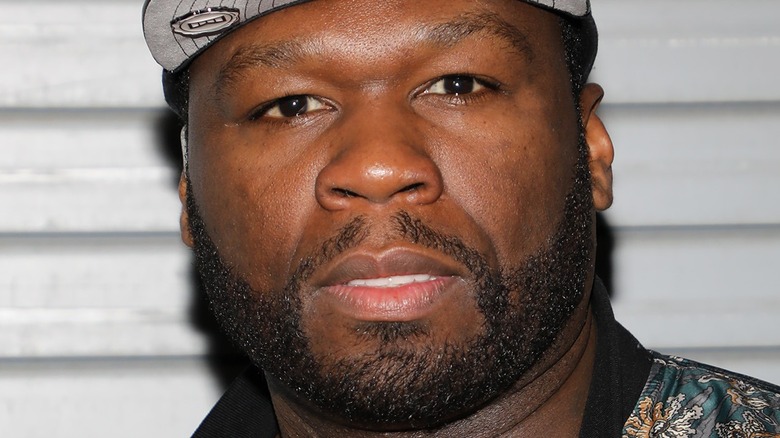 Alexander Tamargo/Getty Images
There are plenty of Hollywood friendships that no one understands, and the bond between Curtis "50 Cent" Jackson and Bette Midler is one of them. Midler might best be known today for starring as Winifred Sanderson in the classic film "Hocus Pocus" and its 2022 sequel, "Hocus Pocus 2," but before that, she had already made a name for herself on the stage, on TV, and in plenty of films. She's won three Emmys, four Golden Globes, two Tonys, and has two Academy Award nominations under her belt (via IMDb). And, like 50, Midler has also released a string of albums. Aside from her creative pursuits, Midler is known to be active on social media, where she has caught some serious heat for her comments.
50 Cent, on the other hand, is best known for his work in the music industry, but the two have more in common than you might expect. Outside of his rap career, 50 Cent has done quite a bit of acting, with an Emmy Award — just like Midler — to show for it. Of course, one of the differences between the two of them is the type of music they've created. While Midler found success in traditional pop, 50 has been called the "king of hip-hop," but that didn't stop the two from forming an unlikely companionship.
Bette Midler and 50 Cent's friendship is rooted in community service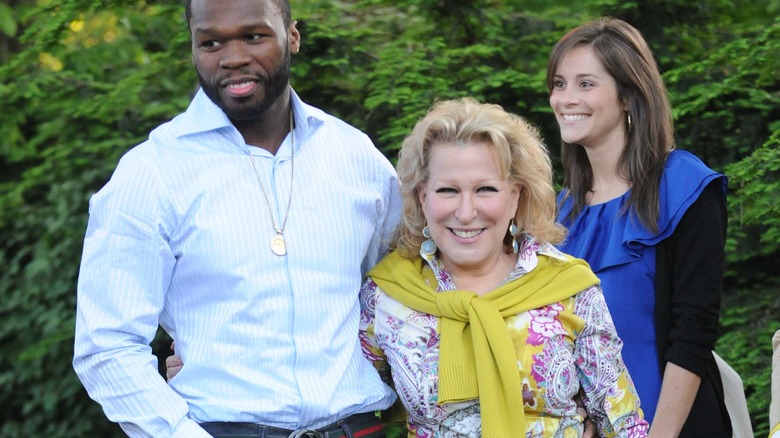 Brad Barket/Getty Images
While Bette Midler and 50 Cent's friendship is a bit out of left field, when you look at where they call home, their connection starts to make sense. According to People, Midler, who moved back to New York City in 1994, opened a new community garden in Queens in 2008. She named the space "The Curtis '50 Cent' Jackson Community Garden" due to 50 Cent's involvement. Midler told the mag that she "called and nagged" the rapper about getting involved with the project as it's in his childhood neighborhood of Jamaica, Queens.
"I wish I had this to come to when I was growing up around here," the rapper said about the new garden, adding, "the opportunity to create this garden for the youth and the community is a great one." He also recalled that if "Bette calls, you don't say 'no.' Not if you want your reputation to stay the way it is." The collaboration ignited a friendship between the two and a desire to collaborate on similar projects in the future.
That opportunity came sooner rather than later. Bette Midler and 50 Cent again teamed up in 2009 to help restore New York City's Fort Tryon Park, according to the New York Daily News. The restoration of New York City's parks is a long-standing cause for Midler. Per Variety, Midler saw the terrible condition of public parks after returning to the Big Apple in the '90s, so she founded the New York Restoration Project in 1995. For his help on the project, Midler said 50 Cent was "like the Godfather of Jamaica, Queens."
Will 50 Cent and Bette Midler collaborate on music?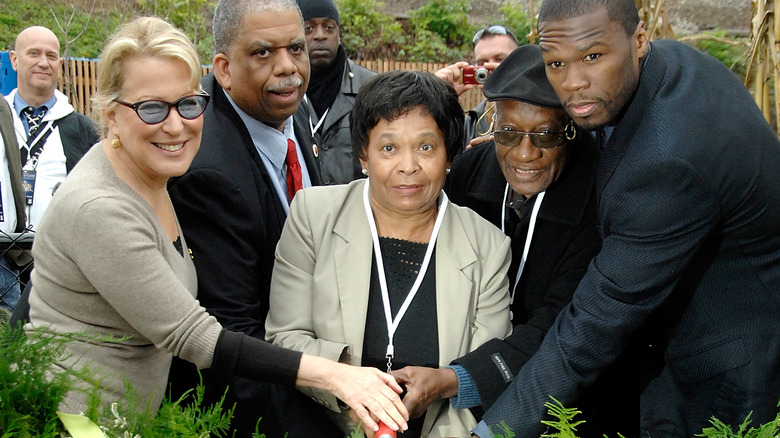 Joe Corrigan/Getty Images
According to Variety, Midler's nonprofit restoration project has helped plant 1 million trees, restore 80 acres of parkland, and protect 110 community gardens, including the Curtis "50 Cent" Jackson Community Garden that the two unveiled in 2008. Although the two haven't publicly worked together since their joint effort at Fort Tryon Park in 2009, they've remained friends and have taken to social media to share their mutual admiration. In 2014, 50 Cent shared a throwback photo of the pair to his Instagram, captioning the shot: "Bette [Midler] is on my list, of my favorite people in the world." Midler echoed the sentiment a few years later, tweeting, "#TBT to when the ever handsome @50Cent and I were all the talk about town and Page Six," alongside a photo of the two.
But despite a bond built on service, fans shouldn't hold their breath for the pair to make music together anytime soon. "I'd love to collaborate with him, but I'm way [30 years] older than him. I really can't rap, but I'd like to sing in the background on 'Get Rich or Die Tryin,'" she told Daily News in 2009.
For his part, 50 Cent appears more open to the prospect. "Me and Bette [collaborating] would be really hot," he told the outlet. "But I'd need to make something new for her. For the right song, we'd definitely get together." While the collab hasn't yet come to fruition, some fans are still waiting.