How Jason Momoa Really Felt About Working With Nicole Kidman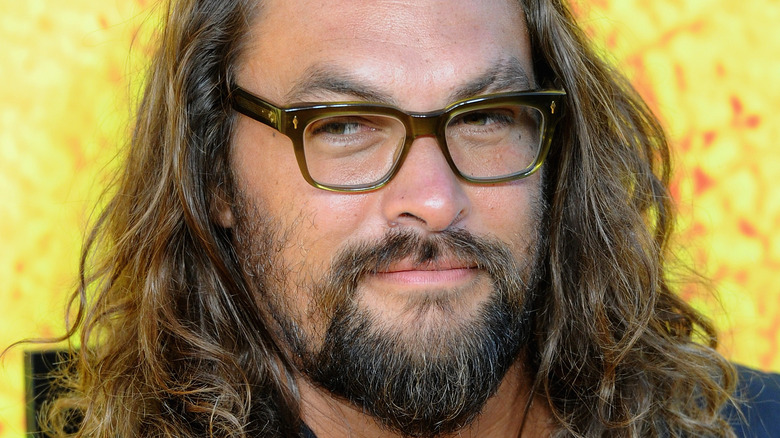 Albert L. Ortega/Getty Images
Jason Momoa and Nicole Kidman worked together for the first time in 2018 for the DC superhero film "Aquaman." Despite her eternally youthful look and the small age gap between the two, Kidman was cast as Momoa's mother in the James Wan blockbuster, which naturally surprised some fans. 
In a chat with Deadline in 2017, Kidman explained that it was her character Lady Atlanna that really drew her to the film. "When he [Wan] said 'female warrior from the sea' who wears mother of pearl, I went, 'Yes. Female warrior from the sea. Me like,'" she said, adding, "As soon as he said I could wear mother-of-pearl and be a mermaid warrior, I said I'm done ... Please. If there is one thing I have to do in my life, I have to be that. Because you've got to have some fun."
During a press tour for "Aquaman," Momoa told 9Honey that his favorite part of the film was a particular scene involving him and Kidman. "I think the one where I see my mother for the first time gives you chills. That was a hard scene, even though it doesn't look like it," he said. "Because you're running up the beach in kill mode to save your woman, and then turn around, and it's your mother." Despite the complicated scene, Momoa said Kidman did an amazing job. "To go from those two different energies was challenging, but Nicole just killed it."
While Kidman's acting talent is certainly no surprise, one can't help but wonder what it was like for Momoa to work alongside her.
Jason Momoa loved working with Nicole Kidman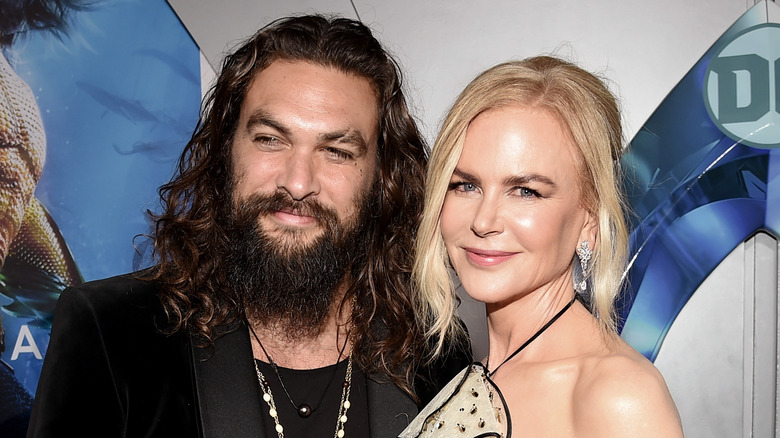 Kevin Winter/Getty Images
Like many of her former co-stars, Jason Momoa holds Nicole Kidman in very high regard and admits that he's a huge fan of the Aussie actor and her body of work. The star of "Aquaman" gushed about Kidman in an interview with SciFiNow Magazine in 2018, saying he's had "one of the greatest acting experiences" shooting the film with her. He also admitted that he felt nervous about working with Kidman in the film because of her outstanding success in Hollywood. "I was extremely scared because I was like, 'Oh my God, she's so amazing,'" he said (via Female First). "I've never worked with anyone that came close to an Academy Award."
Working with Kidman, Momoa said he was particularly in awe of her acting process — seeing the Oscar winner expertly approach every scene and deliver an impeccable performance each time. "It was just beautiful," he said. "She was so intelligent with her choices and it was cool."
Chatting with ET Canada at the 2018 San Diego Comic-Con, Momoa described Kidman as simply one of the greatest actors that he has ever worked with. "I've never seen anyone with that kind of work ethic," he said, noting that they shot many takes in "under extreme conditions." Momoa added, "It was just beautiful to watch. I almost feel like a spectator because we're that close, just watching her. She's a pro."
Nicole Kidman's casting in 'Aquaman' drew some controversy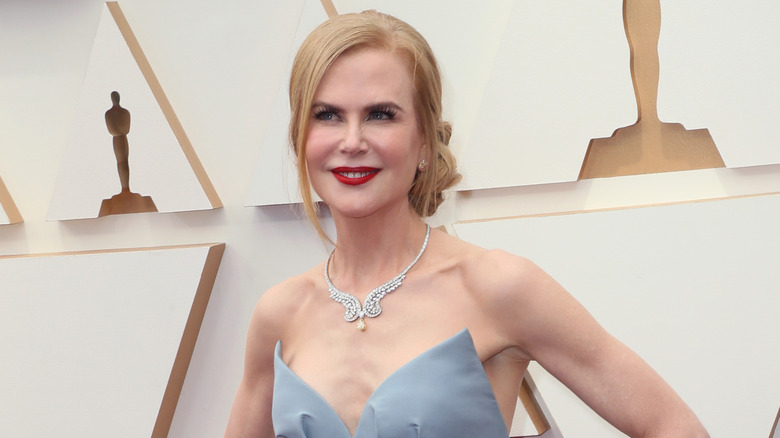 David Livingston/Getty Images
Despite her stellar portrayal as Aquaman's mother, Atlanna, Nicole Kidman's casting in "Aquaman" did not come without criticism. Many DC fans pointed out the age difference between her and lead star Jason Momoa — Momoa was 39, and Kidman was 51 when the film was released. In a 2018 chat with Variety, Kidman said she wasn't bothered by comments saying she was too young to play Momoa's mother. "In the superhero world, it all evens out," she said before pointing out, "Atlanna doesn't really age."
Kidman explained how she ended up in "Aquaman" and revealed it was director James Wan who convinced her to take on the project. "I knew James Wan was going to do something really interesting and really fun, and I've wanted to work with him since he started out in Australia in low-budget horror," Kidman said, noting that she has closely followed Wan's career. Aside from "Aquaman," Wan is also known for his work in horrors "Saw," "Insidious," and "The Conjuring" film series. The actress added, "[Wan] showed me some of the drawings [he was] doing, and he said, 'See, this is why you have to be in the movie because I've drawn her to look like you.'"
Per The Hollywood Reporter, Kidman and Momoa will reunite in the upcoming sequel "Aquaman and the Lost Kingdom," which Wan will also direct. They'll be joined by original cast members Patrick Wilson and Yahya Abdul-Mateen II in the follow-up, along with a special appearance by Ben Affleck as Batman. The movie is set to hit theaters on December 25, 2023.