Kamie Crawford Once Had An Unsettling Experience With Donald Trump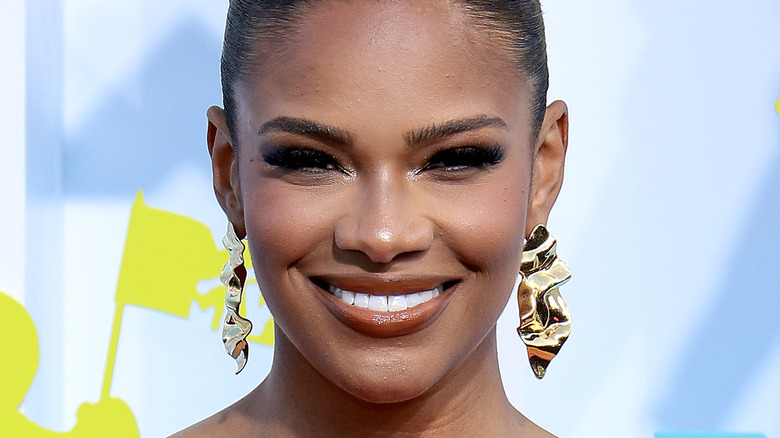 Dimitrios Kambouris/Getty Images
The following article includes allegations of domestic abuse and sexual assault.
Kamie Crawford is an American beauty queen best known as the winner of Miss Teen USA 2010, a title which gave her a $100,000 scholarship, per The Washington Post. And as many Americans will recall, it was none other than Donald Trump who ran the Miss Teen USA pageant for nearly 20 years, from his acquisition of parent company Miss Universe in 1996 up until he sold it to Endeavor and IMG in 2015, near the beginning of his controversial presidential run (per The New Yorker). 
Furthermore, followers of the former president will recall that, among the numerous accusations of sexual assault and harassment made against him over the years, was a series of allegations made by former contestants under the Miss Universe umbrella. Although Crawford herself was not among these specific accusers, she did acknowledge that she had at least one highly unsettling experience with the president-to-be. 
Donald Trump brought friends to gawk over Miss Teen USA contestants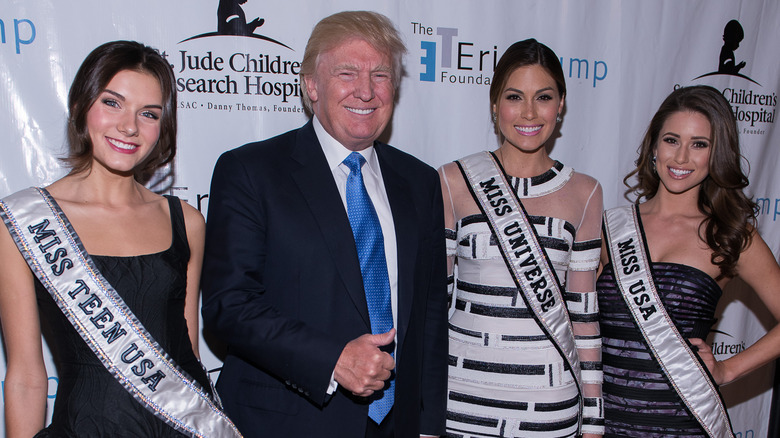 Dave Kotinsky/Getty Images
In October 2016, as the presidential campaign was heating up, then-businessman Donald Trump appeared alongside several women who had accused President Bill Clinton of sexual assault, all while Trump himself was facing a mounting number of assault allegations of his own. The political move happened mere hours before Trump was set to face his opponent Hillary Clinton in a presidential debate. 
Three days after that debate, former Miss Teen USA Kamie Crawford revealed her own unsettling experiences with the former president, which happened when she was only 17 years old. "Luckily for me," Crawford tweeted sardonically, "I was the 'type' of black he liked. He toted me around his buddies who were all there gawking at the Miss Universe girls." 
Crawford went on to castigate Trump on Twitter throughout the rest of his campaign and presidency, often incorporating her own personal experience and knowledge of Trump into her political commentary. She revealed in a separate tweet, for instance, that she was forewarned before meeting him that "Mr. Trump doesn't like black people." As Crawford claims, she ended up being an exception. 
Donald Trump acknowledged he would ogle at Miss Universe contestants backstage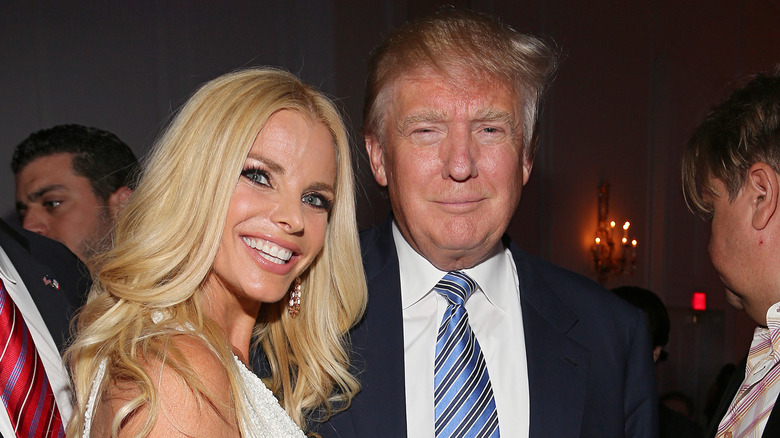 Alexander Tamargo/Getty Images
Although Kamie Crawford did not specifically say that she was a victim of sexual assault by Donald Trump, she did support other women who had come out against him. "In addition to protecting me from ISIS, I'd also like a president who can keep me safe from Trump's trout lips & p**** grabbing hands," she wrote in a tweet shortly after the second presidential debate in 2016. 
More sexual allegations against Trump rose in 2016 when several women who participated in the 1997 Miss Teen USA pageant reported to Buzzfeed News that Trump would walk into the dressing rooms as they were changing backstage. The accusers recalled it being "shocking" and "creepy," while one said that Trump would say something along the lines of, "Don't worry, ladies, I've seen it all before." 
While he did not specifically mention Miss Teen USA, Trump himself admitted in a 2005 interview with Howard Stern that he would often go backstage while Miss Universe contestants were getting changed, in order to "inspect" things. "You know, they're standing there with no clothes," Trump said. "You see these incredible-looking women, and so I sort of get away with things like that."
If you or anyone you know has been a victim of sexual assault, help is available. Visit the Rape, Abuse & Incest National Network website or contact RAINN's National Helpline at 1-800-656-HOPE (4673).