What's The Real Meaning Of Vigilante S*** By Taylor Swift? Here's What We Think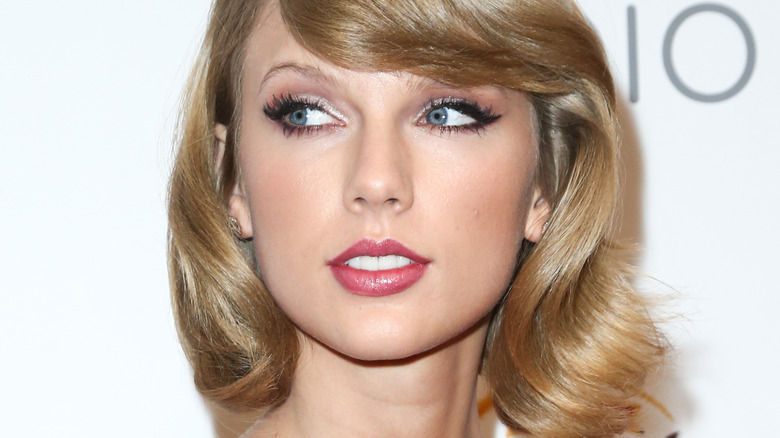 Debby Wong/Shutterstock
Taylor Swift has long reigned over the internet and causes chaos with every tweet ... so it's only fitting that her latest album has a track called "Vigilante Sh*t." The announcement of the song came on night two of her TikTok series "Midnights Mayhem With Me," and its title alone was enough to make fans reel. "The track has a cuss word in it," one fan commented in all caps. "Omg I love this new Taylor era."
Her fondness for four-letter words is far from the most shocking thing to emerge from this new album, however. When the clock struck midnight and the full song was revealed, fans swarmed Twitter in disbelief. "Is 'Vigilante Sh*t' about Kim Kardashian or am I tripping ???" one wrote.
It wouldn't be the first time the beauty mogul seemed to feature in Swift's clever lyrics. In contrast to "Reputation," however, "Vigilante Sh*t" seems to take Kardashian's side. Is there a peace offering hidden in the pop anthem?
Vigilante Sh*t might take aim at Kim Kardashian's ex-husband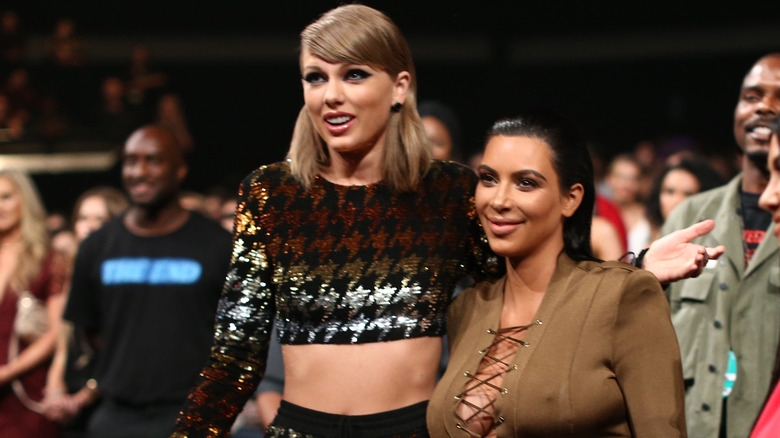 Christopher Polk/mtv1415/Getty Images
Kim Kardashian and Kanye "Ye" West's split has played out like a soap opera ... and Taylor Swift just penned the theme song. In less than three minutes, "Vigilante Sh*t" sets fire to the Swift-Kardashian-West feud that's been sparking for over a decade.
As People recaps, Ye and Swift have feuded since 2009. During her marriage to the rapper, Kardashian naturally took his side. Now, however, Swift almost seems to imply that she played a role in the divorce and has teamed up with the beauty mogul. Back in February 2022, the The U.S. Sun spotted Kardashian leaving a building with a manila envelope soon after Ye made false kidnapping claims against her.
"She needed cold hard proof, so I gave her some," Swift sings, per Genius. "She had the envelope, where you think she got it from?" She goes on to taunt Ye with the very problems he's been so vocal about lately: "She gets the house, she gets the kids, she gets the pride." As a final blow, she says, "Picture me thick as thieves with your ex-wife." Swift is known for her hidden meanings, but this one seems pretty clear cut. Did we mention it dropped on Kardashian's birthday? It could all be a coincidence ... but that's not Swift's typical style.