What's The Real Meaning Of Bigger Than The Whole Sky By Taylor Swift? Here's What We Think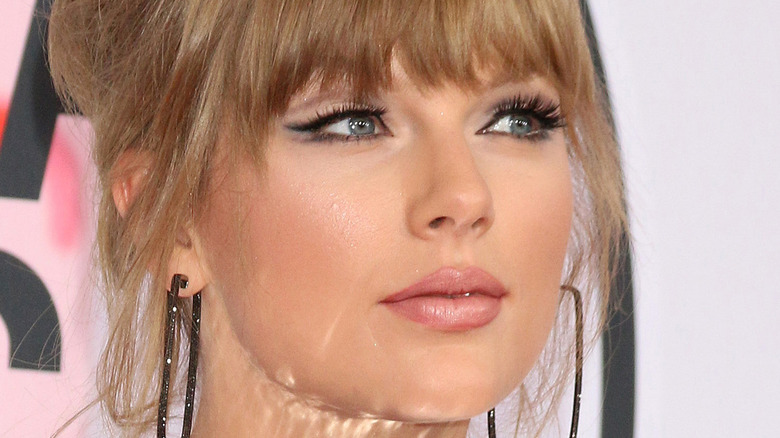 Kathy Hutchins/Shutterstock
Since Taylor Swift released her newest album "Midnights" on October 21, Swifties have been carefully analyzing her lyrics. Swift is known for leaving easter eggs in her songs as well as her music videos, which fans love to hunt. "I've trained them to be that way. I love that they like the cryptic hint-dropping. Because as long as they like it, I'll keep doing it. It's fun. It feels mischievous and playful," Swift told Entertainment Weekly in 2019.
Following the release of her 13 songs, Swift gave her fans another special surprise with a bonus of seven extra tracks on "Midnights." The songstress announced the "3am edition" at 3 a.m. on Twitter. "Surprise! I think of Midnights as a complete concept album, with those 13 songs forming a full picture of the intensities of that mystifying, mad hour. However! There were other songs we wrote on our journey to find that magic 13." One of those songs was "Bigger Than The Whole Sky," which may have a surprisingly sad story behind it.
Bigger Than the Whole Sky is about loss
Amy Sussman/Getty Images
Taylor Swift's bonus track "Bigger Than The Whole Sky" starts off with the haunting lyrics, "No words appear before me in the aftermath / Salt streams out my eyes and into my ears / Every single thing I touch becomes sick with sadness / 'Cause it's all over now, all out to sea," per Genius. It's apparent that Swift is singing about losing someone dear to her and feeling hopeless. Many Swift fans know that she reflects on her past romances in her songs, so is this about an ex-boyfriend? As she sings, "Goodbye, goodbye, goodbye / You were bigger than the whole sky," it seems as if she's letting go of her loved one. However, her lyrics, "I'm never gonna meet / What could've been, would've been / What should've been you," suggests that she has never met this person. Could Swift be singing about a miscarriage?
Swifties seem to think she is, and fans took to Reddit to discuss the meaning behind her lyrics. One fan wrote, "Yesterday was 2 years since I lost my first pregnancy. I was already a little emotional about it all, but then this hit hard this morning." Another wrote, "I figured miscarriage almost immediately. My heart." One Swift fan responded with, "Oh Taylor I'm so sorry if this was something she experienced." Undoubtedly, "Bigger Than The Whole Sky" is one of Swift's saddest songs on "Midnights" and has resonated with many of her fans.