Why Zooey Deschanel And Joseph Gordon-Levitt Never Dated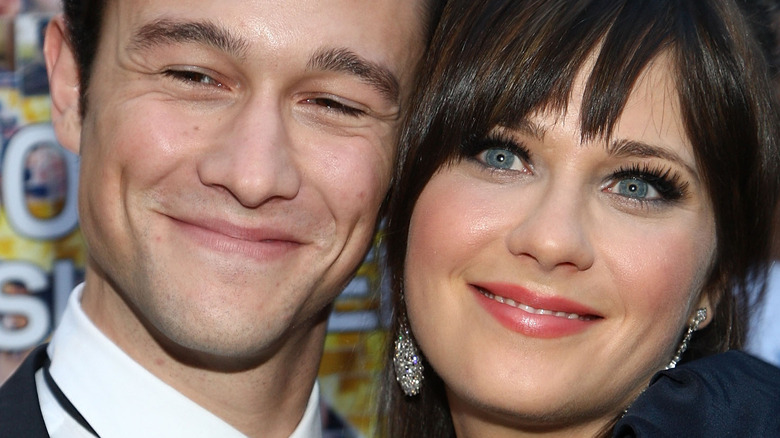 Alberto E. Rodriguez/Getty Images
Joseph Gordon-Levitt and Zooey Deschanel portrayed one of the cutest, but failed, couples of the 2000s in the indie rom-com "500 Days of Summer." Tom and Summer's inability to make it work continues to frustrate film buffs to this day, with many still expressing their anger at Deschanel's character for breaking up with Gordon-Levitt's character. But both Gordon-Levitt and Deschanel agree that many have conflated Tom's atop-at-nothing attitude toward Summer for true love.
When a social media user criticized Summer on Twitter in 2018, Gordon-Levitt defended the female protagonist, a stance he has taken many times since the Marc Webber-directed film came out in 2009. "Watch it again. It's mostly Tom's fault. He's projecting. He's not listening. He's selfish," Gordon-Levitt tweeted in response. "Luckily he grows by the end." Deschanel also disagrees that Summer was the antagonist. "It is 100% from Tom's point of view ... it's one thing people very much misunderstand about the movie. They think Summer's a villain," she told Entertainment Weekly in 2019.
The film sparked an important debate about society's expectations of women when it comes to relationships, but it is also easy to see why viewers were frustrated when Summer ends things up with Tom, as Deschanel and Gordon-Levitt's onscreen chemistry was undeniable. Their portrayal of the couple who bonded over The Smiths and trips to Ikea also had moviegoers wondering if — and even hoping that — Deschanel and Gordon-Levitt had taken their relationship to the real world. But that never happened for an important reason.
Joseph Gordon-Levitt and Zooey Deschanel have been friends for decades
Joseph Gordon-Levitt and Zooey Deschanel are close friends and have been for a mighty long time. The two actors first crossed paths in 2000, when they played love interests in the 2001 indie drama "Manic," they noted in a 2009 NPR interview. "I remember Joe was so smart and intense. And so just frighteningly good," Deschanel said. They clicked right away, sparking a relationship based on shared interests, particularly music and film. 
By the time "500 Days of Summer" came out, Deschanel and Gordon-Levitt had been friends for a decade. "I have been lucky enough to call him one of my dearest friends ever since ['Manic']," she wrote in the caption of the 2011 duet she uploaded to HelloGiggles, the website she co-founded. That's why the romance questions that followed the release of the 2009 movie disconcerted the actors. "It's awkward when people say that [they should date]. Whatever. Zooey and I just think it's funny. It is funny. We've been friends for 10 years," Gordon-Levitt told Playboy in 2012 (via HuffPost).
Deschanel and Gordon-Levitt's love of music and films continued to be the foundation of their friendship. "We bonded over a mutual appreciation for Harry Nilsson and Nina Simone," she wrote on HelloGiggles. Their longstanding bond was key for "500 Days of Summer," Deschanel told Entertainment Weekly. "I think that's a big part of why it turned out so well, because we were like, really comfy."
Joseph Gordon-Levitt and Zooey Deschanel are both in relationships
Zooey Deschanel and Joseph Gordon-Levitt have had full romantic lives that never involved each other. As of this writing, Deschanel is in a relationship with Jonathan Scott, a Canadian TV personality and producer. She and the "Property Brothers" star started dating in 2019, shortly after Deschanel separated from her second husband, Jacob Pechenik, according to People.
Despite the close timeline between the announcement of her divorce and the new relationship, Deschanel has shown there's no bad blood between her and Pechenik, with whom she shares a daughter and a son. "So thankful my kids have these two awesome guys in their lives," Deschanel captioned a June Instagram post showing Pechenik and Scott with the children, whose faces were blurred to protect their privacy.
Gordon-Levitt has a similarly steady love life. The "Inception" star has been married since 2014, when he secretly tied the knot with Fellow Robots CEO Tasha McCauley, Us Weekly reported. Gordon-Levitt and McCauley have two sons, whose identities they also try to keep as private as possible, Bustle noted. Gordon-Levitt is a lot less restrained when it comes to sharing his affection for friends and co-workers on social media, including Deschanel. "No exaggeration, this short film shoot w/ @zooeydeschanel was the most fun ever," he captioned a September 2017 Instagram post. Deschanel seems to agree. "Let's do it all again! Every ten years!" the "New Girl" tweeted in 2019 to mark the anniversary of "500 Days of Summer."