The One Rule Dakota Johnson's Family Had About Her Acting Career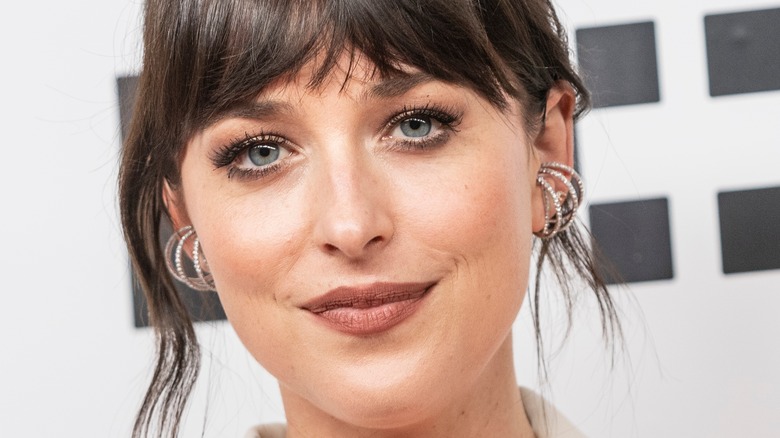 lev radin/Shutterstock
Coming from a Hollywood dynasty like Dakota Johnson does come with a pretty interesting upbringing. Johnson's mother is Oscar-nominated actor Melanie Griffith, and Johnson's grandmother is iconic 1960s actor Tippi Hedren. Not to mention, Dakota's father is Don Johnson, known for his role as James "Sonny" Crockett on "Miami Vice" in the '80s. Of course, Dakota grew up around film and television sets. She appeared in her first movie, "Crazy in Alabama," in 1999 as a kid. It starred Griffith and Dakota's then-stepfather, Antonio Banderas, who also directed.
Dakota also grew up around Hedren's infamous big cat compound, where the actor kept upwards of 60 lions and tigers at one time. The "50 Shades of Gray" star told Graham Norton in 2020 that by the time she came along, things were way safer, though (via YouTube). That's saying something, considering Griffith was mauled on film by one of Hedren's apex predators and had to undergo reconstructive surgery (via VICE). Under all that flare, though, they're still a normal family. And what comes with being a regular household? Rules. Apparently, Dakota had quite a few when it came to her future acting career.
Dakota Johnson's family made sure not to push her into acting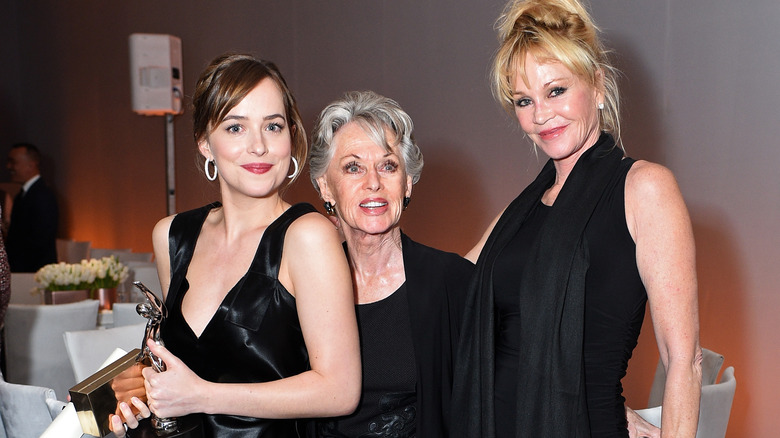 Stefanie Keenan/Getty Images
When someone comes from a family business, there might be pressure to go into that line of work, especially from parents. However, for Dakota Johnson, that wasn't the case. In a feature on Johnson for Vogue in 2017, her grandmother, Tippi Hedren, shared that acting was never pushed on anyone in the family. "I didn't push Melanie into films, and she didn't push Dakota," Hedren said. "I think neither of us is the type to push." Of course, Johnson did go into acting of her own volition — but that wasn't before her father gave her one last rule (that she kind of broke).
"We have a rule in the family that, you know, if you stay in school, you get to stay on the payroll," Don Johnson said when he appeared on "Late Night with Seth Meyers" in 2021 (via YouTube). "So, you go to college, you get to stay on the payroll. Toward the end of high school, I went to her and I said, 'So, do you want to go visit some colleges?' Or something like that. And she was like, 'Oh, no. I'm not going to college.'" Don told Dakota she'd be cut off, but she didn't have to worry. As W Magazine reported, Dakota got her breakthrough role in "The Social Network" three weeks later.
Dakota Johnson knew she had to act from a young age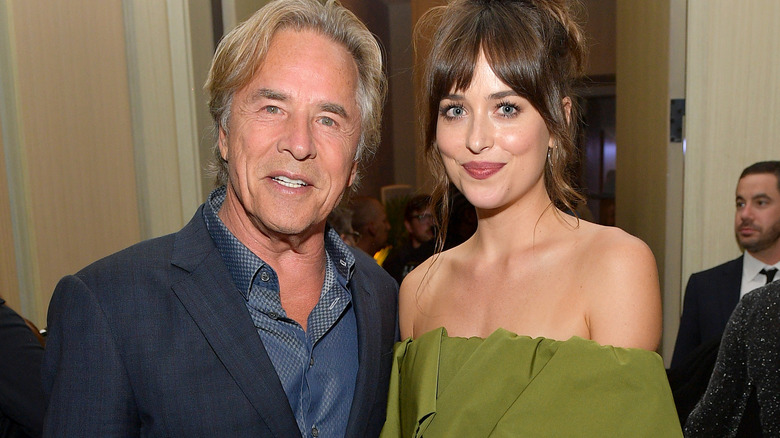 Matt Winkelmeyer/Getty Images
Don Johnson putting a sensible obstacle in the way of his daughter, Dakota Johnson, is understandable for a tough business like Hollywood. And Dakota told W Magazine in 2022 that her family really didn't want her following in their footsteps. "They discouraged [me]," she said. "See how well that turned out? But I understood. They wanted me to have as much of a childhood as I could."
But as the "Persuasion" star told Vogue in 2017, she not only grew up around filmmaking, but she loved film at her core. The outlet noted that "film was always the best way to engage Johnson," listing several favorite films: "Mary Poppins," "Home Alone," and "Beetlejuice" as her favorites. Even though she did try other things, like ballet until she was a teenager, she always came back to acting. "I thought, This is just what my family does," Dakota shared. "It's like, my dad's a lawyer, so I'm a lawyer. Except that it doesn't usually work that way." And that didn't mean there wasn't a passion in it for the 33-year-old. The actor told W Magazine she was "nothing old. Zero old," when she knew she wanted to act.